Feb 1, 2019
Category: Gear
Often times, the weather can be a fickle mistress, which has the potential to spell disaster for the unprepared. Luckily, we live in a time when gear across the board — including everything from clothing, camping loadouts,  tech, and more — is being made far more resistant to the negative aspects of the ever-changing skies.
Nowadays, even some of the most budget-friendly backpacks, blue jeans, and boots can be made with some measure of waterproofing. Of course, there are also plenty of examples that stand head and shoulder over the rest of the pack. If you're looking to gear up with a loadout that can handle Mother Nature's harshest of moods, you'll find it here on our list of the 20 best pieces of weatherproof gear.
Pelican Personal Utility Cases
Keeping your baseline everyday carry gear protected from rain, sleet, and snow is sometimes a tough prospect — usually requiring you to rely on the weatherproofing of the clothing you're wearing. If you want to be extra safe with your wallet, keys, and precious smartphone, however, you should check out Pelican's line of personal utility cases. Available in a variety of sizes and a pair of styles — one for EDC and the other a bit more ruggedized for outdoor applications — these water-resistant, crushproof, and dust-proof cases are like mobile safes for your valuables.
Matador Droplet XL Dry Bag
Since not everything you might be carrying in your day can fit into one of the cases above, Matador's Droplet XL Dry Bag is a perfect alternative. Small enough to fit on your keychain or attached to your hiking backpack when you're not using it, this device opens into a 100% waterproof roll top bag with 20 liters of storage space. That means, whether you need to stash some wet gear and/or muddy shoes after a hike, or you want to keep your tech gear safe during a rainy trek, this bad boy has you covered. Then, when you're done, it's super easy to clean and collapse back down.
Roark Revival Layover Shorts
Most people don't think of shorts when they think of weatherproof gear, but that's a mistake in our book. After all, our warm-weather travels often take us to locales near the beach and/or waterways. In those cases, wearing Roark Revival's Layover Shorts is key. Not only are these shorts ultra-comfortable, but they're also made from water-resistant quick-drying materials and have plenty of compartments for all the gear you might be carrying. When it comes to travel adventure shorts, these are easily some of the best.
The North Face Guardian Etip Gloves
Especially in the coldest regions and times of the year, owning a pair of warm, waterproof gloves can make all the difference between an enjoyable outdoor adventure and one which leaves you thinking you've got frostbite. And you can always depend on The North Face's Guardian Etip Gloves to ensure the former. Boasting a waterproof exterior and ultra-warm insulation, these might be the ultimate snowboard and ski gloves, which is all the more apparent when you realize they have touchscreen-compatible fingertips, so you can still use all your tech without exposing your digits.
Converse Chuck Taylor All-Star Waterproof Boot
There was a time when Converse's iconic sneakers, the Chuck Taylor All-Stars, were the last thing you'd be caught dead wearing during a storm. But a lot has changed since they were first unveiled way back in the early 1900s. Now, not only do they make weather-ready versions, but they offer them in premium leather, too. And that's what you see before you, a pair of comfortable, go-anywhere style essentials that are waterproofed for all-year wear.
Turtle Shell 3.0 Waterproof Bluetooth Speaker
There are a lot of Bluetooth speakers on the market today that offer up some measure of water-resistance, though most of that is pretty basic splash-proofing or comes at the expense of other features. The Turtle Shell 3.0 however, offers up the best of both worlds. It's waterproof rated at IPX7, shock-proof, dust-proof, and it even floats — if you accidentally drop it into some water that's a bit too deep for easy retrieval. It also boasts 20 hours of playtime, can be linked to multiple other speakers for true stereo sound, and offers up impressively hi-fi sound quality.
Threadsmiths Cavalier T-Shirts
Like shorts, t-shirts are an oft-overlooked style piece when it comes to weatherproof gear. But that doesn't mean they don't exist — just look at the Threadsmiths Cavailier tee. Made from 100% cotton, these t-shirts feature an advanced hydrophobic nanotechnology application that's built right in. So while they wear comfortably just like any other tee, they're a good deal more weatherproof, stain-resistant, and durable. Not everyone is ready to drop a Benjamin on a trio of t-shirts, but if any are worth it, it's these ones.
Spyderco Pacific Salt Folding Knife
There are very few knives out there we'd call "weatherproof," as steel (and most other metals) generally corrode with too much exposure to moisture — especially when it comes to ocean water. If any EDC knife belongs on this list, however, it's Spyderco's Pacific Salt. Designed to meet the brand's already-exacting standards, this cutting tool comes with an H1 steel blade that won't rust and actually gets tougher as you use it. It's made to specifically withstand the punishment of the world's largest ocean and keep right on trucking — making this perhaps the ultimate weatherproof everyday carry knife.
Jaybird X4 Wireless Headphones
There was a time when headphones were absurdly susceptible to moisture, shorting out when even the tiniest amount of water breached their exterior. That time, however, has come and gone and it almost seems like there are more water-resistant options than not. But few can stand up to the waterproofing found in Jaybird's X4 wireless headphones. Rated at IPX7, you could feasibly take these bad boys for a swim and they'd keep on working. They also offer eight hours of playtime per charge, a sport-friendly fit so they won't go flying once you get moving, and they can take calls, as well as pipe in tunes.
Amabilis Dave Jr Tactical Duffel Bag
Named after fallen marine, Dave Ruiz, the Dave Jr Tactical Duffel Bag has a pretty moving story — which is backed up by an extremely impressive construction. With its 25L capacity, it's plenty big for a full haul of gear, which will stay safe and dry thanks to its waterproof tarpaulin and armor-plated SuperFabric exterior. Pair that with YKK AquaGuard zippers and military-grade hardware and this is one of the best weatherproof bags available. Of course, if you need something with a bit more room, there's also a much-larger 80L version called the Dave Sr. In either case, these Amabilis bags are top-tier.
Bellroy All-Conditions Essentials Pocket
One of the most troubling bits of everyday carry to find in a weatherproof variety is the wallet, as traditional formats don't really allow for protection of the stuff you put inside it. But that's why Bellroy made their All-Conditions Essentials Pocket. Equipped with a water-resistant YKK zipper mated to weatherproof top-grain leather, this wallet can hold 12+ cards, cash, a passport, an iPhone 7+, and more in its five internal pockets. It even comes with a micro travel pen, in case you need to scrawl anything down during your adventures.
DUER Weatherproof Jeans
There are seemingly thousands of options on the market for weatherproof jackets and weatherproof footwear, but finding pants with those capabilities is still a tough prospect, especially when it comes to everyday wear. But that's where the folks at DUER and their new Weatherproof Jeans come into play. The product of years of testing, these jeans boast a proprietary performance denim fabric mated to an ultra-thin water- and wind-resistant membrane that's soft to the touch for excellent comfort and all-day wear. They've even got a bit of stretch built right in for even more ease of wear.
Danner Mountain 600 Weatherized Boots
Danner knows how to make a solid hiking boot; they've proven it time and time again since 1932. But they also know that even their best designs have room for improvement. That's why they took their Mountain 600, one of their best designs in years, and weatherized it with waterproofing on the full-grain leather exterior, PrimaLoft insulation for warmth in any weather, and a Vibram mid and outsole. The flagship of their Performance Heritage line, you can't really do better than these weatherproof hiking boots.
Amazon Kindle Oasis E-Reader
Not everyone thinks about e-readers when it comes to weatherproofing. Amazon has, however, which is why they imbued their Kindle with IPX8 waterproofing, resulting in their impressive Oasis e-reader. And that's excellent news for anyone who loves to read on rainy days, on the beach, or really anywhere inclement weather or moisture exposure is an issue. It's also glare-free, has 32 gigs of storage (that's literally thousands of texts), and it will stay charged and functional for weeks at a time.
Doogee S90 Modular Rugged Smartphone
Apple was pretty proud to announce that their newest generation of smartphones was a bit more water-resistant than previous iterations. But they pale in comparison to the weatherproofing found in DOOGEE's S90. Boasting IP69K waterproofing, this bad boy can literally be dunked completely and will keep right on working. It's also resistant to extreme temperatures, tested to meet mil-spec drop standards, and has the ability to attach a series of modular parts that increase the functionality immensely. It can also hold up to 134 gigs of data, has dual rear cameras (16 and 8MP), and comes with loads of other features.
YETI Panga Backpack
As we previously mentioned in this article's intro, even some of the most basic backpacks come with some measure of weatherproofing. But they just can't stand up to YETI's absurdly impressive Panga backpack. Boasting 28 liters of internal storage, this backpack is made from a super-durable and waterproof ThickSkin material and comes with a HydroLock zipper with a U-Lock airtight seal. That means it can be completely submerged and nothing inside will get even remotely damp. People complain about the high price associated with YETI's goods, but when you consider exactly how much you get out of them, we're pretty sure it's worth it.
BLACKYAK Brangus Jacket
We're not sure if we'd call BLACKYAK the best-kept secret in the outdoor industry, but they're definitely not that far off. After all, we're talking about one of the first brands to embrace Dyneema as a construction material. Their Brangus Jacket isn't made from Dyneema, but it's no less impressive — crafted from a stretchy combination of Gore-Tex fabric and Cordura ripstop nylon, making it both comfortable and breathable, as well as weatherproof. Great on its own as a cool weather jacket or perfect for layering for colder conditions, this rain-ready jacket is tops.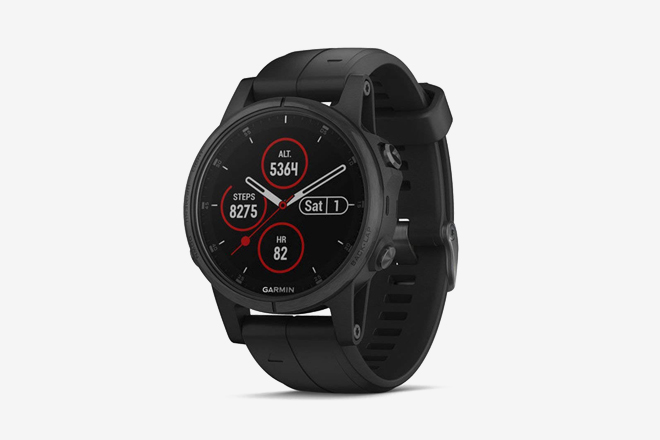 Garmin Fenix 5 Plue Smartwatch
Less than a decade ago, smartwatches were a complete novelty — and the tech in them left much to be desired, as a result of them being a new category of everyday carry gear. Things have changed tremendously since then and now we have things like Garmin's Fenix 5, which is capable of being submerged at up to 100 meters underwater but also has tons of other capabilities. That includes the ability to hold up to 500 songs onboard, Bluetooth connectivity, built-in navigation sensors (which pair with GPS, GLONASS, and Galileo networks), and a battery that lasts up to 10 days.
Mission Workshop The Styrman Waterproof Topcoat
It's easy to make the assumption that all men's overcoats are weather-ready, but the simple fact is that they're not. In fact, Mission Workshop's original Styrman topcoat, while warm, doesn't do a great job of standing up to inclement weather. That's why they've taken it and applied a Schoeller c_change weatherproof finish to the exterior and equipped it with custom YKK weatherproof zippers. Pair that with its excellent good looks and removable hood and you've got yourself a superb weather-ready overcoat.
Snow Peak Dock Dome Pro 6 Tent
There's no shortage of weatherproof tents on the market, as protection against the elements is kind of their point. But Snow Peak's Dock Dome Pro 6 has some features on top of that that give it a bit of a leg up against the competition, namely versatility. Yes, this 4-season tent is perfect for camping in anything short of apocalyptic hail. But it also converts into an open-air shelter for warm weather days when you want that cool breeze coming through. It can also house up to six people, so you can bring the whole family (or some friends) along to stay in this large camping tent.
What's The Difference: Waterproof vs. Water-Resistant
It might not be immediately apparent, but there's a huge difference between things that are weatherproof and those that are fully waterproof — and there's a lot of gray area therein, as well. Get schooled about everything you need to know as we answer the question — what's the difference: waterproof vs water resistant?
HiConsumption is reader-supported. When you buy through links on our site, we may earn an affiliate commission. Learn more