You could call it the original cocktail — a concoction that paved the way for every cocktail that came after it — but we prefer to call it the perfect mixed drink. One of the most iconic beverages ever put inside of a glass, the old fashioned traditionally blends American whiskey and a sugar cube muddled with a few dashes of bitters and water, all garnished with an orange peel. Originally used to sweeten poorer spirits, the drink eventually evolved into what we know today. And, if done right, it can yield a perfect blend of sweet, bitter, and spice. Like most bare-bones cocktails, your liquor of choice should be bold and distinct, and typically with a higher ABV. Before we get into the best whiskeys for your old fashioned, let's touch on the history of the beverage.
History Of The Old Fashioned
Classic Cocktail
Simple and distinct, the old fashioned was originally referred to as any spirit mixed with bitters, water, and sugar. In fact, this was the recipe described when a writer for a Hudson, New York newspaper in 1806 answered a letter asking for the definition of a "cocktail." This was also the first documented appearance of the word the two have been somewhat synonymous ever since.
As ice and access to more spirits increased in the mid-to-late 19th century, cocktail culture began to boom. New, fancy recipes were all the rage. And yet, many drinkers desired something more "old fashioned." The name stuck, with rye whiskey and bourbon being the most popular bases. Probably the first time the 1806 recipe was used in reference to the term "old fashioned" was in an 1882 issue of the Chicago Daily Tribune, where a local bartender was quoted saying the whiskey version was among the most popular drinks of the time.
While many have claimed ownership of its invention, the old fashioned seems to be more of a case of creation by committee. It's continued to be one of the most beloved cocktails in the country over two centuries later, and there's a reason we're still sipping on them today.
Old Forester Rye 100
Best Overall: Prior to prohibition, rye whiskey was the preferred liquor in an old fashioned cocktail. Although, while sipping on one of these concoctions today, it's clear that rye still hasn't lost its luster. Bottled at 100 proof, Old Forester's Rye hits all the notes you need when choosing a spicier alternative to sweeter high-corn bourbon. For one, the cinnamon and cloves find the confluence between the sugar and bitters. On the other hand, this particular expression happens to utilize a rather steep portion of malted barley in its mashbill (20%), helping it achieve a more nuanced profile with fruity and floral notes.
Region: Kentucky
ABV: 50%
Tasting Notes: Cinnamon, clove, floral, fruit
Hudson Whiskey Bright Lights, Big Bourbon
Best Runner-Up: It's fitting that a New York-based distillery makes the cut, considering it was an 1806 issue of a Hudson, NY newspaper that first went on record to define the word "cocktail" — and while giving the old fashioned as an example, no less! No relation to the trade paper, Hudson Whiskey is the Empire State's first legal distillery, opening in the early '00s. Bottled at 46% ABV, this Bright Lights, Big Bourbon expression is one of the company's flagships, utilizing a 95% corn mashbill and packing loads of flavor with a unique profile of caramel apple, peanut brittle, vanilla, and a hint of saffron.
Region: New York
ABV: 46%
Tasting Notes: Caramel apple, peanut brittle, vanilla, saffron
Buffalo Trace Bourbon
Best Budget: They say you're not supposed to mix top-shelf liquor into cocktails. And while we'll turn a blind eye if you so choose to elevate your pour a bit, this straight bourbon from Buffalo Trace should be your go-to when it comes to the more affordable options. Likewise, a cheap bourbon can get you much further when opting for a mixed drink. After all, the more bottles you can buy, the more drinks you can make. Not only can you find Buffalo Trace in countless bars and liquor stores across the country, but this budget bourbon is one of the finest in terms of flavor as well. 
Region: Kentucky
ABV: 45%
Tasting Notes: Caramel, spice, spearmint, buttery
Russell's Reserve Single Barrel Bourbon
Best Top-Shelf Bourbon: While you don't want to extend your bankroll too high for any cocktail, a higher-end whiskey will yield a more elevated drinking experience if you do it correctly. After all, with there being only three ingredients, the old fashioned — more than any cocktail, save for the classic martini — exposes the essence of its base spirit the most. We went for the Russell's Reserve Single Barrel for its superb quality-to-price ratio and ability to elevate your old fashioned without feeling like you're wasting the liquid. Bottled at a whopping 110 proof, this non-age-statement bourbon is surprisingly smooth with notes of cinnamon apple, pecan pie, vanilla, and some baking spice.
Region: Kentucky
ABV: 55%
Tasting Notes: Cinnamon apple, pecan pie, vanilla, baking spice
WhistlePig 10 Year Small Batch
Best Top-Shelf Rye: When it comes to rye whiskey, few brands have made their imprint felt like WhistlePig has. The Vermont-based distillery has helped revive and popularize rye whiskey, not just as a cocktail ingredient but as a sipping beverage. However, this 10-year-old expression also happens to be one of the very best for old fashioneds. It's bottled at 100 proof and features a spice-filled rye profile to lay the foundation for accessible and adaptive notes of caramel, smoke, and orange peel. 
Region: Vermont
ABV: 50%
Tasting Notes: Spice, caramel, smoke, orange peel
Four Roses Small Batch
Best High-Rye Bourbon: When balancing flavor with value, Four Roses Small Batch takes the cake. However, the straight high-rye bourbon would keep you coming back for more, even if it were double the price. A perfect match for bitters and sugar, this 6-to-7-year-old expression keeps a nice balance between the low and high ends of the rye spectrum, blending mashbills of 20% and 35% of the grain for a pleasant spice profile. Bottled at 45% ABV, the whiskey offers notes of baking spice, dark fruit, and spearmint, with a long, smooth finish.
Region: Kentucky
ABV: 45%
Tasting Notes: Baking spice, dark fruit, spearmint
Maker's Mark 46
Best Wheated Bourbon: The whiskey-making process over at Maker's Mark helps yield a profile that most wheated bourbons can't accomplish otherwise. For one, the distillery maximizes the effect of aging by rotating its barrels within the warehouse — one of the few that does this — during the 6-year aging period. As for the 46 expression, the whiskey makers take the brand's cask-strength bourbon and age it for nine more weeks with French oak staves to give the liquid more spice and heightened tasting notes, featuring the signature caramel, vanilla, and baking spice. 
Region: Kentucky
ABV: 45%
Tasting Notes: Caramel, vanilla, baking spice
Woodford Reserve
Best for a Smoked Old Fashioned: Hands down, Woodford Reserve makes one of the best bourbons on the market when it comes to mixing. As the official whiskey of the Kentucky Derby, the Bluegrass State native is used plenty for mint juleps come May at Churchill Downs. However, we highly recommend swapping the mint sprigs for bitters and going for an old fashioned instead. And with the rise of smoked cocktails and home smoking kits, the oak-forward profile of Woodford Reserve's flagship straight bourbon is the best choice.
Region: Kentucky
ABV: 45.2%
Tasting Notes: Oak, toffee, vanilla, toast
Old Grand-Dad 114
Best Cask Strength: Using cask-strength whiskey isn't just great for concocting a stiffer drink but for pushing the flavor of the bourbon forward. This 114-proof version of Old Grand-Dad is a sort of cult favorite in the whiskey community for its traditional high-rye bourbon profile and relative smoothness. As far as old fashioneds go, those are two qualities you'll want in the backbone of your drink. If this were a sweeter expression, neither would translate quite as well. The palate is rounded out with notes of tobacco, orange peel, and baking spice. 
Region: Kentucky
ABV: 57%
Tasting Notes: Tobacco, orange peel, baking spice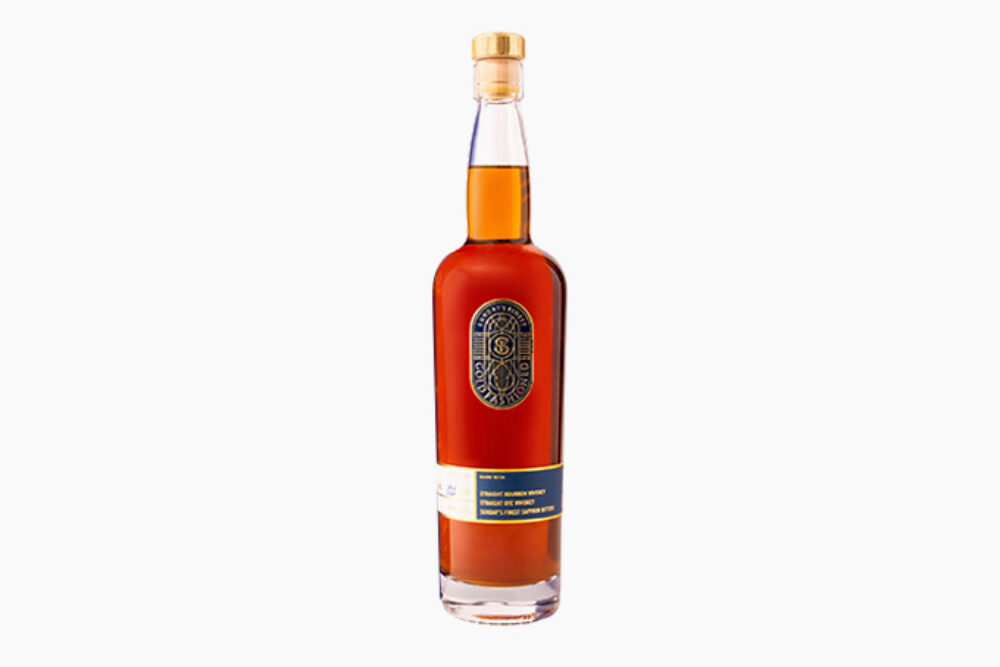 Sunday's Finest Gold Fashioned
Best RTD Old Fashioned: Calling itself the first luxury bottled cocktail, the Illinois-based company Sunday's Finest aims to challenge the notion that RTDs are inferior to cocktails made from scratch. For the 2022 blend of its Gold Fashioned, it blends 15- and 9-year-old Kentucky bourbon with 6-year-old rye from MGP in Indiana. It combines the base spirit with demerara sugar and in-house saffron bitters made with saffron, vanilla, cacao, orange peel, and gentian root, all sourced across five different continents. The exquisite end result isn't meant to replace your standard concoction made from home, per se, but serves as an alternative with its own unique profile.
Region: Kentucky/Indiana
ABV: 42.2%
Tasting Notes: Vanilla, orange peel, cacao, baking spice, saffron
Classic Cocktails Every Man Should Know
For a compendium of recipes to quintessential mixed drinks, head over to our guide to classic cocktails every man should know.