Presented by

While we are already a month removed from the year's collection of most celebrated holidays, the season of giving isn't necessarily over. With February 14th on the rise, we see yet another reason to bust out a wishlist of our most-wanted items. And while Valentine's Day often solicits gifts of fancy chocolates, some nice flowers, or a good dinner — we tend to get more excited about things we receive that are a bit less expected. And those are the types of items you'll find on our guide to the best Valentine's Day gifts for men.
Whether you decide to pin Valentine's Day as a Hallmark holiday or a genuine celebration, there is never room for error when gifts are involved. Be it plush clothes, heady fragrances, high-end kitchen supplies, or an at-home getaway, there are a plethora of choices to select — some of which may have even appeared on your unfulfilled wish list this past December. However, there's a new opportunity to spread some love on this most romantic of holidays, so have a look below at our picks for the best men's Valentine's Day gifts.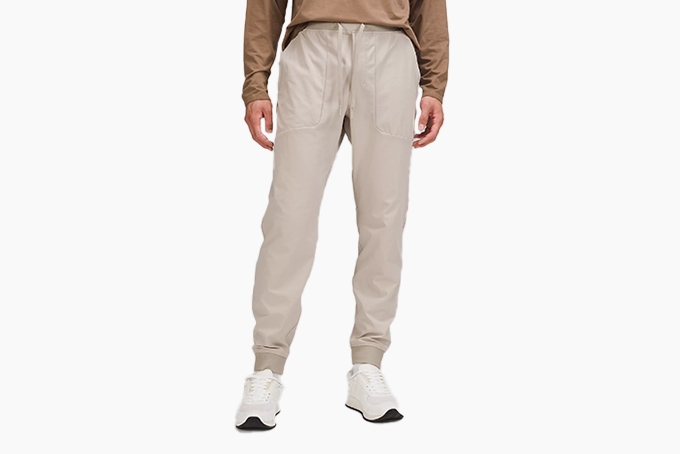 lululemon ABC Jogger Warpstreme
lululemon has been crafting nothing short of top-notch athleisure wear since its late-nineties conception, and the brand still somehow manages to release impressive garments that we are yet to see from them. One of the Canadian label's latest pieces is its ABC Jogger Warpstreme, which offers a tapered fit and a roomy feel where you need it most as a result of implementing its patented ABC tech. As a bonus, lulu's trademark Warpstreme fabric is stretchy, wrinkle-resistant, and incredibly breathable, making it an ideal choice for any situation.
Chef'n Microgreens Garden
Chef'n's Microgreens Garden helps you grow heart-healthy salad ingredients in your kitchen. It comes equipped with a harvest's worth of seeds to start you off and even has a discount code to purchase any extra greens you may need.
Pappy & Company Barrel-Aged Maple Syrup
There is genuinely nothing as sweet as well-made maple syrup, and it serves as an equally sweet gift. Pappy & Company is owned by the great-grandchildren of bourbon maestro Pappy Van Winkle, and as such, the brand takes a similarly serious approach to crafting world-class products. This syrup has been aged in retired 15-year barrels from the revered whiskey brand, imparting a unique flavor.
Trade Coffee Subscription
Gift your loved one an eclectic collection of coffee from all around the world. With options stemming from small-town cafe brews to some of the biggest names in the industry, this subscription starts from an option of 2 bags and could go for as long as you see fit. Plus, you can tailor the particular selections to your liking, so your morning cup will be appreciated as much as it will be presumably needed.
Whiskey Peaks Mountain Decanter
It was only a matter of time before a home bar-specific gift made an appearance on this list. No two of Whiskey Peaks' luxurious decanters are alike as a result of their hand-blown glass composition, serving as an incredibly unique gift that is sure to bring out the "Don Draper" in anyone — that's their words, not ours. Each decanter can hold up to 34 ounces of your favorite whiskey, so it might be time to put that old, mountain-less one away.
Opinel No. 08 Studio Black Folding Knife
Opinel is a century-old brand that has practically perfected the art of crafting wood-handled knives. Having designed its folding knife way back in 1890, it is needless to say that they have managed to stick, making this is an incredible choice if you're fond of timelessness — who are we kidding, everyone is.
Elevated Craft Cocktail Shaker
For anyone looking to elevate their mixing game, there isn't a better option to choose than Elevated Crafts' Cocktail Shaker — ironically enough. With a sleek design and pro-grade stainless steel makeup, this particular shaker is touted as the first to improve the commonplace design in well over a century. Plus, its vacuum insulation manages to keep those drinks cold as long as needed and then some.
Le Labo Santal 26 Candle
Le Labo's Santal 26 scent is smoky and an ideal enhancement to any living space, so there's no wonder why it's one of the fragrance brand's most popular offerings. On top of that, a candle serves as a pretty romantic gift no matter who you buy it for.
The Complete Package by Meridian
Meridian's sensitive, waterproof hair trimmers are top-notch and it's impossible to go wrong with this package. The SoCal-bred groomers' flagship product offers a hand-in-glove fit and comes equipped with their refreshing spray made up of ideal elements like witch hazel and green tea leaf extract.
Flikr Fire Personal Concrete Fireplace
Is there anything more romantic than sitting in front of the fire? As a matter of fact, yes, and it would have to be doing so in front of this specific fireplace. Flikr Fire's personal fireplace measures a mere 5.5″ x 4″, making it incredibly portable and capable of keeping warm as well as safe, the latter stemming from its use of isopropyl alcohol.
Upstate The Robe
Upstate's robe is composed of organic cotton and boasts a waffle weave design that is practically built for annual wear, no matter how warm it may end up getting in the coming months. At the end of the day, for a robe to have such a self-absorbed name, it must be pretty noteworthy.
The Purple Pillow
Although purple may not necessarily be the color of love, the Purple Pillow exudes it wholeheartedly. It makes use of the mattress brand's patented Purple Grid to provide optimum comfort for your neck and head. Plus, an added benefit from Purple's plush, trademark tech is its open-air channels for maxed-out breathability, so there's no room for discomfort when using one of these incredible pillows.
Aesop Marrakech Intense Ensemble
Aesop's Marrakech Ensemble is a perfect trio of its immaculate Coriander Seed Body Cleanser, a citrusy body balm, and fragrance with rustic notes of cardamom, clove, and sandalwood. At the end of the day, every man could use a solid cleansing routine, and there's no better brand to entrust with that than the luxe Australian label.
Baloo Weighted Blanket
In efforts to reduce the onslaught of stress and anxiety that many of us have been forced to endure lately, weighted blankets have provided an immaculate source of relief. Baloo is an eco-cognizant brand that has crafted a quilted piece that is built for year-round usage and looks to boost serotonin.
Tom Ford Tuscan Leather Fragrance
One of the premier fragrances from the brand that crafts nothing short of the greatest ones around. For the man who appreciates a dizzyingly captivating scent to take on, look no further than these heady notes of olibanum, black suede, and blooming jasmine — or, to the less-trained nose, leather n' raspberries.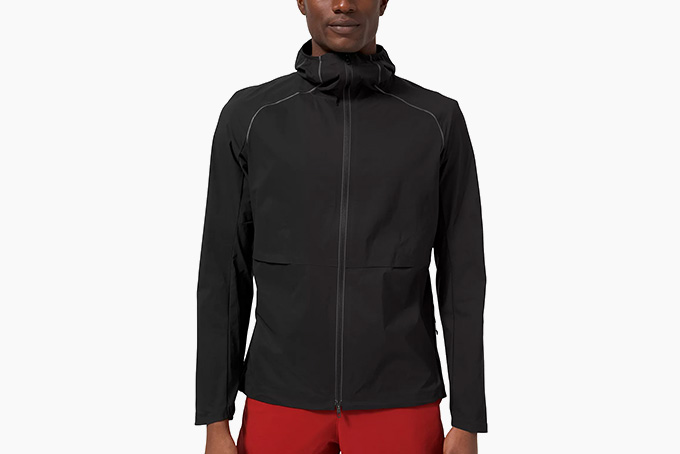 lululemon Fast and Free Windbreaker
While the performance brand's new joggers are worthy of note, the same goes for its windbreaker that has sure managed to withstand the test of time. This particular water-repellent one is composed of lululemon's patented SpeedWeave fabric, ensuring that it adheres to your body's motion which results in no tension when running against any harsh winds.
Balmuda Toaster
The Balmuda Toaster is capable of so much that, somehow, its sleek composition isn't even the most impressive attribute it has to offer. Aside from fusing state-of-the-art tech with a design-centric appeal, it offers five distinct modes that you won't find on your average toaster, including artisanal bread mode, sandwich bread mode, pizza mode, pastry mode, and oven mode.
Ooni Frya Pizza Oven
With the amount of free time people have had in the past couple of years, a solid percentage of them have put some of it toward cooking, and you can never go wrong with a good, homemade pizza. Ooni's small-scale oven is capable of heating up to a blistering 950 degrees in a matter of minutes, managing to transform any kitchen into a pizzeria – well, at least a small-scale pizzeria.
TheraGun Elite
When R&R seems impossible to find, the best massage gun on the market will deliver that and no less. TheraGun products have been endorsed by the likes of pro athletes, physical therapists, and an abundance of other trustworthy sources. The brand's Elite offering sticks to its namesake, boasting a 2-hour battery life, sound-insulated motor, and ergonomic grip to provide the optimal at-home massage experience.
Apple AirPods Max
In the past couple of years since its release, the AirPods Max has gradually become a commonplace accessory for jet setters, commuters, and pretty much anyone who likes to envelop their ears in a sleek and private getaway. Its style is second to none, the sonic prowess is through the roof, and, if we're being honest, what says "I love you" more than some of the best noise-cancelling around?
The 15 Best White Dial Watches for Men
While the frigid months of winter are gradually fading away, white is always in style, no matter what the lack of snow has to say. And in our opinion, there's no better way to wear white than on your wrist, which is why we crafted a guide to the market's best white dial watches.