Not unlike smoke detectors, self-defense weapons are items that, while hopefully never needing to be used, are much better to have and not need than need and not have. While handguns and full-size knives have long been obvious go-to options in this arena, there does exist a wide range of much smaller and more unassuming self-defense weapons that still provide ample security and defensive capabilities in markedly more compact and pocketable packages.
From micro-blades to kubatons to knucks, keychain-style self-defense weapons not only come in an enormous variety of forms but can also massively differ in terms of quality and construction — an area that's particularly important considering these weapons are typically deployed in life-threatening situations. Knowing just how abundant this space is, we've scoured the segment for the most effective and trustworthy items currently on the market in order to deliver this guide to the best self-defense keychain tools.
Tactikey
Offered in four color options, the Tactikey is an ultra-minimalistic take on a self-defense weapon that transforms a standard house key into a striking or piercing weapon. Utilizing a super ergonomic design that fits comfortably in the hand, the Tactikey is composed of a TPE 110 composite handle that's ultra-durable while still weighing in at only 0.03oz. Best of all, even with the grip set over the key, the key remains fully functional. Tactikey also sells a version of this product that sees its composite handle paired with a 0.125-inch-thick, four-bevel G-10 blade that was designed by Dave Taylor of FLC Knives.
CRKT Williams Defense Key
Rather than a product that weaponizes a standard house key, this item from CRKT is a purpose-built self-defense tool that's designed to sit on a keychain and resemble a regular key. The brainchild of former U.S. Army Officer James Williams, the Williams Defense Key is comprised of a T-shaped handle that's made from glass-reinforced nylon and mated to a pointed 1.76" 3Cr13 stainless steel "key" with a natural-looking tumbled finish. Designed to maximize piercing or striking power, the tip of the 0.11-inch-thick defense key can also double as a Phillips head screwdriver, giving it additional utility outside of self-defense scenarios. This self-defense weapon is also TSA-compliant and can be taken on flights.
TITANER Titanium Toothpick
Tipping the scales at only 0.15oz, the Titaner Titanium Toothpick is an incredibly discreet self-defense weapon that comes in a convenient and discreet keychain. Said keychain unscrews to release a 1.77" toothpick that can be screwed onto the keychain in the other direction, allowing the keychain to act as a handle. This ultimately makes for a wildly compact weapon with unparalleled piercing abilities. Not only are both the toothpick and keychain made from titanium, but the former item also boasts a tumbled finish and a trio of grooves at its base that together bolster grip and mitigate the chances of the weapon slipping from the user's hand while being used.
Tallen Damascus Two-Hole Duster
While technically sold as a "novelty item" or "paperweight," some astute self-defense aficionados have noticed that the Tallen Damascus Two-Hole Duster just happens to also make for a stellar double knuck. Crafted from a 0.25-inch-thick block of Damascus steel, this item measures 2.125" wide and 1.25" tall and features two side-by-side 1.0-inch finger holes that easily allow a fist to be made around the knuck. Weighing less than an ounce, this knuck also sports a slightly pointed profile on the outside of each finger hole — a design that better concentrates striking force and maximizes the damage being dealt out, making for a more effective self-defense weapon. It is important to note that knucks are illegal to carry in certain regions so we highly recommend checking your local laws before ordering one.
Hinderer Knives Little Kubaton LK-1
Originally modeled after a small bamboo weapon made by the inventor's father called the "Hashi stick," a Kubotan is a small, cylindrical self-defense weapon that was first created by Sōke Takayuki towards the latter end of the 1960s. Designed to held inside of a balled-up fist, kubatons — despite their unassuming appearance — are renowned for both their defensive and offensive capabilities, especially when it comes to pressure point strikes and locks. Made by Hinderer Knives, this particular kubaton — the LK-1 — sits on a quick-release keychain and measures 3.50". Just like with a traditional full-sized kubaton, this more pocketable keychain version boasts milled rings along the body and a pointed knurled end — again, a design that better concentrates striking forces.
Toor Knives Thumper
Made in America by one of our favorite boutique knife brands, Toor Knives' Thumper is a ring-style single-hole knuck that's made from solid brass, copper, or titanium — all of which sport a bare, stonewashed finish. The "business end" of the Thumper features a knurled face that's been designed to maximize damage when striking while the opposite end of the knuck has been outfitted with a hole that allows it to be carried on a keychain, lanyard, or necklace. The Toor Thumper is also backed by the company's lifetime warranty.
ASP Palm Defender
Another unassuming-looking keychain capable of dealing out some devastating defensive power, the ASP Palm Defender is a super compact keychain pepper spray item that's constructed around a precision-machined aerospace aluminum or brass body. Securely sealed via an o-ring, the housing contains 10oz of a law enforcement-grade, 10% Oleoresin Capsicum formulation that's rated at around a whopping 2,000,000 heat units on the Scoville scale. On top of offering a 3' range, the ASP Palm Defender also affords its carrier three half-second bursts. This cannister also features the world's smallest replaceable gas insert.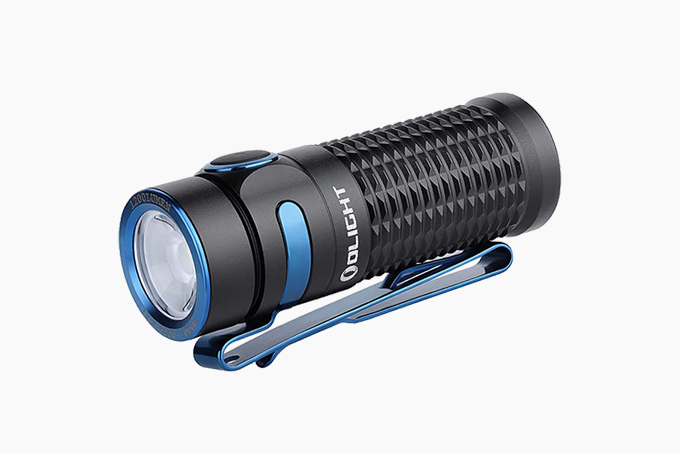 Olight Baton3
While flashlights aren't typically what spring to mind when talking about compact self-defense weapons, a powerful enough torch can actually be extremely effective, blinding potential attackers and making them incredibly vulnerable to any striking or attack. Unequivocally one of the best and most compact options on the market is Olight's insanely potent Baton3. Equipped with five different power levels plus a strobe mode, the Baton3 boasts a maximum output of 1,200 lumens and a range of over 540'. On top of its self-defense prowess, the Baton3 also just happens to make for a fantastic everyday carry flashlight and is offered in a Premium Edition that comes with a true wireless earbuds-style wireless charging case that can replenish the Baton3's battery more than 3 times.
WESN Microblade
The knife that launched the WESN brand, the Microblade is an ultra-compact yet thoroughly hardwearing folding knife that's crafted around a framework-equipped grade 5 titanium handle with a bare titanium or G-10 scale. Produced in five color options, the Microblade is one of the hundreds of compact knives on the market, though its beefy high-quality construction actually allows it to stand up to real-world self-defense — and EDC — situations without the blade or lock snapping or failing. Weighing only 1oz, the WESN Microblade can also be carried via its pocket clip, or in a leather sheath (which is sold separately). Smoothly guided by a set of ceramic bearings, the knife's 1.5″ D2 blade can be rapidly deployed using its flipper tab (or thumb stud). And, with an included pocket clip — or leather sheath (sold separately) it's remarkably easy to always have the Microblade at the ready.
Microtech Assailant Credit Card Knife
Though the company is undoubtedly best-known for its top-shelf automatic and OTF knives, Microtech produces a variety of other quality tools and self-defense weapons like the Assailant Credit Card Knife. Measuring 3.375″ long by 2.125″ wide, the Assailant is precision-machined in America, starting out as a 0.6" block of titanium before being milled into shape. Tipping the scales at less than an ounce (0.81oz to be exact), this tool features two sharpened and carbonized edges and a pair of finger holes — the former of which allows for slashing and cutting while the latter enables the card tool to act as a knuck. And, while the Assailant Credit Card Knife does fit inside a standard wallet or cardholder, each unit is sold with an included Microtech-branded nylon wallet.
Serge Panchenko X-1 Knuck
In operation since 2008, Ukrainian-born craftsman Serge Panchenko has carved out a reputation for himself through producing high-quality knives and tools in low-quantity batches to ensure ultra-exacting standards — with Panchenko's X-1 Knuck being no exception. Made in America, the X-1 Knuck is crafted from a heavily-stonewashed aluminum that's been machined into an ergonomic shape with a one-inch finger hole, perfectly matching the contours of the user's hand while making a fist. Offered in several other finishes and colors, each X-1 is also adorned with a mini copper plaque that denotes each item's production number.
Eddleman Custom Knives Monkey Knucks 3.0
Weighing 2.39oz, Eddleman Custom Knives' Monkey Knucks 3.0 is a limited-edition self-defense weapon with a unique and distinctive "monkey face" design. This charming but effective striking weapon sports two 1-inch finger holes — both of which are flanked by a trio of raised sections that concentrate blunt impact forces. While there's certainly no denying the efficacy of this idiosyncratic knuck, its playful profile and design make it a much more acceptable and low-key alternative to carrying a traditional duster or knuck — especially in professional office environments. Sam Eddleman also produces other versions of the Monkey Knucks that boast slightly different designs.
The 10 Best Non-Lethal Self Defense Weapons For Home Security
Looking for some alternatives to traditional firearms for self-defense while in your house or apartment? Then be sure to head over to our guide to the best non-lethal self-defense weapons for home security for ten of the most effective options currently on the market.