Presented by
The holidays are here, which means that you're scrambling to find a gift for everyone in the family. Among these individuals, the "dapper man" can be one of the most difficult to pin down and do right by — especially when it's become increasingly clear that he's only focused on top-of-the-line products from revered outfits.
To save you a bit of time, and make things a little easier this holiday season, we've decided to do the heavy lifting for you. Below, we've curated a listing of our favorite gift ideas for the stylish fellow in your life, channeling the finest items from grooming, clothing, hygiene, and accessory brands to give you a winning idea for this year's holiday season.
Dockers® Alpha Chino
Dockers® Alpha Chino is a classic style piece crafted for the modest man. Aside from a suite of crafty new seasonal plaid colorways, hidden security pockets, and versatile semi-formal styling, the Chino is built with smart 360 flex performance features for game-changing comfort and durability.
Admiral Matte Clay
Admiral Pomade's Matte Clay brings light-weight styling to the masses in a handsomely-designed, anchor-clad container.
United By Blue Travel Case
United By Blue's Travel Case is a five-liter offering that features its very own organizational compartments and a waxed organic cotton exterior for water repellency.
Permanent Style: The Style Guide Book
Permanent Style: The Style Guide Book offers a unique perspective of the fashion industry, channeling perspectives of the industry's most stylish men for a visually-driven selection of outerwear photography.
Baxter of California Safety Razor
Baxter of California's Safety Razor offers a chrome-plated construction that's professionally-oriented, providing a more artisanal approach to grooming.
Paul Smith Color Block Wool Gloves
Paul Smith's Color Block Wool Gloves bring poppy, eye-catching hues to one of menswear's most traditional accessories.
Form Function Form Architects Wallet
Form Function Form's Architects Wallet is the complete package for design-minded gentlemen, thanks to its saddle-stitched exterior, YKK rivets, and premium Chromexcel leather.
Red Wing Heritage Pioneer Belt
Red Wing's Heritage Pioneer Belt is a well-crafted waist accessory that utilizes the same full-grain leather as its counterparts, making it an attractive option when pants are a bit too loose.
Aesop Lore Collector Hygiene Kit
Aesop's Lore Collector Hygiene Kit features a Geranium cleanser, balm, and hand wash, as well as an aromatic balm, accompanied by writer Lafcadio Hearn's mesmerizing verbiage.
Portuguese Flannel Teca
Portuguese's Flannel Teca is an amazing overshirt that takes full advantage of hand-selected fabrics from around the world, complementing its drop-tail hem and free collar.
WOLF Watch Storage Case
WOLF's premium Watch Storage Case utilizes top-grain leathers, chrome hardware, and black ultrasuede, offering substantial security for style-focused men.
London Undercover City Gent Umbrella
London Undercover's City Gent Umbrella is a sophisticated, sartorially-minded offering that boasts a handsome black shell, silver frame, and malacca wood handle.
Anderson & Sheppard Ribbed Cashmere Scarf
Anderson & Sheppard's Ribbed Cashmere Scarf was crafted to keep you cozy, thanks to the brand's springy cashmere fabric. As such, each wrappable garment has been built atop some of Scotland's finest materials.
FRYE Union Workboot
FRYE's Union Workboot features a magnificent pull-up leather construction, weatherproof finish, and Goodyear-welt, allowing it to weather the years at your side.
Bradley Mountain Biographer Backpack
Bradley Mountain's Biographer oasts a traditionally-styled roll-top, 10.5 liters of capacity, and a bevy of zippered openings/pouches to keep your gear protected throughout your travels. Plus, it's water-resistant.
Philips Norelco Series 9700 Electric Shaver
As the brand's flagship offering, each example boasts a cutting-edge razor that moves in eight different directions, as well as Contour Detect tech that trims 20% more facial hair in a single pass when compared to its competitors.
Todd Snyder Italian Corduroy Chore Coat
Todd Snyder's Italian Corduroy Chore Coat pays homage to one of menswear's most prominent silhouettes, calling upon a medium-wale corduroy, genuine horn buttons, and a polished, sport coat-like demeanor.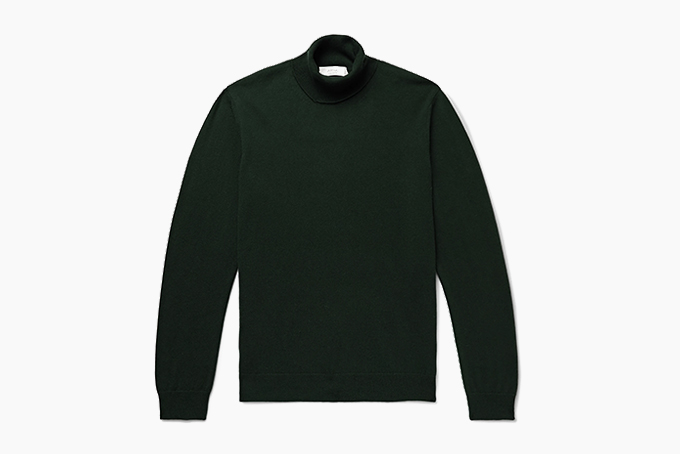 Altea Cashmere Rollneck Sweater
Altea's Cashmere Rollneck Sweater is crafted from a luxurious cashmere sourced from Scotland's Todd & Duncan, a legendary outfit with over 150 years of experience within the realm of fabric.
Timex American Documents Watch
Timex's American Documents Watch is a timeless offering that celebrates the history of American and European design, thanks to its stainless steel case, brushed satin finish, and impact-resistant Gorilla Glass 3 window.
Jacques Marie Mage Dealan Sunglasses
Jacques Marie Mage's Dealan Sunglasses are an homage to musician Bob Dylan, who kept a pair of similarly-styled, cat-eyed spectacles at his side during his touring years.
Gloverall Churchill Peacoat
Gloverall's Churchill Peacoat brings classic elegance to any guy's refined arsenal, thanks to its English Melton wool construction, impeccably-soft lining, and unparalleled tailoring.
The 30 Best Men's Fall Style Essentials
We've outlined some of our favorite fashionable gifts above, but if you're looking for a more focused approach to the world of heritage-inspired outerwear, head over to our guide on the best men's fall style essentials, where we dive deep into the garments that are making waves this season.