Presented by

First established in 2003, Blade HQ has grown from a small independent outfit into the world's premiere online knife retailer. With a roughly 90-person operation, Blade HQ carved out its leading position in the space not just through stellar customer service, but also through its absolutely enormous, ever-growing catalog of freshly-unveiled fixed blades and folders — five of the most noteworthy of which we'll be highlighting today in this month's guide to the best new everyday carry knives on Blade HQ.
Cold Steel Verdict
Priced at under $60, the Cold Steel Verdict is an EDC-specific folder that punches well above its weight. Weighing in at 2.50oz even, the Verdict features a glass-filled nylon set of contoured handles with a super ergonomic design and an ultra-sturdy Tri-Ad locking mechanism set in its spine. Finished in OD green, the handle also sports a tip-up deep-carry pocket clip and an integrated lanyard hole. Mated to the handle is a 3.00" spear point blade made from 4116 stainless steel.
Blade: 4116 Stainless Steel
Handle: Glass-Filled Nylon
Blade Length: 3.00"
Total Length: 7.20"
Lock Type: Tri-Ad Lock
Kershaw Noventa
Taking inspiration from the Art Deco movement from the 1920s and '30s, the Kershaw Noventa is a highly-stylized everyday carry folder that's comprised of a stonewash-finished stainless steel handle with contrasting milled details, an integrated frame lock, a bearing-equipped pivot, and an ambidextrous tip-up carry pocket clip. The Noventa also features a 3.30" black-oxide-coated D2 drop point blade that's opened via a disappearing flipper tab. Satin flats and machining details also allow the blade to mimic the handle's contrasting motif.
Blade: D2
Handle: Stainless Steel
Blade Length: 3.30"
Total Length: 7.75"
Lock Type: Frame Lock
Blade HQ x MKM Voxnaes Isonzo
Offered exclusively through Blade HQ, the MKM Voxnaes Isonzo is a bonafide pocketable powerhouse. This 5.62" workhorse is constructed around a stainless steel frame with a liner lock that's adorned in black Micarta scales with an integrated lanyard loop and a bent wire reversible pocket clip. Mated to the handle is a 2.25" clip point blade that's 0.12″ thick, deployed via an elongated thumb hole opener, and made from ultra-premium Böhler M390 blade steel. Tipping the scales at under 2.50oz, the MKM Voxnaes Isonzo was also penned by famed Danish designer, Jesper Voxnaes.
Blade: Böhler M390
Handle: Micarta
Blade Length: 2.25″
Total Length: 5.62"
Lock Type: Liner Lock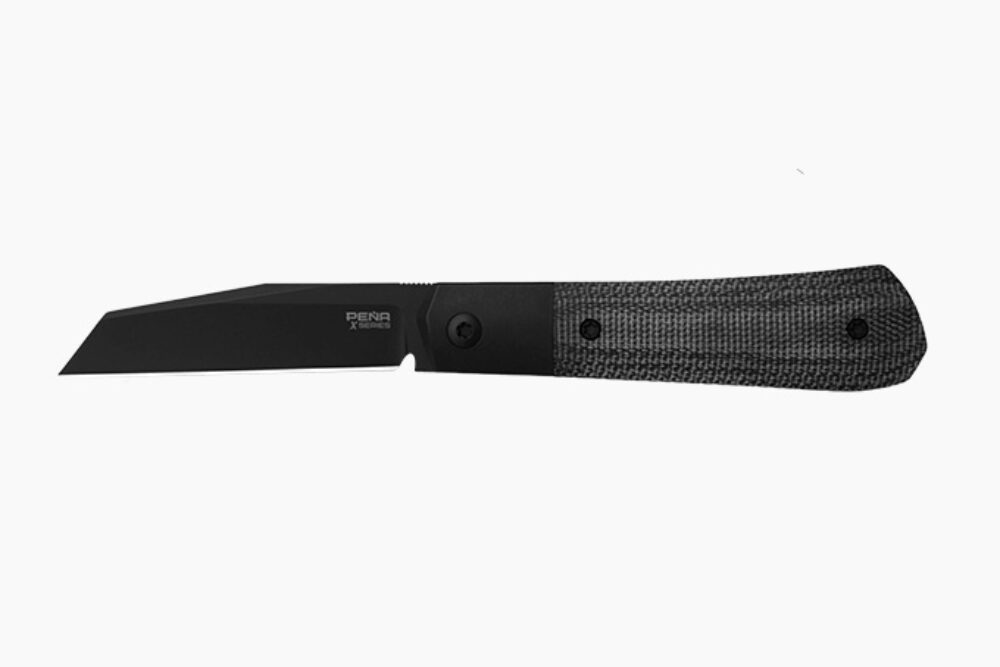 Pena Knives X Series Raptor
Measuring 6.625" overall, the Pena Knives X Series Raptor is a retro-inspired folder that's modeled after old-school pocket knives and brought to life using modern materials and technology. This Enrique Pena-designed knife starts with a titanium frame-lock-equipped handle with titanium bolsters that's been cloaked in black Micarta scales before being mated to a modified Wharncliffe blade. Deployed via a knurled front flipper tab, the 2.875" blade is composed of black PVD-coated Böhler M390 blade steel.
Blade: Böhler M390
Handle: Titanium & Micarta
Blade Length: 2.875″
Total Length: 6.625″
Lock Type: Frame Lock
WE Knife Co. Typhoeus
Easily one of the most unique and innovative knife designs released over the last few years, the WE Knife Co. Typhoeus is a morphing fixed blade that can pivot from a rigid clip point item into a push dagger. Part workhorse and part self-defense blade, the Typhoeus features a milled titanium handle and a wide gray stonewash-finished clip point blade made from Crucible Industries' ultra-premium CPM 20CV steel. Weighing in at 3.41oz, this knife is also sold with an included WE-branded black leather sheath.
Blade: CPM 20CV
Handle: Titanium
Blade Length: 2.27"
Total Length: 6.25"
The 5 Best New EDC Knives of September 2022
This month's list not doing it for ya? Then be sure to check out last month's edition of the best new EDC knives for another handpicked selection of freshly-released blades on Blade HQ.