We could wax romantic all we want about the merits of embracing an analog lifestyle, but there's no denying the convenience that comes with our 21st-century tech. Sure, it might not hold the same sepia-toned appeal or old-school cool of conventional means, but in today's increasingly digitized world, it's a game of sink or swim. Hold out against progress and you'll find yourself left behind; embrace the innovation and you'll find your efforts rewarded.
And while most of today's tech items make for an expensive investment, there are plenty of affordable options out there that are equally — if not more — impactful in our daily lives. From smart speakers and streaming services to charging stations and gaming consoles, we've picked an assembly of items that are sure to hit it off well come time for gift exchanging. And the best part is, each of them come in under $50. With the holidays rapidly approaching, we've done the legwork so that you don't have to. So see what we've picked for the best tech gifts under $50 and finish up that shopping.
Bluekey Cable Clips
With WFH here to stay for the foreseeable future, now's your chance to give the gift of a clutter-free workspace. These convenient clips from Bluekey are great for keeping your cables in place and out of the way.
Goal Zero Flip 12 Portable Charger
About the size of a pack of gum, this portable power bank from Goal Zero holds enough charge to fully replenish your smartphone. Kiss the days of low-battery alerts goodbye.
Amazon Smart Plug
A great option for even the most tech-challenged, this simple little accessory adds Alexa voice control to any outlet. Just plug it in, open the app, and away you go — no smart home setup required.
JBL Go2 Waterproof Portable Bluetooth Speaker
Although this speaker is small in size and easy on the wallet, it comes loaded with lots of great features. With Bluetooth streaming, 5 hours of playtime, and IPX7 waterproofing, it's a gift that'll keep on giving throughout the year.
Leatherology Cord Wrap Set
Made of full-grain leather and secured with a magnet, this premium Cord Wrap Set comes with two different sizes — one for smaller cords and wires and one for bulky chargers and other larger diameter cables.
Belkin Boost Wireless Charging Stand
Compatible with all QI-enabled smartphones, Belkin's Boost Wireless Charging Stand charges iPhones at a rate of 7.5W, Samsung phones at a rate of 9W, and other devices at a rate of up to 10W. And with support for portrait and landscape charging, it's a great option if you want to continue using your mobile device while you wait.
Raspberry Pi 4 Model B/2GB
With support for 4K resolution, as well as Wi-Fi and Bluetooth connectivity, the Raspberry Pi Model B makes for a capable foundation for a holiday PC build. Get the techie in your life hooked on personal electronics projects and you'll reap the benefits for years to come.
Razer DeathAdder Essential
Despite its budget price point, Razer's DeathAdder Essential is a proven performer in the world of gaming mice. Lightweight, ergonomic, and incredibly robust, you'll know you have a winner when furious clicking is the only sound you can hear.
Logitech K380 Multi-Device Keyboard
In addition to being incredibly portable, this Bluetooth keyboard is compatible with a range of devices, including phones, tablets, laptops, and more. A surefire way to help improve your home office productivity.
Roku Premiere
With support for HD, HDR, and 4K streaming, the Roku Premiere is a no brainer. Whether you're team Apple TV, Prime Video, Netflix, or even Hulu, this is one gift that promises a big payoff for such a small cost upfront.
Skullcandy Sesh True Wireless Earbuds
While most true wireless earbuds at this price point are no-name knockoffs, Skullcandy is a brand with an established reputation for making solid budget audio buys. The Sesh True Wireless Earbuds come with 10 hours of battery life and IP55 sweat- and water-resistance.
Amazon Echo Dot
Amazon's fourth-gen Echo Dot got an all-new shape and better audio this year, but it still comes in right at $50. If you're looking for an affordable entry into the world of smart home tech, this makes for an excellent start.
Keysmart Pro With Tile Smart Locator
If you know someone who's constantly misplacing their keys, save them some worry and grab this nifty little device. It comes with built-in Tile technology, an addition that allows you to ring your keychain using your smartphone should it go astray.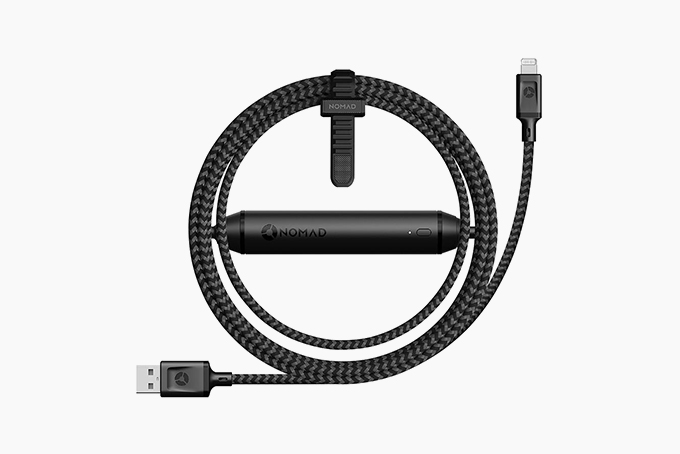 Nomad Utlra Rugged Lightning Battery Cable
Made from 1000D military-grade nylon, this robust charging cable from Nomad is a welcome departure from frustratingly flimsy Apple chargers. As an added bonus, it comes with a with 2,350 mAh battery — good enough for one full charge.
Sega Genesis Mini
Give the gift of a classic gaming console with the Sega Genesis Mini. Preloaded with 42 different games, it includes everything from Sonic The Hedgehog to Streetfighter 2. And because it comes with 2 wired controllers, it makes for easy plug and play fun.