In today's world with all its stress, strife, and potential for danger, we could all use a little levity in our daily lives. After all, life is too short to take things so seriously all the time. And the holiday gift-giving season presents the perfect opportunity to bring a touch of frivolous joy to people's lives.
Sure, you could go hunting for the perfect grown-up gifts for all the people on your list and that might suit your recipients just find. However, if you want to recapture a bit of the magic we all experienced as children, maybe picking out something a little less adult is the better route, at least in some cases. If that sounds about right to you, then we have some excellent news: the following 20 gifts, while of high quality, aren't suitable for stuffy business people. Rather, these are the best gifts for the big kid in your life — be that the person who just refuses to grow up or one who perhaps needs just a bit of coaxing to let that inner child back out.
Elastic Precision PPK Rubber Band Gun
Even just as a tribute gift to the late, great Sean Connery — our favorite James Bond — the Elastic Precision PPK Rubber Band Gun is superb. It doesn't hurt that it was made by hand from solid maple wood, either.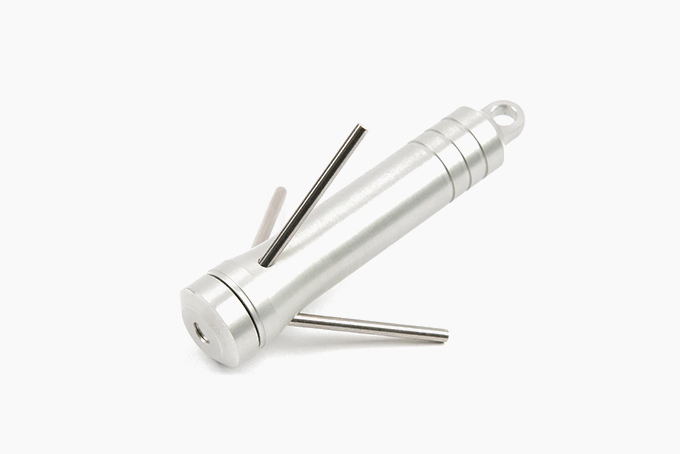 TEC Accessories Retreev Mini Grappling Hook
Equal parts EDC oddity and useful tool, the TEC Accessories Retreev Mini Grappling hook can help you snag your keys from under a dark desk, will hold your backpack up off the ground of public transportation (like a subway), and it will make you feel just a touch like Batman. Plus, it was made in the USA.
Hella Slingshots No. 4
You don't have to be Bart Simpson or Dennis the Menace to appreciate the Hella Slingshots No. 4 you see here, but it doesn't hurt to share a bit of their spirit. In any case, this gorgeous and useful slingshot is made in the USA from genuine forked tree branches.
Rubik's Cube Connected
For puzzlers everywhere, the Rubik's Cube is an iconic piece of hardware. However, it isn't exactly up-to-date. Or at least it wasn't before the Connected version emerged — which lets you track your stats (like speed and win rate) via an included app and Bluetooth connectivity.
NERF Ultra One Blaster
There are numerous reasons to love the NERF Ultra One Blaster, but the biggest is probably because this is the furthest-firing out-of-the-box blaster on the market — and it can actually fire darts up to 120 feet. It also holds up to 25 darts in its rotating drum and is battery-powered for ease-of-use.
Sled Legs
With the winter fast approaching, snow season is just about upon us. And there are few things quite as joyous as sledding. Of course, that gets even better when you can do it hands-free, as with the Sled Legs. Just get a running start and take a rockstar slide down your biggest, baddest hill and enjoy.
Craighill Jack Puzzle
Perfect as a desktop decoration, fidget toy, and a means by which one can help get themselves out a mental rut, the Craighill Jack Puzzle is superb. It's also made in the USA from solid brass, which gives it a bit of heft and speaks to its craftsmanship.
MMX Vancouver Marshmallow Crossbow
Foam dart guns are fun and all, but the experience is all-the-better when you can eat the ammo, as is the case with the MMX Vancouver Marshmallow Crossbow. With this all-natural firearm, you can launch soft, edible marshmallows up to 60 feet through the air.
CROSSNET Four Square Volleyball Net
The best way to describe the CROSSNET is probably as battle-royale volleyball — meaning it's every man for himself, which adds quite a bit to the competitive nature of the already-competitive backyard game. Best of all, it can be adjusted to suit three different heights to increase or decrease the difficulty.
Shinola Dominoes Set
Dominoes is about as classic and approachable as tabletop games get. But the beautifully-crafted Shinola Dominoes Set you see here elevates it just a bit above the norm, making this a board game you can be proud to bring out at parties and get-togethers.
LEGO Technic Lamborghini Sián Hypercar
Perfect for gearheads with a flair for DIY projects, LEGO's Technic division has recreated Lamborghini's utterly-impressive Sián hypercar as a whopping 3,696 building-block kit. And that's with a working suspension, V12 engine with moving pistons, and more.
Oculus Quest 2 Standalone VR System
A vast improvement over VR systems of the past, the Oculus Quest 2 doesn't require any wires, tethers, or additional sensors or cameras. Rather, it works as a fully-standalone experiential video game machine with HD imagery, Facebook connectivity, and a bunch more.
DJI RoboMaster S1
The DJI RoboMaster S1 is a two-fold gift. First, it's a remote-controlled tank drone, which is tons of fun in and of itself. But it is also a STEM learning tool, meaning the end-user can actually learn programming simply by using it.
Next-Gen Video Game Consoles
This year is a huge one for video games, as the PlayStation 5 and Xbox Series X next-gen consoles have released just in time for the holiday season. And, as any even half-serious gamer can tell you, owning one or both is a practical necessity at this juncture.
PlayStation 5: $500 Xbox Series X: $500
Banzai Skate Co. Series 01 Skateboard
A replica of genuine old-school skateboards from the 1970s, the Banzai Skate Co. Series 01 Skateboard is the perfect retro boardwalk cruiser. And, since it's made from solid aluminum, it can be anodized in a number of colors, is remarkably lightweight, and is exceedingly durable.
GoPro HERO9 Black Action Camera Bundle
GoPro is unrivaled when it comes to action cameras and the release of the HERO9 Black has only served to further distance them from the rest of the pack. As such, if you know anyone with a taste for adventure-ready tech, you can't go wrong with this bundle that includes the camera, a case, storage cards, and so much more.
Traxxas Mercedes-Benz G-Wagen 6×6 RC Car
A full-sized Mercedes-Benz G-Wagen 6×6 is almost definitely out of most people's price range for this holiday gift-giving season. However, this RC version is a lot more approachable and still plenty of fun. In fact, it has a genuine off-road suspension and waterproofing, so you can actually take it out into the elements and drive around.
Indian eFTR Jr Kid's Motorcycle
If you're a wrench monkey with children of your own, you might want to pick up the Indian eFTR Jr Kid's Motorcycle to get them started young. While this bike looks like its larger counterpart, it's actually powered by an electric motor that's good for a top speed of 15 mph and 140 minutes of ride time.
DJI Mavic Air 2 Drone
An update to one of the best out-of-the-box drones currently available, DJI's Mavic Air 2 offers the ability to shoot 60fps video in 4k quality, it can transmit video at up to 6.2 miles, and it has a longer flight time than ever before.
LAVA ME PRO Carbon Fiber Acoustic Guitar
Designed to survive some truly harsh conditions — the kinds that would destroy traditional wood instruments — the LAVA ME PRO Carbon Fiber Acoustic Guitar is the perfect six-string for adventurous souls. But it doesn't stop there; it also has a built-in preamp with onboard effects for some excellent versatility.
The 15 Best NERF Guns
There are few things quite as pure and joyful as playing a bit of cops and robbers with some dart-shooting toy firearms. That doesn't change just because you're a bit older, so have a look-see at our list of the best NERF guns and put a bit of playtime back in your life.