Presented by
There are a lot of things that look markedly different this year — and for so many reasons. And that can make normalcy a hard thing to come by. Thankfully, however, there are still some things that remain despite the chaos (real or perceived), including the biggest, best shopping day of the year. Now, we're not saying that going out and picking up some brand-spanking-new everyday carry gear is going to fix anything at all — apart from those DIY issues around the house, maybe — but it might just give you a greater sense of control and perhaps even bring joy to your life and the lives of your gift recipients when the holidays have come and gone. With that in mind, we've put together this brief-yet-enticing collection of the best Black Friday everyday carry deals of 2020.
Glow Rhino Pry Bar
Not only is Glow Rhino's Pry Bar made from near-indestructible titanium and comes with an integrated bottle opener, self-illuminating tritium insert, and flathead screwdriver — but the brand is also offering 30% off purchases for Black Friday with code BLACK30.
Gallantry
Gallantry, one of the best proprietors of everyday carry gear and accessories, only does one sale a year — and it's on Black Friday. Now is the perfect chance to boost your loadout with 20% off sitewide using the code BLACKOUT2020.
5.11 Tactical
If you like battlefield-ready gear (knives, backpacks, tools, etc.) with all the mil-spec bells and whistles, you can never go wrong with 5.11 Tactical. And that's doubly true this Black Friday when the brand offers discounts of 25% off site-wide.
5.11 Tactical: 25% Off Sitewide
Aer
Responsible for making some of the most handsome minimalist EDC and travel bags (as well as accessories therein), Aer is one of our favorite brands around. And they're offering 20% off their entire catalog for Black Friday.
Chrome Industries
Whether you're an urban cyclist, a city commuter, and/or you just want some spectacular bicycle-friendly EDC gear, bags, accessories, etc. you're going to find a tremendous suite of offerings through Chrome Industries — who are offering 25% off site-wide and 60% off clearance.
Chrome Industries: 25% Off Site-Wide
Dango
Offering some of the best tactical-inspired EDC gear ever built, Dango stands as a highlight in the pocketable gear community. And for this year's Black Friday, you can get up to 30% off purchases of up to $200 without the need for a discount code.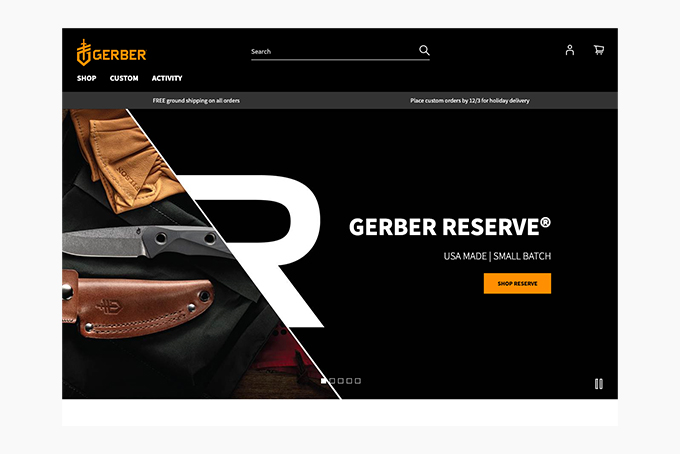 Gerber
Gerber is one of the most legendary everyday carry and tactical gear brands ever to grace this planet. And their offerings are all the more enticing with 20% off site-wide and free shipping on all orders this Black Friday.
Gerber: 20% Off + Free Shipping
GORUCK
Not only does GORUCK offer the legendary, bombproof GR1 backpack, but they have a full catalog of exceptional bags, apparel, and accessories therein — all worth their weight in gold. That goes double when you consider that they're offering up to 40% off for Black Friday.
GORUCK: Up To 40% Off Select Items
Mission Workshop
When it comes to EDC gear, bags, apparel, and more, few brands hold a candle to Mission Workshop. And now they're offering 20% off site-wide for Black Friday with code BF2020 — which also gives you access to 20% off a future order and comes with a bag of Bicycle Coffee (while supplies last).
Mission Workshop: 20% Off Sitewide
OtterBox
Whether you need an indestructible iPhone case, a submersible duffel backpack, and/or a cooler that keeps ice frozen for days and days, you're covered by OtterBox — especially on Black Friday when they're offering 25% off site-wide.
Timex
Timex is one of the most iconic watchmaking brands of all time and they're still going strong in this day and age. And now you can wrap one (or many) of their offerings around your wrist for 30% less than normal with code BLACKFRIDAY30 — just note that some exclusions apply.