Presented by
There are few companies who can lay claim to the west-coast culture like Vans. Ever since the famed footwear brand was founded in Anaheim during the apparel boom of 1966, it's stood at the heart of California's skate scene, becoming a household name on account of its cultural commitments, philanthropic efforts, and recognizable iconography. Today, however, the versatile outfit takes part in a breadth of activities outside of skateboarding, including BMX, snowboarding, and surfing — all of which share in the extreme, outdoor trappings of its lineage within action sports.
While Vans' expansive footwear catalog boasts a number of high-profile sneakers, slides, and slip-on shoes crafted for the urban environment, it's difficult to put our finger on an outdoor model that's been built to take on the rigors of everyday life, while still being able to accompany its wearer within the world's harshest climates. To make matters worse, the company's most prominent competitors have bolstered their established footwear collections with a handful of technical, trail-focused offshoots, including Nike's lauded ACG lineup, and Adidas' TERREX branch. But what does a brand born, rooted, and raised within the vastness of the concrete jungle bring to the table for wearers who want to bridge the gap between their structured, regimented lifestyle, and their adoration for the chaotic outdoors? According to Vans, the answer is the UltraRange EXO Hi MTE.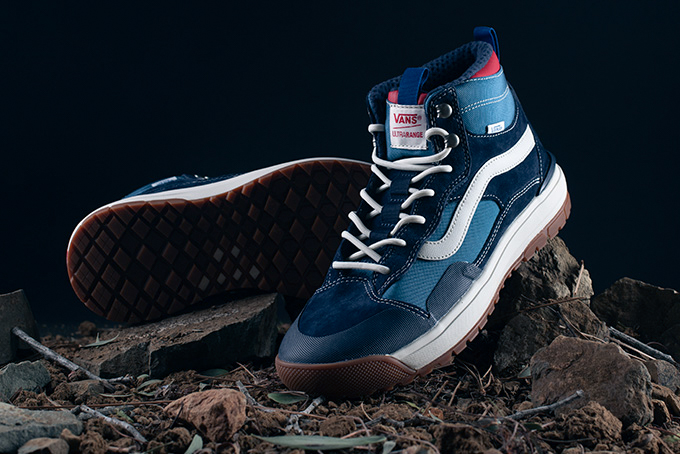 The Design
Bridging the Gap Between Form & Function
If you've been a part of the Vans ecosystem at any point within the past five decades, you'll realize that a large portion of the brand's popularity is predicated upon its ability to remain at the forefront of timeless footwear. It boasts a number of styles that have etched their names into the annals of sneaker history, including the heritage-focused Sk8-Hi, the suave, but simple Classic Slip-On, and the perfectly-balanced Authentic — providing a perfect basis for its antiquated stardom. However, due to a dramatic rise in the popularity of technical, weatherized materials, hiking-inspired silhouettes, and durable, long-lasting footwear, the brand has decided to amplify its own urban designs for the outdoor realm.
A quick glance at the company's UltraRange EXO Hi MTE will tell you all you need to know about Vans' masterful union of form and function. It retains a classic, hi-top silhouette that's strikingly similar to the brand's Half-Cab and Sk8-Hi — albeit, with a bit more meat on its bones — and elaborates upon its already-established UltraRange lineup with the addition of a comfortable, but firm UltraCush Lite midsole. Focusing on the shoe's lower portion, you'll find that a newly-implemented MTE outsole has been introduced, along with wide, oversized lugs that promise unparalleled traction over tough terrain. The company's iconic waffle sole, most notable for its inclusion alongside Vans' Authentic, Slip-On, and Sk8-Hi, is replaced by the EXO Hi MTE's proprietary tread pattern; but in the end, this isn't a bad thing. If you've ever been hiking in a traditional Vans model, it's likely that you'll have a story to tell about its performance on smooth, wet surfaces; and it probably doesn't end well.
The Difference
What Sets Them Apart?
It's true that from the very first moment we laid eyes on the EXO Hi MTE, we knew that it was a formidable outdoor model. What we didn't surmise, however, was how versatile it would become. The shoe deviates from the traditional canvas construction of Vans' previous models for more robust architecture, adopting the brand's proprietary MTE 360™ technology, and elaborating upon it with the addition of ruggedized leather, textile, and synthetic uppers. But what does that mean for wearers who are looking to take on the cold, slick trails of their favorite national park?
They'll be delighted to hear that, due to its own technical breakthroughs, Vans has found a way to strike the perfect balance between warmth retention and internal moisture control. Thanks to the addition of premium, water-resistant uppers, the EXO Hi MTE shatters the barrier between the brand's bespoke outdoor offerings and urban silhouettes, calling upon 20-plus years of snow boot design and innovation to create a system unique to the UltraRange line. Because of this, said wearers are gifted with uncompromising moisture management, increased warmth, and improved airflow, making the boot a must-have for any cold-weather excursion.
How They Fare
Trial By (Camp)Fire
Over the past couple of weeks, we've been able to put the newly-revealed UltraRange EXO Hi MTE through its paces. From an outdoor hiking trip within the forests of central California, all the way to a coastal camping adventure during one of the rainiest nights of the season, the boot was able to remain relatively unscathed, with all of its pieces intact. Suffice to say, we were impressed with its ability to adapt to the differences in the environment. When faced with the wet surfaces of rocks, logs, and steepened grades, the shoe's oversized lug pattern performed substantially well, allowing us to traverse problematic terrain with ease. Its internal moisture management system, which we mentioned in our previous section, turned out to be a godsend; especially when the weather took a turn for the worse, and temperatures plummeted. After returning to camp, our feet were still toasty warm.
Naturally, we decided that this wouldn't be much of a review without placing the EXO Hi MTE in Vans' home court: the urban environment. Needless to say, they performed exceptionally well here, tackling the slick paved surfaces, stairways, and hills of Southern California without losing their composure. While we weren't able to utilize them in extremely low temperatures, we're confident that they'll perform as well (or better) than the remainder of the UltraRange line, due to their improved heat retention properties.
Our Verdict
One Boot To Rule Them All
Overall, we were extremely impressed with the versatility of the boot. Throughout various tests, environments, and photoshoots, the silhouette rose to the challenge, proving once again that Vans' 50-plus years of expertise within the realm of footwear hasn't been squandered. Whether you're looking for an outdoor-friendly shoe that will stand the test of time or a colorful urban model that elaborates on the technicality of high-altitude snow boots, the EXO Hi MTE should be right up your alley. Head to the brand's website, where you'll be able to pick up a pair of your own (in over eight different color combinations) for $110.