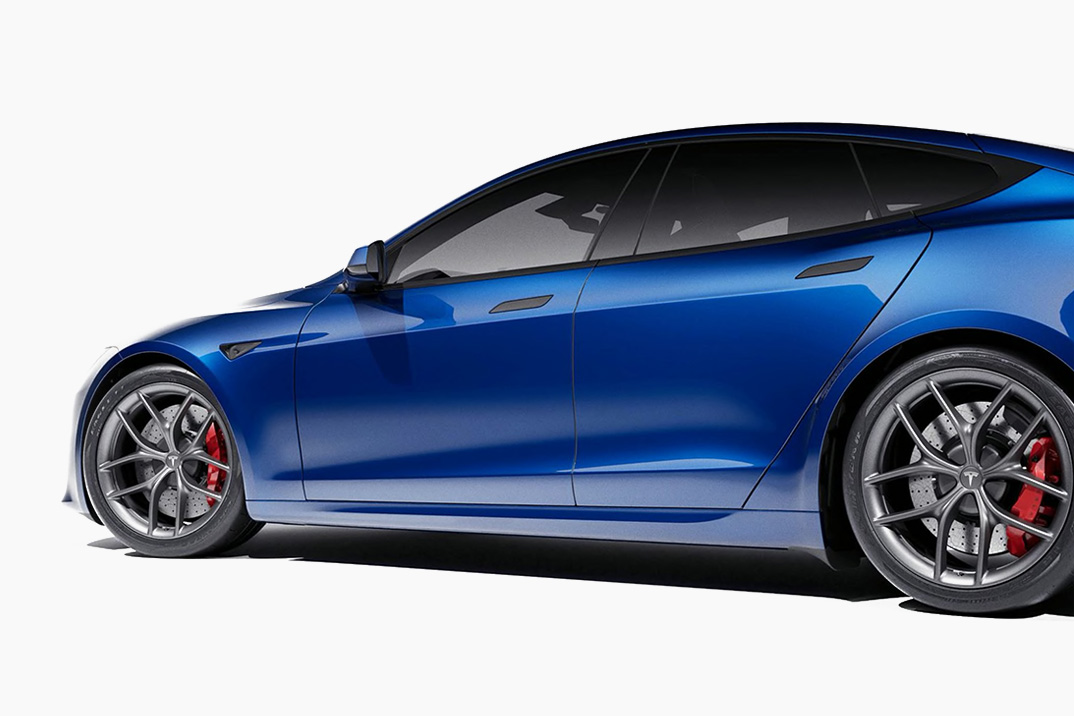 With 1,050ft-lbs of torque and 760kw (1,020hp) of power on tap, and a 1.99 second 0-60mph time, Tesla's Model S Plaid already represented the EV marque's quickest and most powerful model to date. Over the summer of 2021, Tesla announced an even more impressive revised Model S lineup that included new Plaid and Plaid+ versions with even more extreme performance. Now, in a bid to help keep the range-topping Plaid variants' immense speed and power in check, the company has debuted an all-new closed-course-focused automotive upgrade kit with the Tesla Model S Plaid Track Package.
This new upgrade kit turns the insanely-potent daily-drivable EV into a bonafide street-legal track weapon. The Model S Plaid Track Pack starts by unlocking a 200-mph top speed. From there, it bestows the vehicle with a host of new components designed to bolster the car's high-speed stability. This includes a new set of 20" Zero-G wheels that come shod in Goodyear Supercar 3R tires. This new track-specific — yet road-legal — wheel-set replaces the regular Model S Plaid's 19" or 21" wheel options. Forged from aluminum, these 20" wheels come equipped with live tire pressure monitoring sensors, Zero-G center caps, tire nut valves, and lug nut covers.
To help compensate for the EV's hair-raising top speed, Tesla has also included a new state-of-the-art carbon-silicon carbide braking system. Providing incredible stopping power, this system was designed specifically for the Model S Plaid and includes a pair of six-piston forged monoblock calipers up front and a set of quad-pot forged monoblocks in the rear. These calipers chomp down on carbon-silicon carbide rotors that benefit from a continuous-fiber technology, being constructed in a unique 3D matrix that adds immense strength and heat resistance properties. Before leaving the factory, the entire surface of each disc is also coated in a special ceramic friction layer that helps to mitigate brake dust, corrosion, and wear while simultaneously also improving pedal response and feel for better daily off-track driving. The system also features integrated, caliper-mounted parking brakes and comes topped off with a special track-ready brake fluid.
Compatible with Model S Plaid examples made in 2021 or later, the Tesla Model S Plaid Track Package will be available for purchase beginning in June of 2023, with pricing starting at $15,000 for only the carbon ceramic braking system and going up to $20,000 for the carbon ceramic braking system and wheels and wheel components — bringing the starting cost of a Track Pack-equipped Model S Plaid up to $122,490.