Ever since the days of film photography, Leica's M-series rangefinders have stood apart as the cream of the camera crop. And it's not without good reason; between the iconic design, the unrivaled user experience, and the incredible image quality, Leicas have adorned the necks of some of the most talented photographers to ever hold a camera.
Now, after nearly five years of M10 refinement, Leica has released an all-new flagship rangefinder: the Leica M11 Rangefinder Camera. Billed as the most flexible model in M-system history, it combines elements from the D, the P, and the R-edition cameras in order to give photographers everything they need to capture impactful photos. There are no two ways about it, though: at $8,995 for a body alone, it makes for quite the spendy piece of kit. Having spent some time shooting with an M11 and Leica's Summilux 50mm f/1.4, we take a closer look to see if this neo-retro rangefinder is fit to carry the torch.
Video Review: Leica M11 Camera
If you'd like to see this beautiful device presented in full 4K glory, head over to our accompanying Leica M11 camera review on our YouTube channel.
First Impressions
A Refreshed M-System Icon
Above all else, Leicas are popular for their stunning minimalist aesthetic, and the M11 is a case in point. That is to say — it's an undeniably capable piece of equipment, but it's also a camera that's easy on the eyes. Done up in a mix of old-school silver chrome and black leatherette, the body is a purpose-built piece that's free of any unnecessary clutter; everything about it keeps with the classic M-series look.
As such, those who are already shooting with the M10 will find the M11 to be a natural switch. Camera to camera, the dimensions are identical — 5.47" long, 1.51" wide, and 3.14" tall. Of course, Leica has made some subtle refinements here and there — the rounded viewfinder now disrupts the top plate's clean sweep and the sides of the display are now flush with the body. However, by and large, they are very similar — if not exactly the same — in hand. And that's a good thing; when you pair the camera with a hefty prime like Leica's Summilux 50mm f/1.4, the M11 naturally nestles into your palms.
Interestingly, Leica has opted for two different constructions depending on which colorway you choose. Our silver-on-black model featured a full-metal housing made of a combination of magnesium and brass. Weighing a solid 1.41lbs, it has a beautiful chrome finish that'll develop a unique patina as it wears over time. The black-on-black colorway, on the other hand, features a scratch-resistant aluminum top plate with a textured grip. It adds a bit of extra purchase, but the kicker is that it allows it to come in a full 20% lighter at 1.17lbs.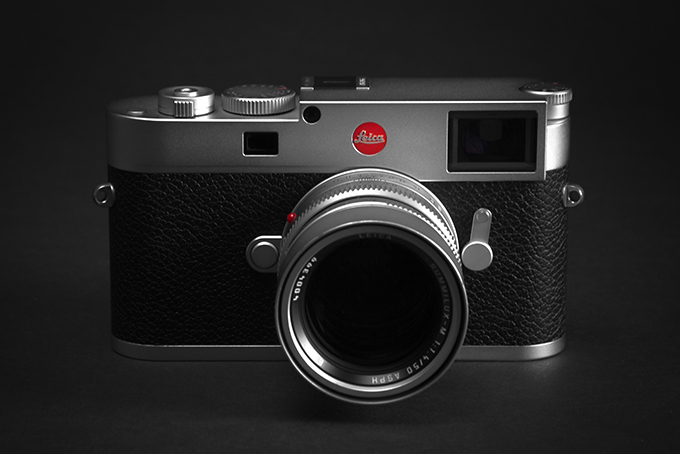 Hardware
Keeping With Tradition
By and large, Leica has left its iconic M-series cameras pretty much unchanged since the M3 debuted way back in 1954. With the M11, however, the Red Dot decided to switch things up a bit, and it's a move that will undoubtedly draw some criticism from more ardent Red Dot devotees… especially in the case of the redesigned bottom plate.
The M10 and others before it required you to remove the base (a call-back to M-series film cameras) in order to access the battery and change the memory card. The M11 instead comes with a cartridge design akin to that of the SL2 and Q2 cameras. In practice, this means that installation and removal are both far more efficient and much more user-friendly. With just a quick flick of the switch and a push of the cell, you can have your battery pack changed out in seconds — no need to worry about dropping cumbersome covers. Thanks to the new design, Leica has also managed to enlarge the battery such that it offers some 64% more capacity.
That being said, the design comes with a few quirks of its own. In order to change the SD card, for instance, you have to turn the camera off and pop out the battery. And, assuming you'll be using your M11 with a tripod, the mounting plate obscures the switch needed to release the cartridge. For this reason, Leica has fitted the M11 with two new features in order to minimize these inconveniences. The camera comes with 64GB of internal storage, giving you a built-in safety net should you fill up your memory card. And, to one side of the baseplate, there's now a weatherproofed USB-C port.
Elsewhere on the M11, Leica has kept a lot of the hardware consistent with that on the M10. The ISO wheel is once again a physical unit, pressing and depressing with a solid click. However, the M11 now comes with an extra stop of range, a new base ISO of 64, and a new max ISO of 50,000. Mechanical shutter speed is, naturally, still controlled with a wheel, starting at 8s and climbing as high as 1/4000s. As with all Leica rangefinders, focusing and aperture control are entirely manual, left up to your lens of choice.
Control-wise, the changes are pretty minor — the function button from the front of the body has been relocated to the top plate, and the three buttons to the left of the display back now read Play, Fn, and Menu rather than Live View, Play, and Menu as they did on the M10. The third function button is accessed by a quick press of the rear thumbwheel followed by a second input by either of the two Fn buttons. When shooting, a short press will bring up the last selected menu option, while a long press brings up the menu of available menu options. Finally, while Leica hasn't removed the four-way rocker switch, it's now only for navigation and confirmation. Pressing the central button doesn't bring up a status screen as it did in the M10; all of the relevant status information is now included on the Quick Menu screen.
Display And Interface
Exceptional Leica Execution
While Leica's updates to the exterior of the M11 camera are mostly revisionist, inside, it's a markedly different beast. For starters, the camera boasts an all-new, full-frame BSI CMOS sensor, enabling 60, 36, and 18MP still images. When shooting, the former (obviously) offers the most detail, whereas the smaller files of the latter two options allow for faster camera performance, improved dynamic range, and extended burst lengths. The best part, though, is that switching resolutions couldn't be simpler — you access the setting in the Quick Menu in much the same way you'd change RAW or JPEG file quality. It's a truly game-changing feature that gives you even more control over your creative process.
What's more, Leica has fitted the M11 with the same lightning-fast Maestro III processor used in the SL2 and Q2. As such, it's plenty responsive no matter what resolution you're shooting at, ensuring minimal buffering (even despite those whopping 100MB files) and intuitive menu operation. The new processor also enables a max electronic shutter speed of up to 1/16,000 of a second. Out in the wild, this means that you're more than capable of shooting wide open — even in broad daylight. And, because the M11 offers system-first multi-field metering in rangefinder mode, exposing your images correctly is easier than ever.
Arguably the best update the M11 brings, however, is the added 64GB of internal storage. Beyond offering a safety net in the event you forget your SD card, this also gives you the flexibility to decide how the camera records and stores your images. Accordingly, you can have the M11 write to the SD card first, use the internal memory as a means of backup, split files between DNG (RAW) and JPEG, use SD only, or write to the internal before filling up your card. We'd also like the ability to save JPEG files to the camera's memory and DNG files to the SD, but that's a minor nitpick that Leica will likely address down the road.
As if that wasn't enough, the M11 is Apple "Made for iPhone and iPad" certified, meaning syncing with your device is a breeze — no matter if it's through the included lightning cable or via a standard wireless connection. Plus, as Leica continues to overhaul its FOTOS app, you'll be able to embed location data, import images, and update the camera's firmware. Finally, you can use either the cable or in-camera WiFi for remote control functionality and 'Tethering' to the M11.
Sample Images
Shots From Around The Office
Closing Thoughts
An Analog Experience For The Modern-Day
Leica has spent five long years refining the M10, and the fruits of its labor are readily apparent in the case of the M11. By sticking with some traditions (like an intuitive menu interface) and eschewing others (like the baseplate), the Red Dot has hit a home run with its new high-dollar rangefinder. Boasting a longer battery life, a spacious internal memory, and a groundbreaking new triple-resolution sensor, the M11 is a tool that gives photographers even more freedom to take control over their creative process. Sure, it does without modern conveniences like AF, video capability, and even automatic controls, but that's because it's not trying to compete with other cameras. Rather, the M11 is a rangefinder that stands apart as something unto its own. When you're after a fully-manual option that carries that classic Red Dot aesthetic, there is truly no better camera on the market.
Why Are Leica Cameras So Expensive?
For many photographers, owning an M-system camera is little more than an aspirational impossibility, believing that their hefty price tags simply cannot be justified. But what is it that gives these rangefinders their grail-like prestige? Is it because of substance or merely status? If you've found yourself wondering such questions, check out our guide to why Leica cameras are so expensive.