If you're at all familiar with our website you'll surely notice our extensive coverage of dive watches. We're talking mechanical timepieces that tell you the time while being able to go upwards of 200m underwater. These days, however, dive watches are used less for actual diving than they are for everyday wear. That's where Garmin comes in. An industry powerhouse when it comes to purpose-built smartwatches, the brand has just unveiled its latest models within its Descent series of dive computers — that is, for your wrist.
Descent G1 Solar – Ocean Edition
As its first watch made from recycled ocean-bound plastics, the Descent G1 Solar Ocean Edition — a new special-edition release of the G1 Solar model released last year — sports a striking pastel blue silicone band affixed to the darker blue case. The recycled material is used for the entirety of the smartwatch's case, bezel, and buttons. In terms of function, the new edition does the same as the standard Descent G1 Solar, including 25 hours of battery life in Dive Mode and 124 days in regular usage. Tested to U.S. Military 810 standards for thermal-, shock-, and water-resistance, the GPS-equipped dive computer also comes with an array of dive-specific features, including a dive compass, dive log, customizable dive info screen, and several different modes for both single and multiple gas dives. The watch also lets you send texts and emails and comes with over 30 other sports apps as well.
Descent Mk3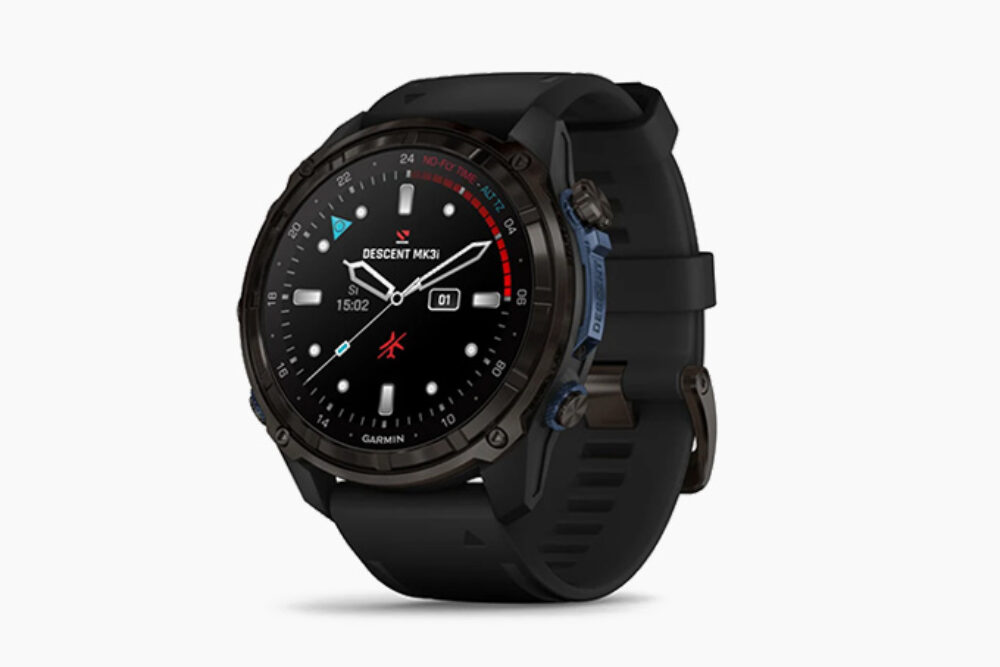 Compared to the G1 Solar Ocean Edition, the Descent Mk3 is a new watch entirely. You'll notice the pricing starts at nearly double that of the first model, but this is for good reason. For starters, the Mk3 not only gives you different size and material options, but it also provides interactive diving maps with bathymetric depth contours, an overall dive-centric layout, and a first-to-market Dive Readiness tool that factors in your overall health (sleep, exercise, and stress) to determine if and when you should go diving. There's also a built-in LED light with a strobe function. You also have the option to level up your stainless steel Mk3 to a titanium-built Mk3i, which includes the addition of SubWave sonar technology to communicate with other divers and a tank monitoring feature in tandem with the T2 transceiver device add-on. While the Mk3 is available only in 43mm case size, the Mk3i offers a 51mm version.