No matter the era, the classics will always survive. Despite the daily technological advances taking place in the audio space, vinyl records have continued to remain popular among loyal listeners, nostalgia lovers, and audiophiles alike. Maybe it's their classic aesthetic, maybe it's the ritual of finding them, or maybe it's the multi-sensorial experience that their grainy, more rugged sound produces when you load them into your record player. Whatever the reason, vinyl records have outlasted 8-tracks, cassettes, and even CDs, and from the looks of it, they're only getting more popular.
With vinyl's growing popularity comes an explosion of new outlets and subscription services that have opened up its accessibility more than ever. While many people prefer the tactile experience of going into a brick-and-mortar store and flipping through an old, dusty collection of vintage records, many of these new outlets have made shopping for vinyl easier, more efficient, and more straightforward. There will always be a place for physical record stores, but the truth of the matter is that everything, even record shopping, is getting digitized. Navigating the internet for these outlets can be overwhelming, but we've searched the web far and wide to find the 14 best places to buy vinyl online. Before jumping into our list, there are a couple of things you may want to keep in mind to help simplify your online vinyl shopping experience.
Availability, Resources, & Inventory
Small Business Charm Vs. Big Box Resources
While these are, in our opinion, the best outlets on which to buy vinyl online, many of these outlets started off as brick-and-mortars whose collections grew so much that they just had to expand to an online store. In fact, many online vinyl outlets are merely digital extensions of physical stores that already exist or have since shut their doors but had the resources to sell their inventory online, and as such often carry more specialized and curated collections. On the flip side (pun not intended), many huge retail outlets, and even record labels themselves, have a better-stocked collection of vinyl they sell compared to the smaller mom-and-pop stores. Also, due to the major retailers' size and resources, they may even have a wider inventory as well. If you're looking for a well-known artist's vinyl album, chances are it will be sold at a major retailer.
Knowing The Scene
An Outlet's Genre & Era
Piggy-backing off of the previous point, because many different vinyl outlets started as independent record stores, a lot of them are tailored to a specific genre or even era that coincides with the "scene" associated with that outlet. As you'll see in this list, many outlets choose to specialize in a particular genre so they can provide their customers with a more thorough experience. Understanding the genre of the music you're looking for, as well as the ancillary genres that stem from it, can enhance your online vinyl shopping experience.
Amazon Vinyl of the Month Club
Amazon might not be the first name to come to mind when thinking about vinyl collections, but the retail giant has an impressive assortment of vinyl and an incalculable amount of resources at its disposal to make shopping for vinyl online all the more convenient. Their Vinyl of the Month Club offers all the amenities of their Prime service while also sending you an iconic album from the 1960s-1970s from artists like Pink Floyd, Aretha Franklin, ABBA, and more every month. It might not offer the existential warmth of supporting an independent record store, but it's well-priced and hyper convenient.
Amoeba Music
On the other side of the spectrum, we have the Mecca of music and the largest independent record store in the world, Amoeba Music. The California record store chain is a music and pop culture institution whose popularity has transcended from its brick-and-mortar stores to an extensive online outlet. Its website is user-friendly and features offerings from every genre and sub-genre under the sun. Even cooler, Amoeba recently launched its own subscription-based vinyl club in partnership with Los Angeles-based company, Vinyl Moon, which curates songs from emerging artists throughout the world and sends you a unique LP of their top 10 songs every month.
Boom Kat
Aside from having a rad name, Boom Kat is a really user-friendly outlet that has an impressive selection of more contemporary hits rather than focusing on vintage artists. It's more of a stomping grounds for seasoned collectors, as Boom Kat has a reputation in the vinyl collection space for having rare finds, in fact, finding overlooked gems is a point of pride for the UK-based outlet. If you're looking for great music that's a bit off the beaten path, definitely check out Boom Kat.
Discogs
Out of all of the entries on this list, Discogs embodies the community and spirit of vinyl collecting the best. Discogs combines the personal passion of vinyl collectors and bloggers and combines it with one of the most extensive collections on the planet and an even bigger database of music to boot. Moreover, Discogs gives breakdowns for the artists on its site, so if you stumble upon a rare, unheard-of find, it'll tell you all you need to know about that artist. If you had to choose one site on this list to buy from, this may be your best bet.
Dusty Groove
This Chicago-based outlet specializes in funk, soul, reggae, jazz, gospel, hip-hop, and other popular genres, though they have offerings from other major genres as well. One of the best attributes of Dusty Groove, aside from the name and huge collection, is that it updates its inventory every day. The site also boasts competitive pricing and offers discounted prices for used vinyl. At first glance, it can be a tad overwhelming, but the site is well-organized, well-stocked, and one of the most well-respected record stores in the space.
eBay
As a platform that is known for having literally everything, it only makes sense that eBay is a great place to shop for vinyl online. Sure, it doesn't have the patina of a store that's devoted to music, but the massive auction site has had thousands of killer finds throughout the course of its history. Sellers may occasionally inflate record prices due to associated fees, but with a bit of luck and some looking, you're bound to stumble upon rare finds that you wouldn't otherwise find at a store.
EIL
Stay with us on this one, we know its website isn't pretty, but as the age-old adage goes, "don't judge an online record outlet by its website." Despite its site's less than stellar appearance, EIL is one of the most trusted online vinyl websites in the world. It boasts a behemoth collection of vinyl from the 1960s all the way to today and has every genre imaginable. Even better, the site allows you to sell your own vinyl on it, creating an open-source approach that widens its curation.
Experience Vinyl
Experience Vinyl is a huge online retailer that features an eclectic vinyl collection with over 40,000 records. It's developed a well-earned reputation among true collectors and offers a monthly record club that sends you custom LPs with music curated from Rock 'n' Roll Hall of Famer Matt Sorum, the former drummer of Guns 'N Roses and Velvet Revolver. If you don't want to be a part of the record club, worry not. Experience Vinyl has an extensive inventory that spans dozens of genres, making it a great destination for collectors of all experience levels.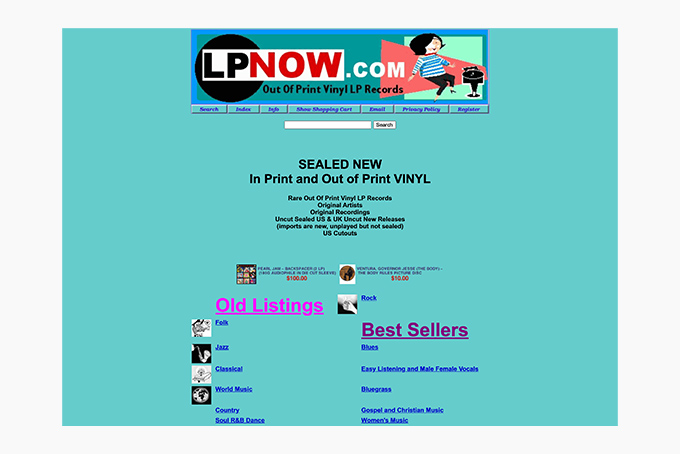 LPNOW
LPNOW also falls under the "don't judge an online vinyl outlet by its outdated website" rule, but it has a stellar reputation among collectors for rare finds and sports a collection of over 50,000 records. Despite its janky site, LPNOW is a great spot to check for out-of-print vinyl LPs. It has sourced thousands of mint-condition, factory-sealed titles to make it a formidable destination for your online vinyl needs.
Magnolia Record Club
We're back to the world of well-designed websites. For the supporter of indie musicians and all establishments against the man, we recommend checking out Magnolia Record Club. A true artists-first subscription service, Magnolia Record Club is a monthly service that sends you a custom record box with music curated by popular indy artists. Each month, you'll receive a uniquely pressed record with custom artwork and a personal note from the artist who curated that month's music. It's a great way to find cool, new music while also supporting emerging artists.
Learn More: Magnolia Record Club
Presto Music
For the audiophiles who love all things classical, we recommend you check out Presto Music. This site is renowned throughout the space for its huge collection of classical vinyl records. Presto Music's site allows you to search for artists based on era, type, and even accolades. The UK-based outlet offers one of the biggest selections of classical music records to buy in the world and is a must-go site for anyone who enjoys classical music.
Tower Records
Tower Records has a massive roster of artists and has recorded some of the biggest hits in music since the 1960s; its vast resources, extensive catalog of music, and strong finger on the pulse of music make it an ideal outlet for vinyl. It's a great website for finding well-priced records from current artists, classic artists, and even lesser-known bands due to the scope of its influence. While Tower Records' brick-and-mortar stores still have a strong pull for vinyl collectors, the studio has seamlessly transferred its huge collection to the digital space, becoming a go-to destination for any audiophile looking to bolster his vinyl collection.
Vinyl Me, Please
What's not to love about Vinyl Me, Please? It's fun, upbeat, unpretentious, and hopelessly romantic when it comes to its love of vinyl records. For Vinyl Me, Please, vinyl records aren't just a mode of listening to music, they're a form of art. Each month, the folks at the site will send you a deluxe-edition vinyl from one of four categories, and each record comes with collectible art and other unique extras like liner notes.
VNYL
If you are looking to bolster your vinyl collection quickly while also tailoring it specifically to your music tastes, then VNYL is a great site to check out. VNYL is a monthly subscription service where they hand-curate 3 records specific to you every month based on your own individual music tastes. They even go as far as allowing you to connect your Spotify account to VNYL to make sure your collection is as personalized as possible.
The 8 Best Record Player Stands With Vinyl Storage
Now that you've found some solid places to bulk up your vinyl collection, check out our guide of the best record player stands with vinyl storage to make the most out of your audial lineup.