Since its debut back in 2015, the Apple Watch has taken on a life unto its own, becoming much more than a mere piece of tech; an increasingly robust smartwatch, sure, but also a status symbol and even something of a cultural phenomenon. Because let's face it. The iconic square-shaped wearable is everywhere these days, making its way onto the wrists of no shortage of influential actors, athletes, designers, and musical sensations. Hell, even former President Obama has been spotted wearing his on more than one occasion. It doesn't matter who you are, where you live, or even how much you make; everyone wants — no, needs — to have an Apple Watch of their own. So, whether you're looking for something that offers more sports modes than you'll ever use or even just something that can go days on end without a recharge, rest assured we've got you covered with our list of the best Apple Watch alternatives.
Best Apple Watch Alternatives
Best Budget Watch

Moto Watch 70

Best Active Watch

Fitbit Versa 4

Best Versatile Watch

Google Pixel Watch

Best Traditional-Style Watch

Withings Scanwatch 2

Best Watch Overall

SAMSUNG Galaxy Watch 6

Best Health-Tracking Watch

Garmin Venu 2
Why should you go with an Apple Watch alternative?
The Apple Watch isn't the only option on the market worth considering — there's a world of smartwatches out there, and while they may not fall within the Cupertino-based company's extensive product ecosystem, they're still well worth your consideration. After all, the Apple Watch is far from perfect — for, despite its polished surface and effortless iPhone integration, there are still plenty of users complaining about everything from poor battery life to Bluetooth connection issues to random reboot bugs. And besides, just because it works for most of the population, doesn't mean it'll do everything you need from a smartwatch.
what to look for
If you're buying a smartwatch that falls outside of Apple's lineup, there are a number of factors you should consider to ensure that you get the best bang for your buck. Admittedly, you may find that needs may vary from what we've included, but we've broken down the big ones to get you started on the right track.
Operating System: When smartwatches first began flooding the market, the options that boasted any kind of cross-compatibility were few and far between. As such, Apple and Android users found themselves locked into their respective operating systems or making the most of what their watches offered when left unpaired. These days, you can download an app for pretty much any wearable, but it's definitely worth looking into the software your smartwatch is running. Some, like Garmin's Watch OS, are all but seamless in their integration, enabling incredible wrist-based functionalities like push notifications, music playing, and even NFC payments. However, others are a bit more limited depending on your device. For instance, if you have an iPhone, you won't be able to reply to iMessages and you'll miss out on helpful features like "Find My Phone." In any case, no setup is perfect, but some are better than others.
Connectivity: Most watches on the market offer, at the very least, some degree of Bluetooth and WiFi connectivity. As with smartphones, these are limited to short-range applications such as headphone pairing, third-party sensor communication, and wireless system updates. However, smartwatches are also increasingly featuring support for cellular networks, be that in the form of 3G, 4G, or LTE technology. In practice, this means that you effectively get a fully functional phone on your wrist, with no pairing required for music streaming, taking calls, and GPS navigation. Ultimately, how much connectivity you require will be determined by how you intend to use your smartwatch. If you plan on having your phone nearby anyway, save yourself the expense of adding another device to your monthly payment plan.
Battery Life: If you're one of those Apple Watch users who's constantly complaining about their wearable's limited battery life, you'll be glad to know that there are some alternatives that fare much better. In fact, some of the options we've featured in this guide rarely need to leave your wrist, as they can go a week or two at a time without the need for a recharge. That being said, smartwatches are notoriously battery-hungry devices, and their wear time is entirely dependent on what your usage looks like on any given day. Music streaming, activity tracking, and other such data-intensive services will run through your wearable's juice much faster than will telling the time or checking your messages. It's also worth noting that you can usually extend your smartwatch's life by turning off the always-on display feature. As beautiful as that AMOLED screen is, it's not doing your battery any favors.
Activity Tracking: One of the main benefits of smartwatches is their ability to double as an activity tracker, whether that's tallying simple daily step counts or providing more in-depth workout analyses. If physical fitness is one of your chief concerns, go for a model with a wide range of sports profiles. Come time to head out on a jog or a ride, you'll get much more at-a-glance functionality out of dedicated running and cycling modes than you would with a mere caloric estimate and a general idea of how far you've traveled. Oh, and should you be curious about the quality of your rest each night, there are even smartwatches that offer built-in sleep tracking, measuring things like time awake and nocturnal movements.
GPS: Last but not least, many smartwatches now boast integrated GPS units, allowing them to track distance traveled on runs, provide accurate wrist-based navigation, and even cater weather reports to your surrounding area. On the off chance that a fitness-focused wearable doesn't offer GPS connectivity, it'll probably piggyback off of your smartphone's location service instead. However, apart from having to carry an extra device with you, you're not likely to notice a big difference in performance.
Moto Watch 70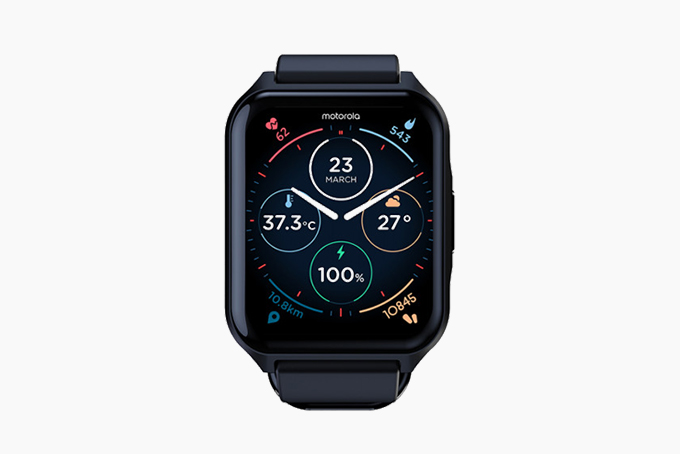 Pros
Great fitness tracking features for the price
Comes with Google Fit
Sleek and modern design
Cons
Limited features (besides the fitness/health tracking)
Best Budget Watch: If you're looking for a budget-friendly fitness watch, you'd be hard-pressed to find a better option than the Moto Watch 70. For just $80, you get a water-resistant metal case with a 1.69″ LCD, advanced sleep tracking, and an impressive 10 days of battery life (with just 25 minutes bringing it back to a full charge). What's more, it comes with a slew of smart coaching features like built-in fitness trackers thanks to the addition of Google Fit, and running programs so that you can really dial in your training routine.
Unfortunately, the call and text functions are a bit barebones, and you can only talk if you have a pair of Bluetooth headphones connected. But think of this one more as a budget fitness tracker/smart watch rather than a complete replacement for an Apple Watch.
OS: Moto Watch OS
Battery: 10 days
GPS: Built-in
Case Sizes: 43mm
Waterproof?: Water-resistant
Fitbit Versa 4
Pros
The definitive health-tracking active smartwatch
Can take calls and texts
Alexa-compatible
Able to use Google Maps
Best Active Watch: Fitbit has had a stake in the wearables game for far longer than any other manufacturer on this list, so it's safe to say that they're seasoned pros when it comes to crafting smartwatches that are equal parts capable and user-friendly. As the latest iteration in the Versa line, the Versa 4 offers everything you need to jumpstart your fitness journey, including a blood oxygen saturation monitor, 40+ activity modes, and guided breathing sessions personalized to your particular heart rate. Regarding battery life, you're getting about 5-6 days worth on a full charge with average use, and you can squeeze out a few more days with light use.
Not only is this a great health/fitness tracker, but it comes equipped with Alexa, Google Wallet and Maps, and the ability to take calls and texts. So you can enjoy the premium features of a smartwatch with the convenient health tracking that you get from a fitness-focused device.
OS: Fitbit OS
Battery: 5-6 days
GPS: Built-in
Case Sizes: 40.5mm
Waterproof?: Up to 50m
Google Pixel Watch
Pros
Really nice UI (that's steadily improving as well)
Scratch-resistant Gorilla glass watch face
Solid fitness/health tracking features
Cons
Battery life could be better
Best Versatile Watch: With the Google Pixel Watch 2 almost here, now is the perfect time to grab the OG, as it's still very capable and will be going down in price. You're getting a sleek, circular display with Wear OS by Google (which is getting better every year), along with Fitbit activity-tracking compatibility, so you can get the same health-tracking capabilities as an active watch in a more versatile body. You also have the choice between a WiFi-only watch or one with LTE to get a more custom experience. It comes with all of the features you'd expect from your average smartwatch: a wallet, messaging features, and emergency SOS.
On top of these features, the watch's face is made with scratch-resistant ​​Corning Gorilla Glass and is waterproof down to 50 meters. It only comes in one case size (41mm), but there are a variety of case and band colors to choose from.
OS: Wear OS
Battery: ~24 hours
GPS: Built-in
Case Sizes: 41mm
Waterproof?: Down to 50m
Withings Scanwatch 2
Pros
Sleek, modern design
Great for running as it can track elevation and steps
Very long battery life
Cons
Can't take calls or texts
Best Traditional-Style Watch: For all of the added utility that smartwatches provide, admittedly, the futuristic aesthetic isn't for everyone. If you find these wrist-based wearables to be a bit of an eyesore, do yourself a favor and grab the ScanWatch 2 from Withings. In addition to a unique hybrid design, it also boasts plenty of advanced 21st-century features under the hood, such as ECG readings, respiratory scanning, and automatic activity detection. Even better is the fact that you'll get a solid 30 days of use from its long-lasting battery.
While this watch looks like a more simple and traditional option, it's more than capable of being a great fitness companion as well. It comes with a sleep tracker, a heart rate tracker, an elevation and step tracker, and even provides oxygen saturation levels.
OS: Withings
Battery: 30 days
GPS: Via Bluetooth
Case Sizes: 38mm, 42mm, 43mm
Waterproof?: Down to 50m
SAMSUNG Galaxy Watch 6
Pros
Syncs well with other Android products (especially Galaxy devices)
Solid health tracking features
Wide variety of bands and watch faces for a custom look
Cons
Battery life could be better
Best Watch Overall: It should come as no surprise, but Samsung's Galaxy Watch3 is pretty much the definitive Apple Watch alternative if you're a wearer who's working with an Android smartphone. For starters, it comes with integrated LTE connectivity, allowing you to call, text, and stream music completely phone-free. What's more is that thanks to Samsung's Wireless Power Share, you can actually boost your battery from a compatible Galaxy model. Add to that automatic exercise recognition, a MIL-STD-810H certification, as well as some 50,000 different watch faces to customize your look, and the result is a smartwatch that proves it's much more than the next best thing.
As far as battery life goes, you're getting up to 40 hours on a single charge (down 10 hours from the previous Galaxy Watch 5) or 30 hours with the always-on display. This is more or less similar to the Apple Watch's battery life, but it would still be nice to see at least 3 days' worth of juice on a single charge. This is still the best alternative overall, and each iteration is only getting better.
OS: Wear OS 4
Battery: Up to 40 hours
GPS: Built-in
Case Sizes: 40mm, 43mm, 44mm, 47mm
Waterproof?: IP68
Garmin Venu 2
Pros
A really good blend of smartwatch and fitness tracking features
AMOLED display
Can store and play music
25 built-in indoor and GPS sports apps
Cons
Glass is prone to scratches
Best Health-Tracking Watch: Garmin has the smartwatch segment all but cornered these days, with the only chink in its industry-dominating armor being a certain square-shaped option. Launched in an effort to go toe to toe with the Apple Watch, the Venu 2 offers comparable capabilities when put up against its higher-priced competitor — onboard music storage, contactless payments, and smart notifications, among many others — whilst also taking advantage of Garmin's sport-specific expertise. This means that you get access to a host of health-focused functions that include everything from body battery energy monitoring to animated on-screen workouts to hydration tracking.
On top of the great health tracking features, this watch also sports a slick AMOLED display, the ability to store and play music, and a variety of safety and tracking features that will alert your emergency contacts if things go south out in the wild.
OS: Garmin Watch OS
Battery: Up to 11 days (in smartwatch mode)
GPS: Built-in
Case Sizes: 40mm, 43mm, 45mm
Waterproof?: Down to 50m
The Best AirPods Alternatives
Determined to stand apart from Apple's army of devotees? Just looking for something different? Whatever the case may be, if you're in the market for some earbuds but don't want to hop on the hype train, be sure to check out our guide to the best alternatives for Apple AirPods.