When Rimowa makes something, you can almost rest assured it's worth talking about, even if you could never see yourself using it. Having adhered to some of the most lavish activities with recent releases, its latest collab with Gewa is an exemplary showcase of exceptional skill across the board: a gorgeous, aluminum-crafted violin case.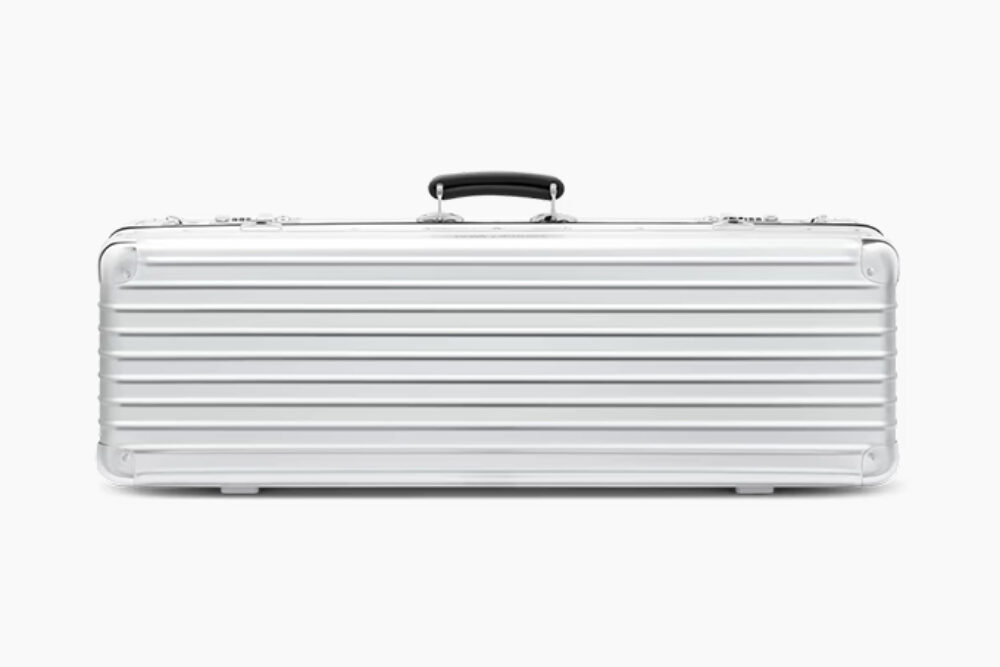 As a pair of German heritage manufacturers, it's no surprise to see these two work hand-in-hand; after all, who better to make a bag for the famous Vogtland-based craftspeople's premium violins than the Cologne-bred luxury brand? It's practically a match made in heaven. Moreover, the limited edition carrying case is crafted from Rimowa's signature anodized grooved aluminum to ensure your instrument remains intact. Additionally, it features a smooth leather handle and a crossbody strap to make transporting from one recital to the next an absolute breeze.
Rimowa deems the new release suitable for violin sizes 4/4 and 3/4, as it also comes equipped with a plush, adjustable neck pad that allows you to tailor it to your instrument. Additionally, its interior is fully kitted with all the space necessary to include all your equipment, including a hygrometer and humidifier to control humidity levels. Any player knows tepid temperatures can force the instrument to lose power and result in power sound, so this inclusion is as vital as it gets. As mentioned earlier, the luxury brand has released several other products in recent months that adhere to the finer things in life, like a ridiculously expensive, 12-bottle wine case made in collaboration with known wine connoisseur… LeBron James. That said, it's refreshing to see its latest release stick to the arts.
While Rimowa and Gwen's line Violin Case is not available yet, keep an eye out for the latter to release it on its webshop. Price-wise, it will be available for $3,750.