Presented by
Shoes and sports have long been intertwined, and labels like Nike have been at the forefront of innovation in both industries. Although the brand is undoubtedly a mainstay on the court, it took a few tries for them to break into the skate scene. Nike SB (or Nike Skateboarding) officially began in 2002 with the release of the Nike SB Dunk Lows, which weren't quite met with the success the label was hoping for at the time. Nike SB would go on to sign and collaborate with legendary skaters, releasing shoes, media, and clothing. And these joint efforts cemented Nike SB into the skating scene, and one of these collaborations, namely with Grant Taylor in Nike SB's movie Debacle, became an iconic piece of history in the space. And now the team is collaborating again with the Nike SB Blazer Low Pro GT Premium shoes, a pair of Blazers redesigned for skating with design cues taken from Grant Taylor.
Kicking things off, the shoe comes in this subtle Pale Vanilla and Summit White colorway, with a subdued swoosh tying it together. The suede upper is fused to the sole with vulcanized construction for the proper flexibility and texture. Additionally, the taping has been raised between the midsole and the upper (an insight from Grant Taylor himself), which makes the shoes more durable and suitable for skating (and ideal for a more consistent flick).
Although Nike Blazers were originally designed for basketball, Grant has been wearing them to skate since 2014. But he's not alone in this because Blazers have become a popular choice for both basketball players and skaters since coming out in 1972. And the durable leather construction on this particular pair means they can easily carry the torch (and probably a few scuffs).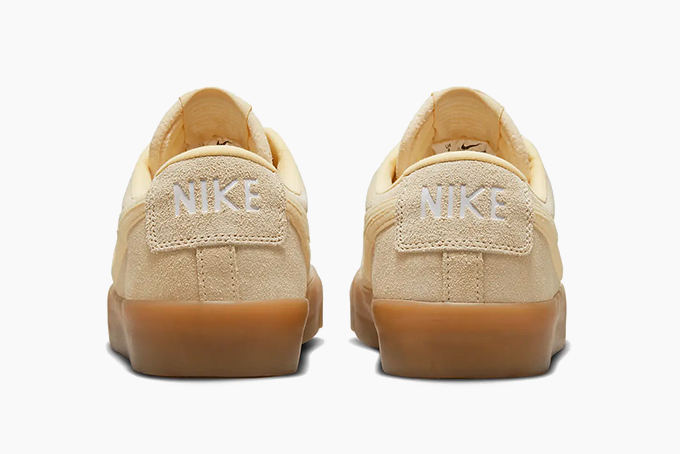 The Nike SB Blazer Low Pro GT Premium shoes are available now for $90.