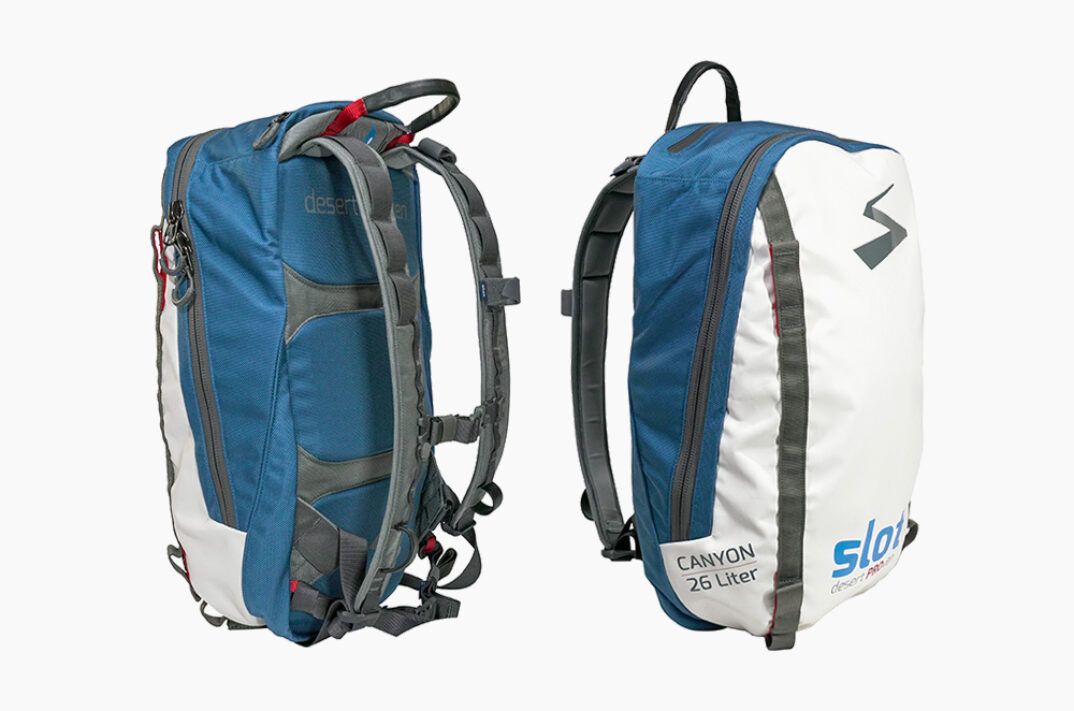 While there are dozens of brands that produce outdoor-centric gear, only a small minority of these outfits actually deliver hardwearing, technically-focused offerings that are engineered to withstand the abuse that comes with off-grid exploration. Recognizing a gap in the market, Utah-based startup SLOT has stepped up to meet the demand for hardcore desert climbers, overlanders, and adventurers.
Headquartered out of the outdoor and overlanding Mecca that is Moab, UT, SLOT has developed a range of products made specifically for desert adventures. Doing for desert explorers what Hyperlite Mountain Gear has already done for alpinists, SLOT has applied its firsthand knowledge and real-world experience to design an ultra-rugged lineup of bags, apparel, and accessories that can survive being squeezed through tight mountain passes or scraped against rocks and boulders while caving or climbing.
To kick things off, SLOT has released a trio of immensely durable and highly technical outdoor packs ranging in size from 26 liters up to 50 liters. Also made specifically for desert use is SLOT's inaugural apparel range, which consists of a 30+ UPF-rated, recycled poly sun hoody that boasts anti-microbial and moisture-wicking properties, a pair of adventure shorts crafted from a nylon-spandex fabric blend, and a double-sided 280-gsm polyester fleece jacket made for cold desert nights. The company's initial product range also sports a wet suit bag and a water bottle, as well.
SLOT's inaugural product range is available for purchase now. The brand's Canyon 26L, Rapid 38L, and Guide 50L packs are priced at $140, $215, and $250, respectively, while SLOT's Cataract Short, High Noon Sun Hoody, and La Sal Fleece boast MSRPs of $68, $70, and $95. The company's 22oz water bottle is also being sold for $15 and while its wetsuit bag is going for $40. You can check out and purchase the entire collection on the brand's website.