Based on the existing Citroën Ami platform, the Opel Rocks Electric is a freshly-unveiled compact commuter-focused EV that's been designed as a modern lifestyle vehicle. As a result, Opel recently announced the "You design it, we build it" contest, in which it invited design students to deliver their own take on a Rocks Electric-based lifestyle vehicle. And after several months and hundreds of submissions, Opel has now revealed the winner, along with the actual one-off build of the winning concept that the marque has brought to life.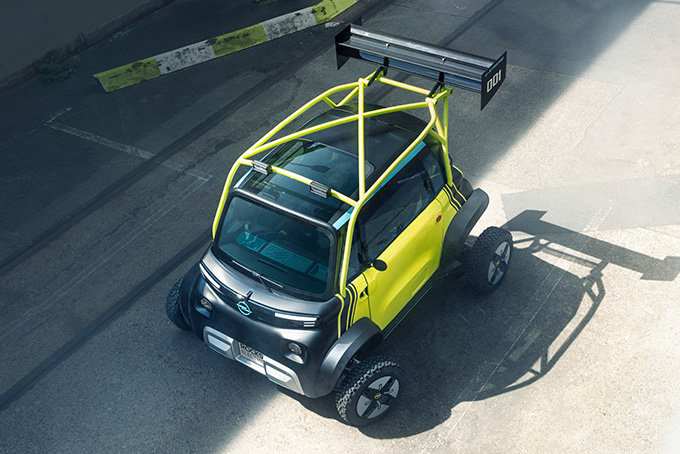 Still readily identifiable as being based on Opel's new compact EV model, this concept was envisioned, designed, and 3D-modeled by design student Lukas Wenzhöfer. The vehicle's dramatic transformation was born out of an effort to turn the all-electric pint-sized donor into the most fun car possible. This would ultimately give way to a rally-cross-inspired design that combines elements from Grand Prix-style road racers and drift cars with that of hardcore off-road rigs.
The Opel Rocks Electric e-XTREME Concept rides on a set of protruding wheels that give the vehicle a markedly wider stance. Paired with a double wishbone suspension setup, the concept also sports an exo-skeleton-style external cage and roof rack that also accommodates the one-off's rear wing — an oversized aero item that was borrowed from Opel's existing Vectra GTS V8 DTM touring race car. The front of the cage also supports a pair of off-road-stye LED auxiliary lights. The body of the car has also been bestowed with 3D-printed flared fenders to open up space for its wider stance, plus a unique concept-exclusive livery. Completing the project is a custom "e-XTREME" emblem and a "001" serial number graphic.
While the Opel Rocks Electric e-XTREME Concept isn't slated to ever see the light of production, the one-of-one concept nonetheless demonstrates the platform's conduciveness to customization, whether merely consisting of minor tweaks or dramatic fully-transformative rebuilds.