Aiming to take luxury to whole new heights, Living Vehicle has just unveiled what it touts as "the most powerful, solar-powered, all-electric luxury travel trailer on Earth." A bit bold? Surely. But with what we've seen the manufacturer conjure up in the past, including just last year with its revamped flagship model, it's no surprise to see the 2024 HD lineup soar to new heights.
By building an innovative foundation to churn out renewable energy, the 2024 HD promotes a comfortable way of living that remains beneficial for all parties involved, albeit there are several other backup fuel options to select if necessary. Spec-wise, the HD Core offers a total of 21kWh with 2kW of solar energy and 6kW of power, while the Max model stores 3kW of solar energy, packs 12kW of power, and a total of 43kWh. Standing amongst the pack is the HD Pro, boasting 72kW of energy with 4.4kW of solar and 18kW of power. Regardless of your selection, these operate hand-in-hand to power up all sorts of onboard amenities, like the heating and cooling system. With impressive off-road capabilities and enough solar power for a home, this highly-capable range hopes to set the sustainable standard for venturing into nature.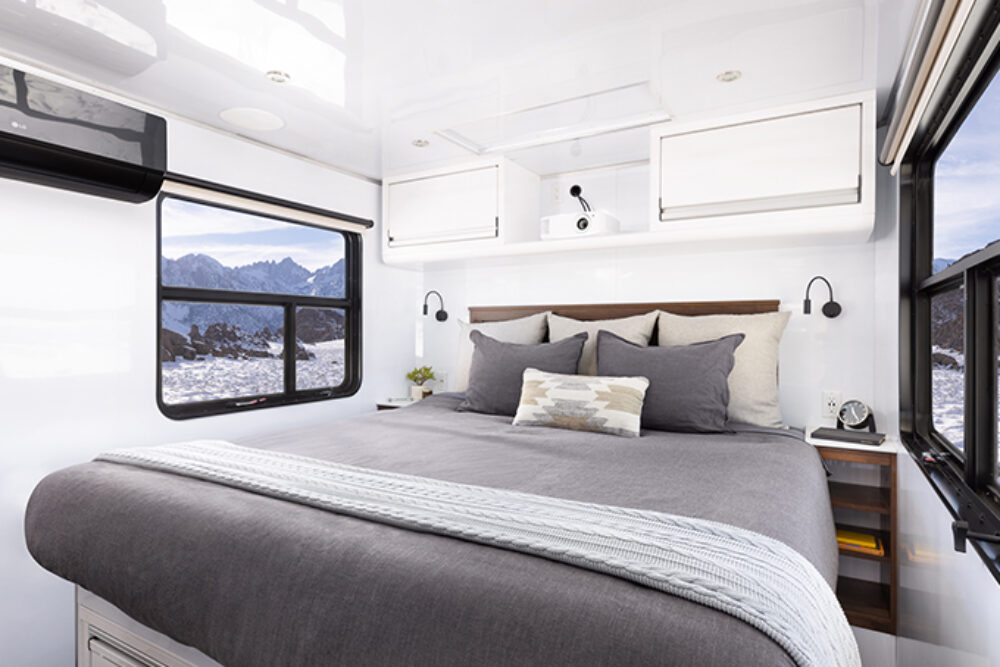 As far as its sumptuous interior goes, the company's co-founder likens the new model to a 5-star hotel, as it is fitted with everything from a king-size bed to a chef-designed kitchen, as well as a serene, spa-style rain shower for wellness's sake. Although the standard Queen or King suites offer over 150 square feet of storage, there are several configuration options for each of this year's custom-built trailers, the largest of which can sleep up to 8 adults. Whether film buffs want to tack on a 4K-compatible home theater system with built-in Hi-Fi audio or remote workers hope to tackle assignments using the Apple-powered Creative Studio setup, anyone interested can truly have it their way. Best of all, this is all possible with the need to connect to any sort of utilities for extra power.
Before any additions, the Living Trailer HD Lineup is available starting from $459,995 for the Core model.