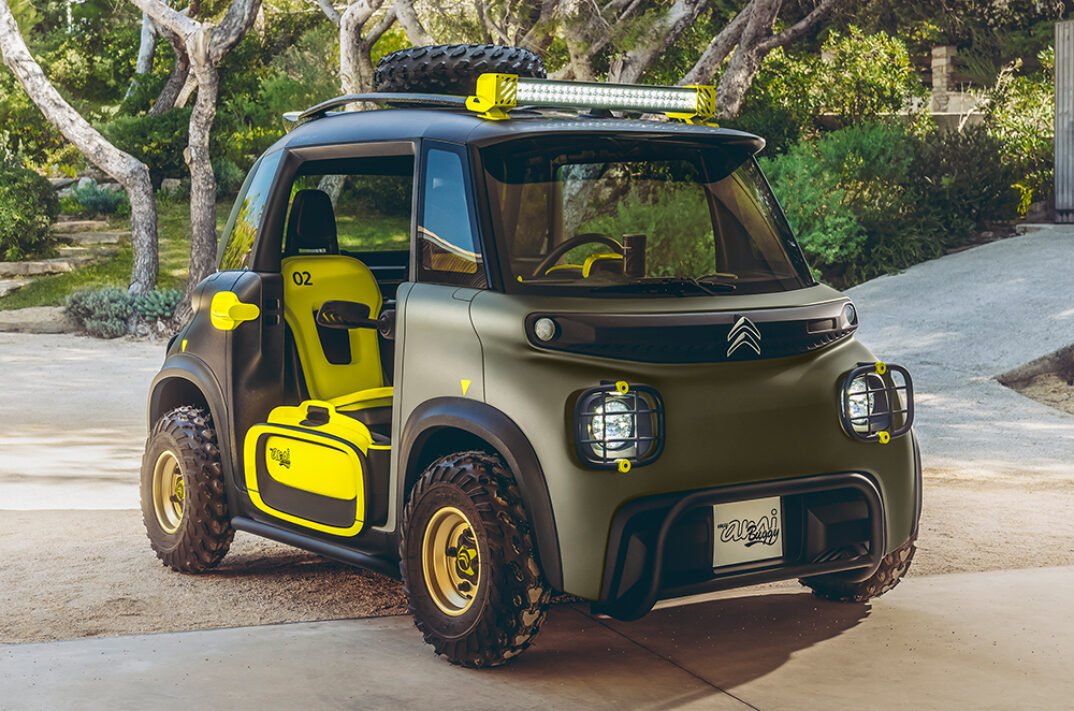 Sharing its name with the four-dour economy car produced from 1961 through 1978, the Citroën Ami is a recently-revived, French-built, two-passenger quadricycle with a fully electric powertrain. Since its introduction last year, the new Ami has largely targeted a younger, lifestyle- and adventure-focused demographic, though Citroën is now doubling down on these efforts with the debut of a concept the France-based firm has dubbed the "My Ami Buggy Concept."
This ruggedized, off-road-ready take on the Ami has been outfitted for off-grid exploration, and as such now sports a set of wide notched wheels shod in beefy all-terrain rubber, custom front and rear bull bars, a bespoke grilled headlight setup, worked fender flares, tubular protections along the bottoms of the doors, an LED light bar set atop a front roof cap, and a custom roof rack that accommodates a full-sized spare. The heavily revised interior has also been treated to a custom sound system, as well as custom seats and a special range of luggage that's been designed to neatly stow away inside the Ami concept. What's more, the doors have been jettisoned in favor of transparent rainproof canvas covers that can be erected or removed via zippers. The 5.5kWh-equipped off-roader has also been cloaked in a one-off black livery with neon yellow and anodized khaki highlights and accents.
Thus far, Citroën has no plans of putting the My Ami Buggy Concept into production, the design nonetheless demonstrates that with the right modifications, almost any vehicle can be transformed into a genuine off-roader — even a Smart Car-style city car like the little Ami.