Presented by
With so many different types of bikes available, it can admittedly be difficult even knowing where to begin your search when buying gifts for motorcycle enthusiasts. As such, it helps to have the expertise of a seasoned rider or two to weigh in when it comes time to do your holiday shopping for the rider in your life. As longtime avid riders ourselves, we feel particularly qualified to curate this handpicked list of the best gifts for the motorcycle rider and enthusiast.
Harley-Davidson Potomac 3-in-1 Leather Jacket
Combining three layers into a single stylish item, the Harley-Davidson Potomac 3-in-1 Leather Jacket is comprised of a classic asymmetrical black leather jacket that comes paired with a removable underlying hoodie mid-layer and outfitted with pockets for the jacket's available suite of D30 armor.
Evel Knievel Stunt Cycle
The Evel Knievel Stunt Cycle is a modern-reissue of an iconic toy that first debuted in 1973, and features an Evel Knievel action figure and a powered XR750 bike.
Vagabund Vol. 1 CoffeTableBook
Based in Graz, Austria Vagabund Moto is unequivocally one of the world's leading custom motorcycle shops, and the saga of the shop's first years in operation — and the bespoke machines built during that time — are all recounted in Vagabund's new Vol. 1 CoffeTableBook.
Alsta Motoscaphe Watch
Crafted around a 40mm 316L stainless steel case housing a Seiko NH35A automatic movement, the Alsta Motoscaphe is the world's first tool watch to be purpose-built from the ground up specifically for motorcyclists — making it a go-to timepiece for anyone shopping for a rider in their life.
SA1NT Force Slim Armored Jean
Cut from the boutique brand's own Force Stretch Denim, the SA1NT Force Slim Armored Jean is an ultra-protective CE-rated pair of single-layer riding jeans that are comfortable and fashion-forward enough to be rocked even on days when the wearer isn't riding.
Harley-Davidson Premium Tool Kit
Comprised of more than 50 items in total — all of which come neatly organized in a secure hard case — the Harley-Davidson Premium Tool Kit was designed to provide all the essential tools needed for basic bike wrenching and maintenance.
Ruroc ATLAS 4.0 Helmet
With a Fidlock-secured chinstrap, a carbon fiber shell, and the world's first EPS liner to integrate the use of NASA-developed RHEON impact technology, the Ruroc ATLAS 4.0 Helmet affords some of the very best protection that money can buy — making it a great gift for any motorcyclist, regardless as to what kind of bike they ride.
Danner Moto GTX
Danner has been making heritage-grade boots for more than 90 years, though for the first time the Portland-based brand has taken its world-famous design and craftsmanship abilities and applied them to the creation of its first-ever pair of motorcycle boots known as the Moto GTX — a vintage-inspired pair of riding boots that can easily become a modern family heirloom.
Harley-Davidson Audio 50C Bluetooth Headset
Essentially an H-D-branded version of the Sena 50C, the Harley-Davidson Audio 50C Bluetooth Headset is a cutting-edge comms system and 4K action camera that have been crammed into a single compact housing to make the ultimate moto gadget — and a fantastic gift for any rider.
California Superbike School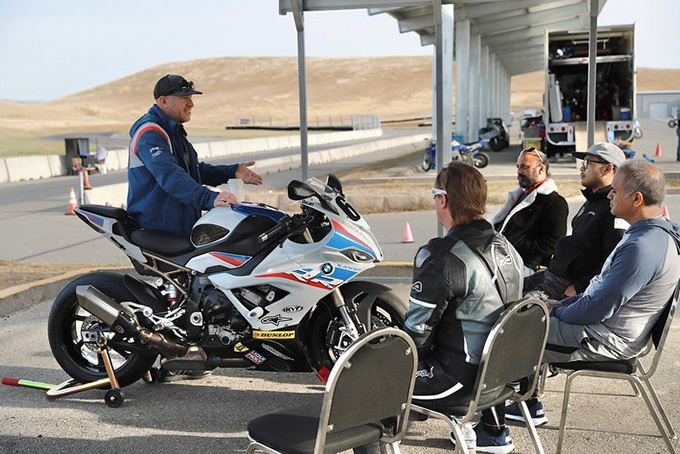 Founded by legendary rider and instructor Keith Code, the California Superbiek School is the country's premier sport bike riding academy, offering the very best training, from the very best instructors, on the very best bikes, at the very best tracks.
Alpinestars Tech-Air 5 System
Offering the absolute pinnacle of protection, the Alpinestars Tech-Air 5 System is a wireless universal airbag that can be worn beneath any existing garment or piece of riding gear, massively upping the rider's safety in the event of a crash with the ability to fully deploy in just 25 milliseconds — or roughly 1/12th of the time it takes the human eye to blink.