Presented by
As particularly passionate and opinionated individuals, automotive and motorcycle enthusiasts can be a tricky bunch to shop for when the holiday season rolls around — especially if you don't happen to share their proclivity for vehicles and motorsport. Well aware of this reality, we've simplified this once-difficult process by rounding up the best gifts for the gearhead this holiday season. So, no matter what type of rides their into or what your budget is, we're confident you'll find something on this list that will resonate with the gearhead in your life.
Piloti Shift Sneaker
Offering the performance, feedback, and feel of a regular driving shoe in a more stylish and fashion-forward package, the Piloti Shift Sneaker benefits from a host of advanced features including the brand's patented Roll Control 2.0 heel tech, an ONSTEAM anti-microbial lining, a stability-bolstering steel torsion bar, and rounded sole edges that mitigate the likelihood of the sneaker catching while transitioning from pedal-to-pedal.
HOONIGAN Gymkhana7 License Plate
Part of the brand's Gymkhana SEVEN Throwback Collection, the HOONIGAN Gymkhana7 License Plate is a camo-clad homage to the late Ken Block's 1,400-hp "HOONICORN" '65 Mustang in the form of a custom license plate.
Engine Organic Gin
Another stellar gearhead gift with ties to the late Ken Block, the Engine Organic Gin is a standard fifth of wheat alcohol-based gin that comes in a retro oil can-inspired tin.
Period Correct Off-Road Cap
Made from 100% nylon, the Period Correct Off-Road Cap is a classic five-panel snapback with an embroidered design that pays tribute to the vintage Land Rover logo.
Candylab Drifter Kodiak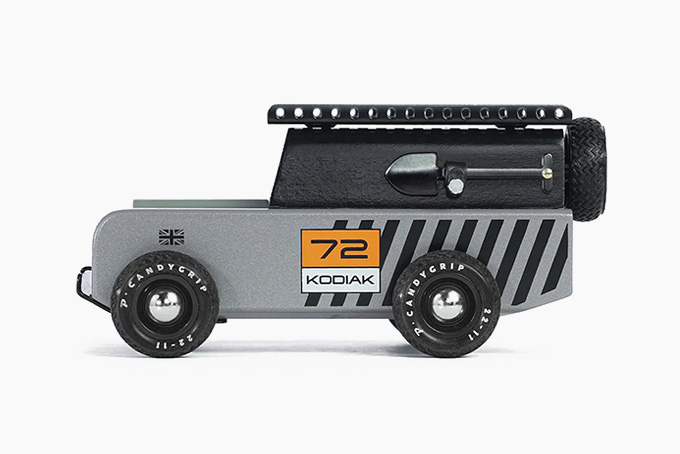 A modern interpretation of a classic children's wooden toy car, the Candylab Drifter Kodiak is a 6.5-inch-long vehicle loosely modeled after the Land Rover Defender and made from solid beechwood that's been decorated in a water-based paint fortified beneath a urethane clear coat.
DGR: A Decade of Dapper Book
The Distinguished Gentleman's Ride started with just a small group of friends but over the last decade has now grown into a global event with over 100,000 participating riders and roughly $40,000,000 raised for men's charity — a story that's chronicled in this new limited edition coffee table book entitled "DGR: A Decade of Dapper."
Roland Sands Design X Kriega ROAM Tool Roll
Born out of a collaboration between boutique moto gear brands Roland Sands Design and Kriega, the ROAM Tool Roll is cut from a combination of waxed cotton and ballistic-grade 1,000-denier CORDURA and equipped with a Hypalon MOLLE panel, and a collective 4 liters of storage space for tools.
Toyo Steel Cantilever Toolbox ST-350
Toyo is a brand that needs no introduction, as it's been crafting some the world's most iconic toolboxes for more than half a century, and the Osaka outfit's Steel Cantilever Toolbox ST-350 demonstrates why this is, with a rugged construction, simple yet clever design, and stellar craftsmanship and build quality.
SKRAM Fours
Comprised of a set of acetate frames housing a pair of shatterproof hard-coated polycarbonate lenses, the SKRAM Fours are a modern pair of aviator-esque sunglasses that were engineered for riding but are just as conducive to use as driving glasses or as a pair of everyday-use shades.
Franzis Porsche Museum Edition 911 Boxer Engine Model Kit
Made up of 290 parts, the Franzis Porsche Museum Edition 911 Boxer Engine Model Kit is a 1:3 scale model of a vintage Porsche 911 six-cylinder Boxer engine with a clear case that allows its builder to see its moving crankshaft, piston, and vales, other working internals.
Revival Cycles Dirt Bag Rolltop Duffel
Offering a generous 60 liters of storage space, the Revival Cycles Dirt Bag Rolltop Duffel features a 840-denier TPU-coated nylon construction that's been pieced together using waterproof sonic-sealed seams and outfitted with all aircraft-grade aluminum hardware and quick-release buckles.
Deus X Solido Porsche 356
Limited to only 1,000 units worldwide, the Deus Ex Machina x Solido Porsche 356 is a 1:18 scale die-cast steel model of an Outlaw-style 356 that's adorned in a special blue livery decorated in Deus artwork.
Tactile Knife Co. Limited Edition GT Rockwall
Inspired by the iconic Gulf Oil racing livery, the Tactile Knife Co. Limited Edition GT Rockwall is a top-shelf EDC knife with a liner-locking titanium handle and CPM MagnaCut blade that have been decorated in a Cerakote blue, orange, and white color scheme.
FORMAWERX Legends 911 Key
Boasting a design that pays homage to the Porsche 911's classic air-cooled six-cylinder engine, the FORMAWERX Legends 911 Key is a bespoke car key that's compatible with a myriad of retro 911 variants built between 1970 and 1986.
RECARO Classic LX Star "Pepita" Office Chair
Customizable and made on a built-to-order basis, the RECARO Classic LX Star "Pepita" Office Chair is modeled directly after one of the Italian brand's performance car seats from 1984, with this exact design now having been taken and turned into a rolling office chair with modern lumbar support and adjustability.
Breitling Top Time B01 Deus
Marking the Swiss luxury watchmaker's latest horological collab with the custom moto house and lifestyle brand, the Breitling Top Time B01 Deus is a limited edition automatic chronograph watch with a circular case design that was inspired by 1960s timepieces.