As the automotive world evolves and progresses, manufacturers routinely kill off existing models to make room for novel offerings. For most models, once the plug is pulled on production, their book closes, however, for a select few nameplates, this is merely a chapter in their history, sitting dormant on the sidelines for years if not decades only for the monicker to be revived. And while this phenomenon was once a rarity, contemporary interpretations of old-school classics have become increasingly commonplace, appearing in just about every automotive genre under the sun.
With the general public's proclivity for all-things-nostalgia currently at an all-time high, we're seeing more comeback car introductions than any previous point in history. With the market being more inundated with options than ever before, we thought now would be the perfect time to crack open the history books and count down our choices for the best revived car models that have been brought back to life in modern form. So, without further adieu, let's dive into the top comeback cars currently available on showroom floors.
A Rolling Return To Form
What Exactly Defines A Comeback Car?
A comeback car is simply an existing model that was previously removed from production, only to be revived later on down the road. These cars typically retain the spirit and general design language of their predecessors, while delivering modern performance, safety and emissions standards, technology, and amenities, creature comforts, and bells and whistles. On top of capitalizing on an already-known and recognizable monicker, modern-day comeback cars aim to capture the essence, character, and driving experience of the original car, albeit in a contemporary form.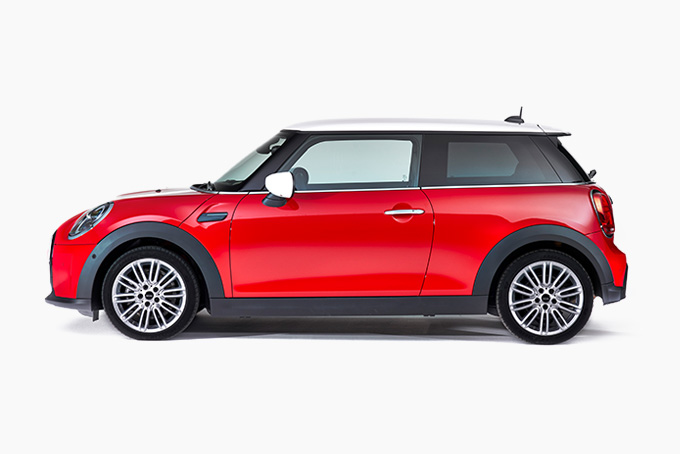 Mini Cooper
On the heels of WWII, there was a massive need in Europe for economical, utilitarian, and affordable means of transportation in and around urban areas. In 1959, the British Motor Company would step up to meet this demand with its quirky and now-beloved Mini Cooper. After trading hands on numerous occasions and being produced under a variety of different badges, BMW acquired the rights to the compact commuter car and began producing modern versions of the Mini in the year 2000.
Engine: Twin-Turbocharged 1.5L Inline-Three
Power: 136HP & 162FT-LBS
Weight: 2,711LBS
0-60MPH: 7.6-Seconds
Chevy Camaro
The release of the Ford Mustang took the automotive world by storm, garnering wildly successful sales numbers and prompting competing marques to release their own performance-focused pony cars such as Chevrolet did with its now-iconic Camaro in 1967. The original Camaro would spend three-and-a-half decades in production before being killed off in 2002, only to be revived for the 2010 model year. Like the original model, the modern-day Camaro is a sporty and affordable everyman's muscle car starting from as low as around $25,000, though Chevy also offers up-specced versions of the car with outputs of 650hp and 650ft-lbs of torque.
Engine: Turbocharged 2.0L Inline-Four
Power: 275HP & 295FT-LBS
Weight: 3,351LBS
0-60MPH: 5.4-Seconds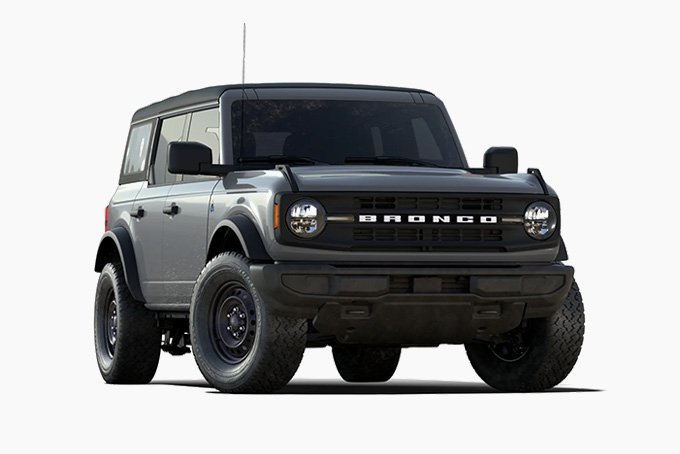 Ford Bronco
The Ford Bronco was an important watershed model upon its release, and while its immediate successors such as the Bronco II failed to resonate with the public like the original, automotive enthusiasts' continued appreciation for the original Bronco ultimately prompted the Michigan-based marque to deliver a revived version of the American SUV. Taking ample visual inspiration from the original 1965 model, the new Bronco is a modern-retro-style offering that's currently produced in six different versions.
Engine: Turbocharged 2.3L Inline-Four
Power: 270HP & 310FT-LBS
Weight: 4,339LBS
0-60MPH: 6.7-Seconds
Dodge Charger
Since reentering production in 2006, Dodge's Charger has quickly become one of the most popular comeback cars of all time, with tens of thousands of units being sold each year. Like its predecessor that debuted in '66, the modern Charger boasts an unmistakably aggressive appearance that readily announces its performance prowess and has played a major part in making it a future classic. Dodge's Challenger model also fits the bill equally well, though with the Charger being the more popular of the two, we thought it the better choice for inclusion on this list.
Engine: 3.6L V-6
Power: 292HP & 260FT-LBS
Weight: 3,964LBS
0-60MPH: 6.4-Seconds
Chevy Blazer
Of every comeback car on this list, the Blazer undoubtedly represents the greatest deviation from its predecessor, ditching the boxy 1970s 4×4 look in favor of a markedly sleeker and more modern design that verges on crossover territory. The new Blazer offers standard features such as 18" aluminum wheels, an 8" touchscreen, seating for five, and a nine-speed automatic transmission, though the company also sells turbocharged i4 and 3.6L V6 engines with a towing capacity of up to 4,500lbs.
Engine: 2.5L Inline-Four
Power: 193HP & 188FT-LBS
Weight: 4,043LBS
0-60MPH: 8.1-Seconds
Jeep Gladiator
While the Charger, Bronco, and Camaro are all widely-known comeback cars, far fewer are privy to the fact that Jeep's Gladiator was an existing model produced from 1962 through 1988 before being revived in its modern form in 2019. Like its J20 predecessor, the new Gladiator offers ample utility and practicality, though, unlike the original model which objectively falls in the pickup truck category, today's Gladiator is essentially a Jeep Wrangler that's been fitted with a 60.3" bed.
Engine: 3.6L V-6
Power: 260HP & 260FT-LBS
Weight: 4,650LBS
0-60MPH: 7.9-Seconds
Fiat Abarth 695 EsseEsse
The Fiat 500 is an iconic Italian car that, like the Mini Cooper, was created in response to Europe's need for economical commuter vehicles. Over the course of the 500's history, however, more than a few gear heads noticed that, due to its lack of weight, the platform makes quite the thrill machine when fitted with a more potent powertrain. And that's essentially what the Fiat Abarth 695 EsseEsse is — a highly-tuned, Garrett GT 1446 turbocharged runner with manual transmission, an Akrapovic exhaust, a suspension setup with McPherson struts and KONI shocks, Brembo brakes, and optional Sabelt Racing Carbon seats. Sadly, this ridiculously fun little commuter vehicle isn't offered on US shores.
Engine: Turbocharged 1.37L Inline-Four
Power: 180HP & 184.4FT-LBS
Weight: 1,257LBS
0-60MPH: 6.6-Seconds
Alfa Romeo Giulia
Originally debuting in 1962, the Alfa Romeo Giulia name has now been carried by three of the Italian firm's models, most recently with the revived luxury four-door in 2016. While the company does produce higher-specced variants, the base model Giulia Sprint (RWD) is an absolutely stellar car, offering a unique combination of elegance and comfort that's backed by the sporty and spirited character and driving experience that Alfa built its reputation on.
Engine: Turbocharged 2.0L Inline-Four
Power: 280HP & 306FT-LBS
Weight: 3,622LBS
0-60MPH: 5.7-Seconds
Toyota GR Supra
Toyota originally introduced the first Supra model back in 1978, and by the time the Japanese brand pulled the plug on the fourth-generation model in 2002, the Supra had become nothing short of an automotive icon and a bonafide cult classic. On top of used previous-generation specimens now commanding increasingly exorbitant prices, the popularity of the nameplate resulted in Toyota rereleasing a new version of the car in 2019. This model also shares much of its platform with BMW's Z4.
Engine: Turbocharged 2.0L Inline-Four
Power: 255HP & 295FT-LBS
Weight: 3,181LBS
0-60MPH: 5-Seconds
Ford Mustang Shelby GT500
The original Shelby GT500 took Ford's already capable Mustang and proceeded to heavily massage the engine before fitting the American muscle car with a host of track-grade componentry. And by all accounts, Ford has managed to deliver a highly authentic, high-performance modern take on the GT500, built around its contemporary Mustang platform. Standard amenities on the car include a 12" instrument cluster, Recaro race seats, hood vents, a rear diffuser, and a GT dual exhaust with quad 4.5" exhaust tips, though there's also a host of optional upgrades such as an exposed carbon fiber GT4 track wing, 20" carbon fiber wheels, a rear seat delete, splitter wickers, and a carbon instrument panel.
Engine: Turbocharged 2.3L Inline-Four
Power: 310HP & 350FT-LBS
Weight: 3,492LBS
0-60MPH: N/A
GMC Hummer EV
The thought of a fully electric Humvee may have sounded utterly ridiculous only a decade or two ago, massive advancements in EV powertrain technology have ultimately allowed for a ridiculous capable battery-powered Hummer. Using a tri-motor configuration, the Hummer EV puts down a whopping 1,000hp and an even more absurd 11,500ft-lbs of instantly accessible torque. And, despite tipping the scales at over 9,000lbs (much of which is owed to the battery), the electric hummer can still clock 0-60mph times of just three seconds.
Engine: Tri-Electric Motor
Power: 1,000HP & 11,500FT-LBS
Weight: 9,046LBS
0-60MPH: 3-Seconds
Jeep Grand Wagoneer
When it first debuted in '84, the Jeep Grand Wagoneer was a fairly game-changing American-made SUV that jettisoned SUVs of the era's typically spartan cabin with a much more plush and well-appointed interior that added a healthy dose of luxury to the already capable and utilitarian platform. And after exactly three decades of being out of production, Jeep has finally revived a modern version of this beloved wood-clad SUV, refining the machine and delivering an even more premium package that includes top-shelf options such as the choice to have a McIntosh stereo factory installed.
Engine: 6.4L V-8
Power: 471HP & 455FT-LBS
Weight: 5,960LBS
0-60MPH: 6-Seconds
Nissan GT-R
As evidenced by the exorbitant, often six-figure sums surviving specimens now fetch at elite auctions, the Nissan Skyline GT-R is one of the most celebrated and sought-after Japanese sports cars of all time. So it wasn't so much a matter as to if Nissan would be releasing a modern version, just when, and in 2007 that time came with the unveiling of the new sixth-generation GT-R. Like the original model, the new GT-R is aimed exclusively at ultra-discerning hardcore driving enthusiasts and, as such, boasts features such as an engine that is meticulously built by hand at a special facility by a team of just four expert "Takumi Craftsmen" mechanics.
Engine: Twin-Turbocharged 3.8L V-6
Power: 565HP & 476FT-LBS
Weight: 3,865LBS
0-60MPH: 2.9-Seconds
Alpine A110S
Penned by auto design legend Giovanni Michelotti, the Alpine A110 was a high-performance Berlinetta first introduced in 1961. Despite the fact that six decades have now passed since the rear-engined two-door was first unveiled, its appearance still holds up remarkably well today, and as a result, the new version of the car is closely in line with its predecessor. What really makes this car shine however is its performance, with a sub-2,500lb curb weight coupled with a turbocharged 1.8L four-banger — that's mated to a seven-speed dual-clutch transmission — which allows for a top speed exceeding 160mph and 0-60mph runs in 4.3-seconds. Jalopnik went as far as to say that the "Alpine A110S might be the last truly perfect internal combustion engine car."
Engine: Turbocharged 1.8L Inline-Four
Power: 288.3HP & 236FT-LBS
Weight: 2,456LBS
0-60MPH: 4.3-Seconds
Acura NSX
Based on a 1984 concept car known as the Honda Pininfarina eXperimental (or "HP-X"), the Honda/Acura NSX was an iconic Japanese supercar that took ample inspiration from Formula One racers of the era. And while the first-generation model — which was produced from 1990 to 2005 — was an immensely capable machine, its technicians and mechanics opted to take it to the next level for the second-generation model in 2016. This mid-engined, all-wheel-drive supercar is kicked along by a 3.5L V-6 hybrid powertrain that utilizes electric motors to keep its twin turbochargers spooled up to ideal operating RPM, eliminating lag and enabling the NSX to achieve speeds of over 190mph.
Engine: Twin-Turbocharged 3.5L Hybrid V-6
Power: 500HP & 406FT-LBS
Weight: 3,878LBS
0-60MPH: 2.7-Seconds
Tesla Roadster
Tesla's inaugural offering was its original Roadster model, a two-door all-electric sportscar based on the Lotus Elise platform. Though since the Tesla Roadster's original production run from 2008 through 2012, the company and its technology have experienced massive leaps and bounds, and the new Roadster now represents the pinnacle of the EV carmaker's performance. Borrowing the Plaid-specs tri-motor setup, the new Roadster puts down an otherworldly 7,375.6ft-lbs of torque while tipping the scales at under 4,500lbs, ultimately allowing for a more than 250mph top speed and sub-two-second 0-60mph times, while still affording a range of 620-miles on a single charge.
Engine: Tri-Electric Motor
Power: 7,375.6FT-LBS
Weight: 4,409LBS
0-60MPH: 1.9-Seconds