Each decade brings with it a host of major advancements in the automotive sector, though few if any eras have seen the level of innovation that occurred over the course of the 1970s, with an enormous slew of game-changing models being rolled out over the course of the decade. This ten-year stretch would see cars transition from mid-century, space-age-era coaches into vehicles with the sleeker, more modern, and more aerodynamic form we now know today, ultimately setting the stage for the basic automotive design language that would follow for the next five decades or so.
Aesthetic themes from the 1970s are so popular that they haven't only hugely influenced the subsequent decades, but have also seen a recent massive resurgence in the form of contemporary vintage-inspired cars. Whether due to unique and iconic body designs, groundbreaking mechanical features or technologies, bar-raising performance capabilities, or a combination of the three, certain vehicles released within this period now, half a century later, constitute some of the most historically significant and legendary rides in all of automotive history. And it's this handful of models that we'll be counting down today in this handpicked guide to the best cars from the 1970s.
Alfa Romeo 2000 GT Veloce
Penned by renowned designer Giorgetto Giugiaro for Italian firm Bertone, the Alfa Romeo 2000 GT Veloce — or GTV 2000 — is a sporty coupe that was heavily utilized in competition. Instantly recognizable thanks to its prominent and distinctive front grille design, the car featured a slightly larger (1,962cc) engine compared to its 1750 (1,779cc) predecessor, along with a slew of other mechanical, interior, and exterior tweaks. And with examples in even half-decent condition now routinely fetching a minimum of $40,000, the GTV 2000 has also become a stellar investment car.
Type: Sports Car / Luxury Coupé
Years Produced: 1971 – 1976
Engine: 2.0L Inline-Four
Aston Martin V8 Vantage
Touted as "Britain's First Supercar" upon its debut in 1977 on account of its 170-mph top speed, Aston Martin's (original) V8 Vantage was a luxury grand tourer that combined the brand's signature levels of comfort with the aesthetics of a high-performance American muscle car. The first generation of the model produced 390hp and 406ft-lbs of torque, allowing it to reach its blistering top speed. On top of later being offered with the even more high-performance X-Pack, the British-built muscle car was also offered in a host of additional variants such as the V8 Zagato and the V8 Volante (i.e. convertible version) — the latter of which was driven by the super spy James Bond himself in the 1987 Bond flick, The Living Daylights.
Type: Grand Tourer / British Muscle Car
Years Produced: 1977 – 1989
Engine: 5.3L or 6.3L V8
BMW 2002 Turbo
BMW's first-ever turbocharged production model, the 2002 Turbo was a special high-performance variant of the '02 that only saw 1,672 units made before production ended. Powering the car was BMW's 2.0-liter M10 four-cylinder engine that featured a Kühnle, Kopp & Kausch turbocharger and was good for 170hp and 181ft-lbs of torque in its stock form. Boasting a curb weight of just 2,380lbs, the 2002 Turbo also featured upgraded running gear such as McPherson struts with coil springs and anti-roll bars, special 13" wheels, and a body kit with front and rear lips and "pig cheek" fender flares — all cloaked in a white livery juxtaposed by BMW's classic M Motorsport colors and special Turbo badging and graphics — including "Turbo 2002" backward on the front lip, as to be read in the rearview mirror of cars the '02 was tailing.
Type: High-Performance Sports Car
Years Produced: 1973 – 1975
Engine: Turbocharged 2.0L Inline-Four
BMW M1
Another Giorgetto Giugiaro design — this time on behalf of Italdesign — the BMW M1 was one of the first supercars and the Bavarian brand's first mid-engined model. Built specifically for racing, this wedge-shaped car was homologated for competition use, with 453 examples being produced in total. At the heart of the M1 was BMW's M88 straight-six engine making around 275hp, though the actual factory race car — the M1 Procar — was even more impressive, offering a 4.5-second 0-60mph time and a 192-mph top speed thanks to its mid-mounted 470-hp six-banger.
Type: Early Supercar / Sports Car / Homologation Special
Years Produced: 1978 – 1981
Engine: 3.5L Straight-Six
Chevrolet Corvette C3
Produced from 1967 to 1982, the C3 was the third generation of Chevy's mighty Corvette sports car. Though the C3 featured an all-new body and a completely redesigned interior, the car was still built atop its second-generation predecessor's chassis and small block engine platform — though the C3 would later be offered with a number of more high-performance powertrain options such as the 370-hp LT-1 350ci (5.7L) and the 425-hp LS6 454ci (7.4L). And, after years of stagnating — if not declining — C3 examples have steadily been increasing in value, making them another solid option as a classic investment vehicle.
Type: Sports Car
Years Produced: 1967 – 1982
Engine: 5.0L, 5.4L, 5.7L, 7.0L, or 7.4L V8
De Tomaso Pantera
Italian for "Panther," De Tomaso's Pantera is unequivocally one of the most impressive and influential cars of the 1970s — if not all time. Despite first being introduced more than half a century ago, the Pantera's design — which was penned by legendary automotive designer Marcello Gandini — still holds up remarkably well today, and has had an obvious and ample impact on the design language of modern supercars even today. Its ability to stand the test of time also allowed this early supercar to remain in production for just over two decades, during which time well over 7,000 units would be produced.
Type: Early Supercar / Sports Car
Years Produced: 1971 – 1992
Engine: 5.9L V8
Dino 246 GT
Named after Enzo Ferrari's only son, Alfredo "Dino" Ferrari — who sadly died from muscular dystrophy at the age of just 24 in 1956 — Dino was a sub-division of the Prancing Horse that aimed to produce and sell vehicles on a larger scale, without tarnishing Ferrari's image. Designed by Pininfarina, the original Dino 206 GT featured sleek bodywork and a mid-mounted, Ferrari-developed 2.0L V6 engine that was mated to a five-speed manual transmission and made 178HP. Dogged by criticism that it was underpowered, the 206 GT was replaced by the more powerful 246 GT in 1969. That version of the Dino boasted a larger 2.4L V6 that was good for 192HP. While largely thought of as a black sheep in the Ferrari family for decades, the Dino is now highly regarded as a groundbreaking classic and is considered one of the most beautiful cars to ever roll out of Maranello.
Type: Sports Car
Years Produced: 1969 – 1974
Engine: 2.4L V6
Dodge Lil' Red Express
The Dodge Lil' Red Express was the world's very first high-performance pickup truck — as well as the fastest American production vehicle upon its debut in 1978 with a 118.8-mph top speed and a 0-60mph time of only 7.5 seconds. These performance capabilities were owed to the truck's 360ci four-barrel small block engine that put down 225hp and 295ft-lbs of torque. The Dodge also boasted a set of chrome semi-truck-style exhaust stacks mounted on either side of the cab, and because of an emissions regulations loophole, the L'RE also lacked a catalytic converter.
Type: High-Performance Pickup
Years Produced: 1978 – 1979
Engine: 5.9L V8
Ford Mustang Boss 302
Produced for the Trans Am racing series, the Mustang Boss 302 was a high-performance version of the popular pony car that featured tweaked, more aggressive bodywork that hinted at its up-specced componentry and powertrain — the latter of which was a 302ci (5.0L) V8 that generated 290 horsepower and 290ft-lbs of torque. The Blue Oval has also more recently delivered modern interpretations of the iconic Boss variant using the fifth and sixth-generation Mustang platforms.
Type: High-Performance Muscle Car
Years Produced: 1969 – 1970
Engine: 5.0L V8
Lamborghini Countach LP400
The Lamborghini Countach LP400 is another hugely influential model that's played a pivotal role in the modern design language of supercars and hypercars. Originally unveiled in prototype form as the Bertone-designed LP500 concept at the 1971 Geneva Motor Show, the Countach would be produced for more than a decade and a half in a slew of different variants before the car was finally phased out in favor of the Diablo in 1990. Looking fast while standing still, the Countach embodies all of the traits we've come to expect from Lamborghini with a sleek and exotic body design, an equally exotic powertrain, and ultra-high-performance capabilities — with even the first version of the Countach offering a 196-mph top speed and 5.4-second 0-60mph time.
Type: Early Supercar / Sports Car
Years Produced: 1974 – 1977
Engine: 3.9L V12
Lancia Stratos
First revealed at the 1971 Turin Motor Show, the Lancia Stratos HF is one of the most celebrated rally cars in history. Representing Lancia's first-ever machine that was developed from the ground up specifically for rally competition, the Stratos — which was also known as the "Type 829" — would ultimately go on to achieve a trio of World Rally Championship titles — a record Lancia held onto until beating it itself with its Delta Integrale Group B racer. Designed by the great Marcello Gandini (for Bertone), the Stratos was constructed around a steel chassis that was adorned with a fiberglass body and housed a mid-mounted 2.4L V6 engine that was borrowed from the Dino. And, as a homologation special, only 492 units of the Stratos were ever produced.
Type: Sports Car / Homologation Special
Years Produced: 1973 – 1978
Engine: 2.4L V6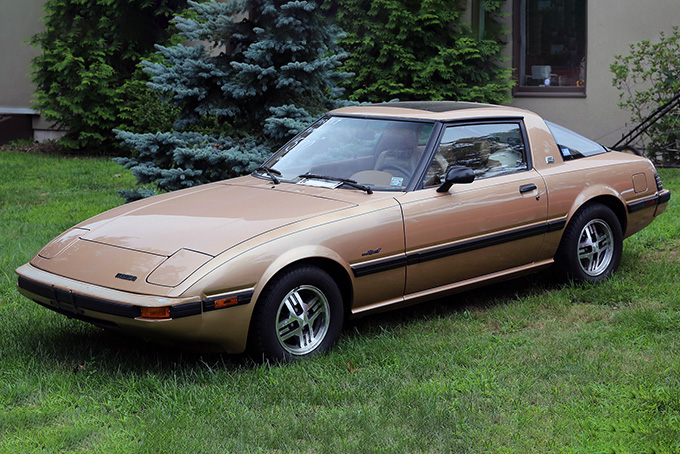 Mazda RX-7 SA22C
Produced for 24 years across a trio of generations, the RX-7 was a Japanese sports car that was powered by a front-mounted Wankel engine. This rear-wheel-drive hatchback would play an important role in ushering in a host of other JDM cars — many of which would become legends in drifting and tuning scenes. Penned by Matasaburo Maeda, the first generation of the RX-7 — the SA22C — sported a boxy, wedge-shaped design, though later iterations of the rotary-powered ride would take on a markedly more modern form.
Type: Sports Car
Years Produced: 1978 – 1985
Engine: 1.1L, Turbocharged 1.1L, or 1.3L Rotary
Pontiac Firebird Trans Am (Second-Gen)
Though the car was produced from 1967 up through 2002, it's the second generation Firebird — which was produced from 1970 until 1981 — that earns this Pontiac a spot on our list, thanks to its brash styling and massive 7.5L V8 engine in its original form. One of the most iconic movie cars of all time thanks to its famous appearance in 1977's Smokey and the Bandit, the Pontiac Firebird Trans Am featured a particularly unique take on muscle car bodywork — made all the more idiosyncratic by the Firebird Trans Am's "Screaming Chicken" decal and graphics kit.
Type: Muscle Car
Years Produced: 1970 – 1981
Engine: 4.9L, Turbocharged 4.9L, 5.0L, 6.6L, or 7.5L V8
Porsche 930 Turbo
Often referred to as "Porsche's first supercar," the 930 was a factory-turbocharged version of the 911 that featured an air-cooled, forced-induction flat-six that afforded the car a more than 150-mph top speed and a 0-60mph time of just 5.2 seconds. Flared, race-inspired bodywork further separated the 930 from its Carrera RS 3.0 predecessor. Also known simply as the "911 Turbo," the 930 was derived from the Stuttgart firm's 935 race car — albeit without the distinctive flat nose. Despite its age, the 930's impressive performance and timeless design have made it immensely popular among collectors, with specimens routinely selling for sums deep into six-figure territory.
Type: Sports Car
Years Produced: 1975 – 1977
Engine: Turbocharged 3.0L or 3.3L Flat-Six
Volkswagen Rabbit Mk1
Since its debut in 1974, the first-generation VW Rabbit — aka the Mk1 or Type 17 – has proved that cars that are fun to drive can simultaneously be practical, reliable, and affordable — traits this Golf variant has only amplified over the last 48 years. Now on its eighth generation, the Golf has been produced in a slew of different trim levels and variants, including the high-performance GTI-spec, and a recently-released fully-electric model. And, though it was given a significant redesign in recent years with much rounder lines and smoother edges, the Rabbit's boxy design went largely unchanged for the majority of its near-half-century in production.
Type: Compact Car
Years Produced: 1974 – 1983
Engine: 1.1L, 1.3L, 1.5L, 1.6L, 1.7L, 1.8L i4 or 1.5L or 1.6L Diesel i4