Producing ultra-high-performance vehicles has been a core component of Aston Martin's identity since the brand's inception in 1913. In 2018, the British firm set its sights on top-level Formula 1 competition, taking aim at the rest of the grid with its state-of-the-art AMR racers. It isn't just the Aston Martin Aramco Cognizant F1 Team's cars that are benefitting from the ample resources the company has poured into its F1 program, as many of the lessons learned over the last half decade are now being applied to Aston Martin's next model, the Valhalla Supercar.
Named after the hall of slain warriors in Norse mythology, the Valhalla was developed by Aston Martin in conjunction with Aston Martin Performance Technologies and the Aston Martin Aramco Cognizant F1 team, harnessing the experience and expertise of all three AM outfits to deliver what can only be described as a world-class supercar. Engineered with a focus on three key areas — driving dyamics, aerodynamics, and state-of-the-art materials — this vehicle marks the first joint effort between AM's road car engineers and F1 team. As a result, the Valhalla takes numerous pages out of the AMR23 F1 racer's playbook.
Aston Martin's first-ever hybrid supercar model, the Valhalla features a sleek set of bodywork equipped with an active aero items and multi element wings front and rear that can collectively generate over 1,300lbs of downforce at speeds of less than 150mph. Powering the forthcoming supercar is a mid-mounted twin-turbocharged hybrid V8 that cranks out 998hp and allows it to do 0-60mph runs in just 2.5 seconds and top out at 217mph.The powertrain's hybrid drive unit also allows it to achieve an electric-only range of around 10 miles. The entire supercar is crafted around a lightweight bespoke carbon fiber monocoque chassis that's been fitted with a push-rod front suspension setup.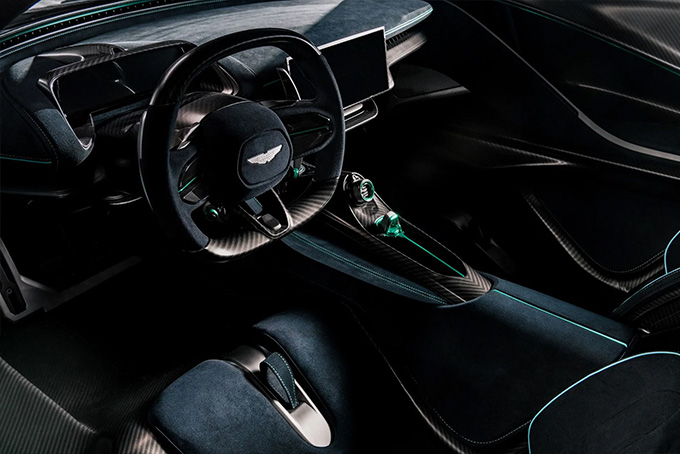 Though pricing has yet to be revealed, the Aston Martin Valhalla Supercar will begin prototype testing later this year, before entering production sometime in 2024. Production for the supercar will be limited to 999 units, worldwide.