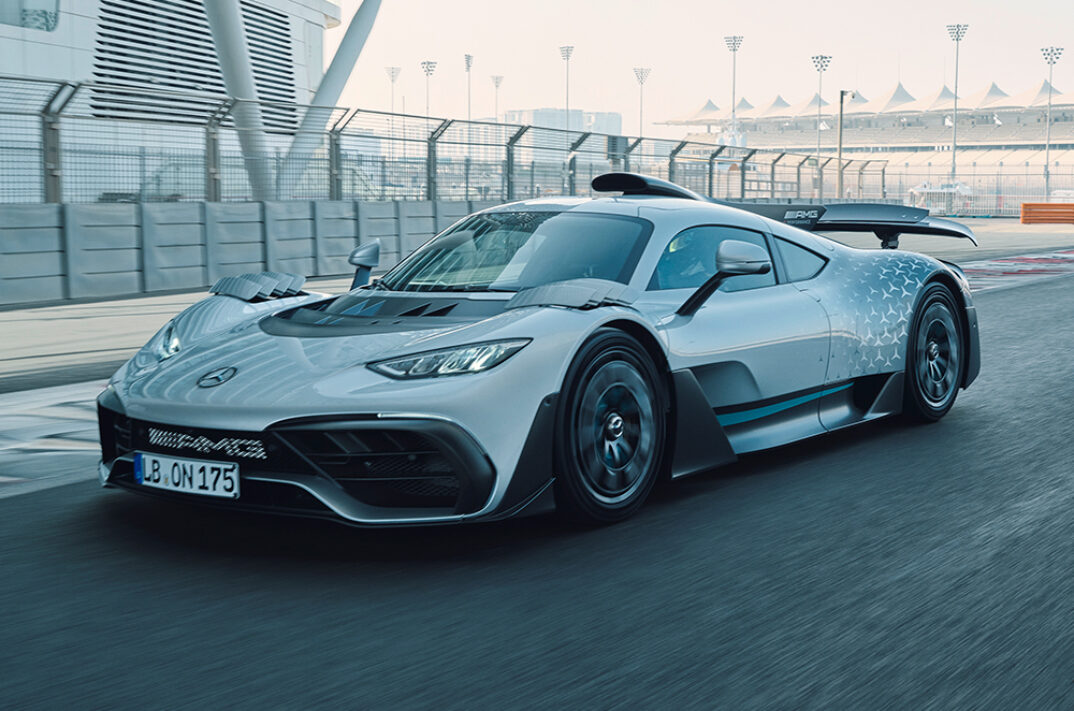 Back in late 2017, Mercedes-AMG unveiled its Project ONE — a cutting-edge concept car that aimed to bring Formula 1 hybrid powertrain technology to a road-going vehicle. Nearly half-a-decade-later and the company has now pulled the cover off of the final, production-ready version of the concept, now known simply as the AMG ONE.
The AMG ONE is powered by an F1-derived forced-induction hybrid 1.6-liter V6 engine that's helped along by four electric motors — one of which has been integrated into the mill's turbocharger, keeping the snail spooled up to ideal operating RPM, thereby eliminating turbo lag. Revving at up to 11,000rpm, this E PERFORMANCE Formula 1 hybrid drive system is good for 1,063hp, allowing the supercar to clock a top speed of just over 218mph. All that power is also sent through an AMG Performance 4MATIC+ fully variable all-wheel-drive system that boasts a hybrid-driven rear axle and an electrically driven front axle equipped with torque vectoring. Mated to a completely redesigned, automated seven-speed manual transmission, the engine is also equipped with six drive modes and draws from a Lithium-ion energy storage system that's also used in the GT 63 S E PERFORMANCE.
The entire car is constructed around a carbon fiber monocoque chassis that's been draped in F1-derived carbon bodywork with an active aero package that features a trio of different active settings (highway, track, and Race Drag Reduction System). The F1-inspired interior of the car features a two-seater setup with race seats and a Formula 1-style steering wheel. The AMG ONE also rides on unique ten-spoke forged aluminum center-locking wheels that sport carbon fiber aero covers, though AMG is also offering an optional nine-spoke magnesium wheel set. Other noteworthy elements include a special, weight-optimized AMG carbon fiber ceramic high-performance composite brake system with six-pot calipers and ventilated rotors and a multi-link suspension package with an innovative push-rod setup.
Mercedes-AMG has yet to reveal prices for the AMG ONE, though it's rumored to carry an MSRP of $2,750,0000. The hybrid supercar will also be limited to only 275 units worldwide — all of which are reportedly already spoken for.