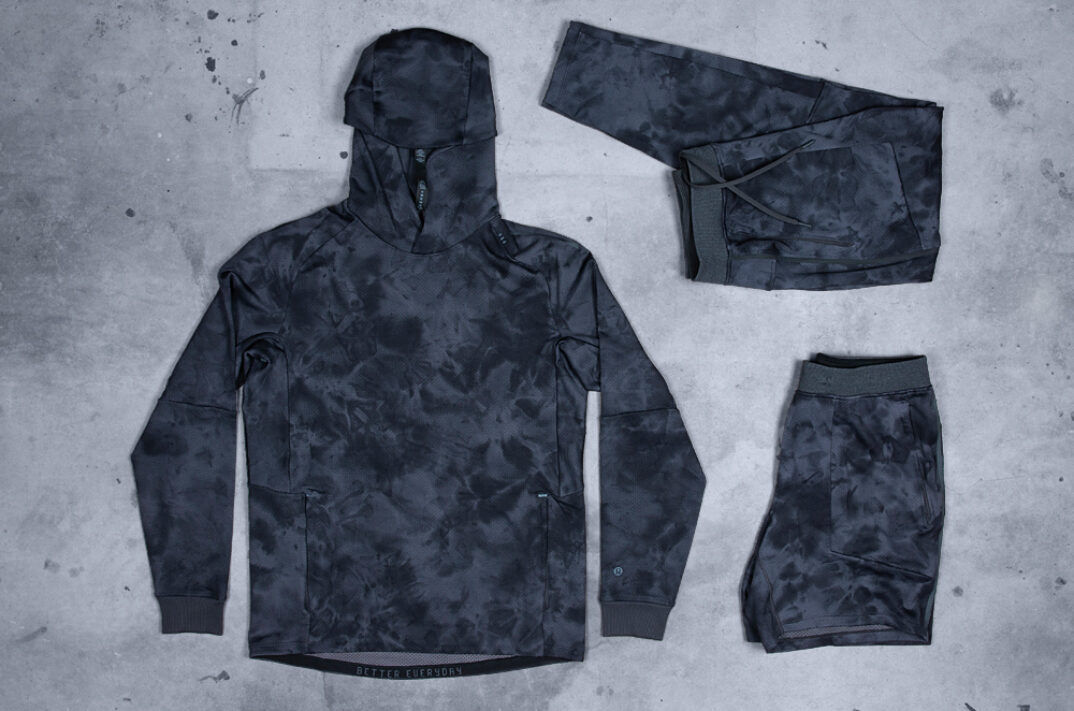 Presented by

lululemon's unique approach to leisurewear has helped to usher in an entirely new genre of athletic clothing. The brand has successfully bridged the gap between more mobility-focused garments and those that you might find in a studio, sauna, or lounge, providing wearers with more comfort than ever before. But the fact remains that activity and relaxation are two sides of the same coin. You can't have one without the other — especially if you're looking to maximize your daily routine.
Recently, we had the opportunity to test a handful of items from lululemon's transcendental fall collection, including its At Ease and Engineered Warmth garments. While these curated selections consisted of clothing engineered to take on the rest and recovery process (with sporadic bouts of exercise), they weren't designed to face everything that you might throw at them during a more intense training session. That's where the brand's Textured Tech collection comes into play. As you might have surmised, we've been able to put this activity-inspired capsule through its paces over the past couple of weeks, and we're happy to say that it fills the popular, albeit small niche that both the At Ease and Engineered Warmth collections leave on their laurels. Below, we'll outline what it is that makes the collection so unique, how it feels while in-use, and depart with some final thoughts regarding the adept Textured Tech capsule.
What's Different?
A truly technical approach
When we reviewed the At Ease and Engineered Warmth collections, we did so with a preconceived notion of what each capsule would represent. The brand's At Ease garments were crafted and built to provide ample relaxation for post-workout activities, solidifying them within the world of leisurewear, and promoting an aura of blissful recovery. On the opposing side, lululemon's Engineered Warmth capsule would act as a cozy, in-home range that could be worn during various work-from-home activities, as well as to help you transition between the office and gym. While both of these collections featured items that could, theoretically, be used within the training space, their soft, supple fabrics, comfortable silhouettes, and warming properties stood out to us as something of a detriment, postponing serious consideration.
Of course, lululemon's foresight is something to be celebrated. As it turns out, each item within the brand's fall 2020 lineup can act as a companion to its neighboring capsule, providing wearers with the perfect rotation for their everyday routine. With the genres of rest, recuperation, and transition all covered, the Texture Tech capsule was contrived to "fill the blank," so to speak. As such, this unique, three-piece curation features a hoodie, pant, and short that have been catered to more athletic endeavors, incorporating hard-wearing fabrics, slim, mobility-minded principles, and the technical minimalism that we've come to know and expect from the industry leader.
The Materials
Textured to train
It goes without saying that lululemon's new Textured Tech collection features a handful of unique traits that make it preferable for heavy-handed training sessions. Like many of the brand's other garments, each item in the collection features a mobility-focused four-way-stretch fabric for improved performance on the field and track. To complement this, the hoodie, pant, and short are comprised of sweat-wicking materials, which pull moisture away from your skin to help you maintain a calm, cool composure.
You might think that a garment soaking up your sweat on a consistent basis would get pretty old, pretty fast, right? That's why lululemon went out of its way to introduce a fast-drying blend of nylon, elastane, and recycled polyester, as well as an invisible technology — known as No-Stink Zinc — to keep the growth of odor-causing bacteria at a minimum. As a result, you'll be able to train to your heart's content, without having to worry about the negative effects of perspiration. Of course, the most important aspect of the entire Textured Tech collection lies in its abrasion-resistant fabrics, which differ from the materials used in both the At Ease and Engineered Warmth collections. Instead of the softer blends that you'll find in lululemon's more leisurely garments, the unison of abrasion-resistant mesh and recycled polyester offers wearers a formidable barrier against everyday wear-and-tear, prolonging the life of each garment.
The Details
It's the small things that count
If you're the type that focuses on the smaller aspects of your everyday athleisure gear, you'll be happy to hear that lululemon's Textured Tech collection brings a handful of unique traits to the table for the design-minded wearer. Each garment arrives in a variety of colorways, including Diamond Dye Iron Blue True Navy, Graphite Grey/Vapor, and Diamond Dye Anchor Graphite Grey — all of which boast their own distinct external pattern.
The collection's pant and short, which come in a 29-inch, and 7-inch orientation, respectively, feature a reversible drawcord waist, secure, zippered pocketing, and reinforced gussets tailored toward improved mobility. The hoodie, on the other hand, offers a similar experience in terms of versatile additives, calling upon the same secured pockets as its counterparts, while introducing articulating sleeves for more natural movement, and bonded eyelets for increased airflow. Pair these functional garments together, and you've got a suite of formidable training attire that'll keep you cool, active, and aesthetically-pleasing at all times.
Our Verdict
Filling the niche
If you've been enamored by any of the technical details that we've listed above, you're in-line with our own thoughts on the collection. While we've become fond of the merits provided by lululemon's At Ease and Engineered Warmth collections, it's safe to say that we were a bit confused by the lack of a true, athletically-inclined capsule for fall 2020. Those fears were put to rest when we got our hands on the company's Textured Tech offerings.
Not only did they exceed our expectations in terms of ventilation, which was a god-send during the warm California afternoons, but they also went above and beyond in terms of structural integrity. After putting them through the paces in a variety of different environments, the garments showed no signs of wear, despite their close proximity to surfaces adorned in concrete, wood, and metal. This, paired with each of the items' sweat-wicking qualities, gave us a preliminary impression of how the pieces would fare over time. At no point during our testing did we feel constrained, constricted, or uncomfortable, thanks to the collection's form-fitting four-way-stretch fabrics. Overall, we were impressed by the technical acuity of lululemon's athletically-focused pieces. We'd go so far as to say that they're well-worth their premium price tag, "filling the niche" left behind by the At Ease and Engineered Warmth collections. If you're interested in picking up one of your own, head to the brand's website where the Textured Tech collection is available for $88 and up.
Hands-On: lululemon 'At Ease' Collection
For those looking to deepen their understanding of the brand's exceptional workout, work-from-home, and loungewear offerings, we suggest checking out another of our deep dives — in this case, the lululemon 'At Ease' Collection review.