Presented by
In the age of capture, GoPro has made a name for itself as one of the industry's most influential brands. When GoPro burst onto the scene all the way back in 2002, the market for technically-inclined action cameras was relatively infantile, allowing the company to secure a firm hold over the medium's early development and assist in its eventual expansion. Fast forward almost 20 years, and the once-ambitious brand is now a global conglomerate and one of, if not the most, recognized action sports companies in the world.
Not just anyone can achieve this level of success over a two-decade time span. GoPro's visionary approach to a decidedly untapped medium, its relentless branding and advertisement campaigns, and its unwavering support of the action sports community were certainly contributors to its hard-earned success. But it's the company's unparalleled and revolutionary camera platforms that have allowed it to become the industry powerhouse it is today. In large part, GoPro's influence can be traced back to its very first camera, a 35mm film variant that eventually would spur the company's owner, Nick Woodman, to create an innovative example to stand up to the stresses of outdoor shooting and to place an emphasis on compact capability. Thus, the HERO line was born.
Getting Comfortable With HERO8 Black
Becoming A Better Creator
Over the past two decades, the slim-line action camera has etched its name into the annals of history, and with it, a tide of alternative models has been introduced. From the original HERO all the way to the HERO7 Black, the aspirational device has served under the world's finest creators, innovators, and influencers. Now, all of the brand's technical expertise has culminated in the newly-released GoPro HERO8 Black.
HERO8 Black is the most advanced camera platform that GoPro has ever released, and it should be treated as such. Sure, the well-rounded device is as intuitive as they come, offering assisted shooting modes, automatic exposure and shutter control, and genre-defining video capture that has defined the industry standard for years now. New additions like TimeWarp 2.0, improved SuperPhoto, and seamless HyperSmooth 2.0 video stabilization make their home in the company's newest model, working alongside high-performance 1080p240, 2.7K120, and 4K60 settings to tell a story in stunning clarity. The cherry on top? A frameless, built-in mounting system, impact-resistant lens, and tough, rugged design that's completely waterproof down to 33 feet for creators who look to push HERO8 Black — and themselves — outside of the realm of comfort.
However, picking up GoPro's newest platform won't make you an expert. As with anything, you'll need to research, test, and apply HERO8 Black in a variety of ways. Experience is the key to becoming a better content creator, and over time you'll learn the capabilities, shortcomings, and boundaries set by your device. With that in mind, we've thrown together a down-and-dirty guide to keep you on your toes when it comes to crafting the perfect story and to give you all of the tools you'll need to use your HERO8 Black in an optimal manner.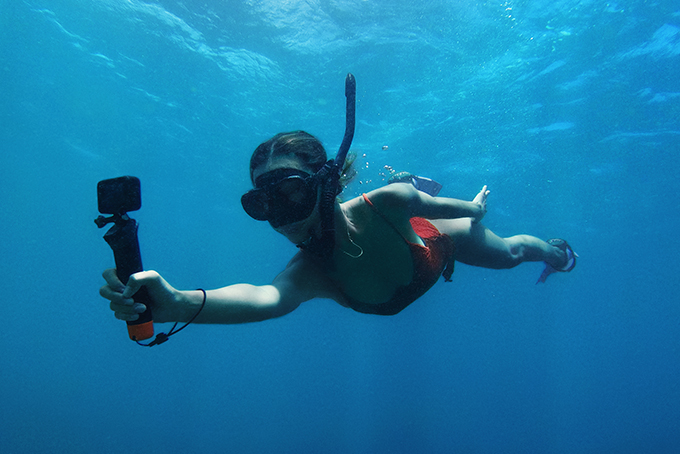 Underwater Shooting
Taking HERO8 Black Below The Surface
To say that one of the most attractive aspects of HERO8 Black is its underwater shooting capabilities would be an understatement. For many, the platform is a perfect alternative to expensive underwater housings that are commonly associated with larger handheld devices, DSLRs, and mirrorless cameras.
Before shooting underwater video, however, you'll need a set of dive filters to keep things crystal clear. If you've never taken a camera under the surface, you'll be surprised to hear that most of your captures will be saturated in greens, blues, and odd colors because of the way light refracts off of particles below the surface. To remedy this, pick up a set of red neutral density (ND) filters for use when you're headed to the lake, ocean, or river. That way, you can dial in your shutter speed when shooting at higher frame rates for that obligatory surf slo-mo, keep things looking attractive, and get rid of unflattering reflections/hues that can make a great capture lackluster. The dive filters can't be attached directly to HERO8 Black, but they can be used alongside the HERO8 Black Protective Housing (sold separately) to enhance underwater shots and let you take the camera all the way down to 196 feet.
As an aside, you'll want a reliable set of filters to take advantage of shooting styles outside of the water, so it's always a good idea to round out your collection with a robust selection of ND filters, UV filters, and other protective filters to keep your lens safe from abrasions.
Know Your Camera's Capabilities
Utilizing HERO8 Black's Built-In Features
As an affordable but capable camera, HERO8 Black offers users a ton of freedom to dial in their settings depending on style, taste, and purpose. Alternatively, this also affords the opportunity to ruin a shot or have it turn out substantially worse than it could have been, based on user error.
One of HERO8 Black's most attractive aspects is its ability to adapt to the situation at hand. If you're looking to make something more cinematic, flip over to the camera's 240 frame-per-second Full HD shooting mode to make time move more slowly. This allows you to emphasize important details in your shot, creates a unique viewpoint that can appeal to your audience, and provides you with even more stabilization, thanks to the inherent properties of high frame rate video. If you're looking for even more stabilization when you're capturing that perfect panning shot, you'll be able to toggle HERO8 Black's HyperSmooth 2.0 technology, which offers the most advanced stabilization technology ever implemented within a HERO, and helps to ensure a seamless shot that can be achieved without any bulky gimbals, handheld devices, or mounts.
If you want to create epic time-lapse photography, swipe over to HERO8 Black's built-in time lapse function, which allows you to set intervals between shots and manipulate the way the GoPro captures its surroundings. Pair this with the camera's cutting-edge stabilization and leveling technology to create awe-inspiring hyperlapses, stop-motion scenes, or spectacular environmental captures that can give your viewers a sense of presence, time, and transitory space.
Use Common Photographic Techniques
The Pillars Of Photography
If you're the kind of person who loves to shoot manual and seeks to capture the best possible footage without the help of the camera's ultra-reliable AI system, you'll need to do some research on the pillars of photography. Whether you're looking to manipulate light, speed, or motion, understanding the basics of photographic capture can make your content leagues better, especially when your focus is to create something cinematic, memorable, and unique.
There are three things that you need to keep in mind when shooting: shutter speed, ISO, and field of view. Each of these items is essential in the creation and composition of a memorable photo or video. Luckily, GoPro's HERO8 Black allows you to manipulate these to your heart's content.
Shutter Speed: The rule of thumb when dialing in your shutter speed can be attributed to the frame rate of your footage. Generally, you'll want to use a shutter speed that's double your frame rate. If you're shooting a video at 30 frames per second (fps), you'll want to use a shutter speed of 1/60. If you're shooting a video at 60 fps, you'll want to dial in the GoPro's shutter speed to around 1/120. And if you're looking to take advantage of the camera's 120 fps and 240 fps slow motion, you'll need to keep your shutter speed dialed in at 1/240 and 1/480, respectively. This will ensure that your footage doesn't turn into a choppy mess and will keep your shots as clean as possible. The downside of this rule is that the faster your shutter speed is, the less light will be available for the camera to utilize. Therefore, your camera's ISO comes into play.
ISO: ISO is a tricky in-camera enhancement process that creates "artificial" light sensitivity in order to brighten up your shot. In a number of cameras, a native ISO is a generalized number that will keep your shots clear, sharp, and noise-free. With HERO8 Black's built-in limiters, you're free to manipulate your ISO and set a parameter for your camera to stay within. The higher the number, the more light will be introduced into the shot, allowing you to take time lapses, photos, or videos in low-light conditions. But it comes at a cost. More artificial enhancement means that digital grain will be introduced into your final result, making it difficult to balance the need for a higher ISO or to set your shutter speed at a lower number to improve incoming illumination at the expense of choppy capture.
When dialing in your ISO, be sure to reference the camera's optimal ranges before pushing it into the realm of no return. A grainy shot can result in lackluster footage, but a harshly lit shot can mean the difference between telling the whole story or missing out on a moment forever.
Field of View: Field of view refers to how much of the scene is captured by the camera. For the first time ever on a GoPro, you'll be able to switch up the field of view by choosing between a variety of different lens types – all of which are built into the camera. Users will be given access to four different styles – Narrow, Linear, Wide and SuperView – allowing them to capture their footage in unique ways that weren't possible with GoPro's previous HERO models. If you're looking to take mesmerizing landscape shots, switch over to the device's ultra-wide SuperView mode for an all-encompassing 16mm focal length. Dial it back to either the 16-34mm Wide setting or the 19-39mm Linear setting for a more focused approach to your storytelling. And finally, utilize the camera's Narrow 27mm setting to home in on the details that might not be immediately recognizable when using a wider focal length.
All in all, HERO8 Black is the most capable device that GoPro has ever built, offering far more versatility, adaptability, and durability than any that have come before it. These aspects, as well as countless other innovations and improvements, have solidified the company's latest HERO camera as one of the industry's quintessential offerings. And at a meager price point of $399.99, it's the perfect platform for adventurous creators to get their feet wet without having to shell out thousands of dollars for an entry-level setup.