For many of us, cabin fever has started to set in thanks to this extended period of social distancing and self-isolation. And while it would be easy to let negative emotions get the best of us, we prefer to put our attention into more productive things. One of the things that's helping us cope is refreshing our everyday carry loadouts. Not only does finding new gear help keep up busy, but using our purchasing power (whatever we may have) to pick up worthwhile gear also helps keep the brands we appreciate afloat. Obviously, with a shocking 14 million people (and counting) on unemployment, this is not possible for everyone. But if you're lucky enough to retain some measure of employment, gearing up can actually go a long way. And that's what this week's pocket dump is about: filling your pockets with functional EDC tools from brands and (more importantly) people that have worked hard to produce it.
The Sneerwell Eye Of Providence Perdition Flask
Perfect for special occasions or just as a contingency plan if you're headed to an event with a questionable drink selection, The Sneerwell's Perdition Flask can hold up to 6 ounces of liquid within its food-safe stainless steel body. It also has a leakproof screw top, gorgeous Eye of Providence gold leaf iconography, and a matte black finish.
Filson x Buck Knives 110 Folding Hunter Pro
The Buck Knives 110 is one of the most iconic pocket knives of all time, and the Pro edition only improved upon that legendary design. Now, it's gotten an even better-looking exclusive edition in collaboration with one of our favorite lifestyle and outdoor brands, Filson. Complete with a clip point S30V stainless steel blade with a Cerakote finish, linen Micarta scales, and a classic lock back, this USA-made knife is proof that you can improve on a classic.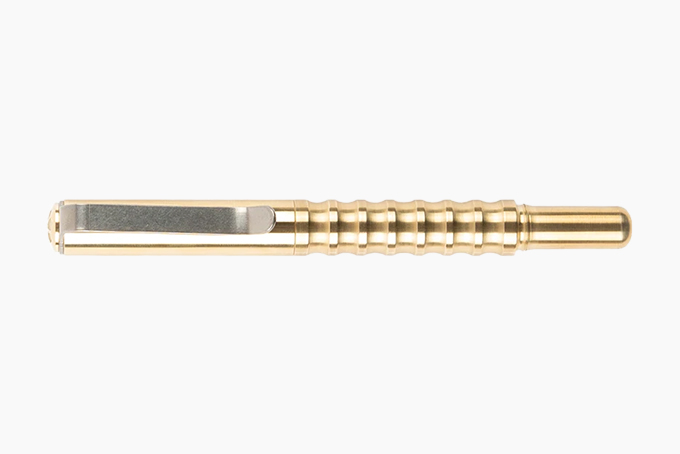 Prometheus Lights Alpha Pen
Precision machined from solid C360 brass in the USA, the Prometheus Lights Alpha Pen is a handsome enough everyday carry writing utensil that you could be proud to keep it in plain sight on your desk at the office. However, it's tough enough that you could also take it to the ends of the Earth and back. It's also compatible with both Rollerball and Montblanc ink cartridges, has a titanium pocket clip, and measures up at 5″ and 2.8 oz.
Breitling Superocean Heritage Chronograph Watch
A brilliant blend of modern manufacturing with vintage styling, the Breitling Superocean Heritage Chronograph watch harkens back to the dive watches from across the brand's 136-year history. Complete with a stainless steel case, a rotating dive timer bezel with black and gold detailing (which matches the dial, hands, and indices), and a self-winding movement, this is a handsome and functional watch that could literally go from the boardroom to the bottom of the ocean.