As we've likely said hundreds of times, everyday carry is remarkably versatile as a concept. This is due largely to the fact that it's incredibly personal and, as a result, boasts an exceedingly wide range of available gear. While much of the spotlight is dedicated to gear that's overtly tactical and/or remarkably minimalist, we sometimes like to showcase things that are a bit outside of the ordinary. After all, not everyone falls on the battlefield-to-Bauhaus spectrum. And not everyone has to. In fact, it's perfectly fine to want a particular pocket loadout simply by virtue of it looking cool. Sure, functionality is still important, but that's why we've put together this Tesla-inspired sci-fi loadout — to show that you can have your space cake and eat it, too. Angular in its design and effective in its usefulness, this EDC pocket dump will bring out the interstellar explorer in anyone.
Kizer Elijah Isham Theta Folding Knife
Designed by Elijah Isham, this sci-fi folding knife boasts plenty of futuristic styling sure to please Tesla fanatics, but it's also much more than just sleek good looks. You see, on top of its stand-out silhouette, this cutting tool is equipped with titanium handle scales, a sturdy and reliable frame lock, and — perhaps most importantly — a 3.48″ S35VN steel blade. Perfectly blending style and substance, this is a knife you can rely on to serve you well every single day.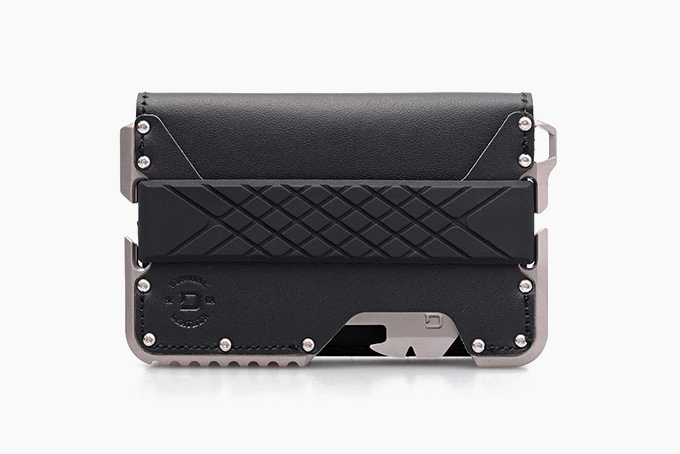 Dango T02 Titanium Tactical Bifold Wallet
A unique and modern take on a classic bifold wallet, Dango's T02 Titanium — yes, the sturdy frame of this wallet is crafted from titanium — is far more formidable than even its toughest traditional leather counterparts. It can also house up to 16 cards and a wad of cash, boasts RFID-blocking technology, and even comes with a removable 14-function one-piece multi-tool (which can be removed to make the wallet TSA-compliant). This is less a wallet and more a cash-carrying toolbox that can fit in your pocket.
Void Watches V01MKII-SI/MR
For those who can appreciate the merits of an easy-to-read digital watch dial, the Void Watch V01MKII-SI/MR is exceptional. However, it's also a treat for those that appreciate minimalist styling. It comes equipped with a stainless steel case, which matches the mesh band beautifully, and even features a waterproof rating that makes it good for depths of up to 50m. All told, it's a unique piece that certainly stands apart from its contemporaries, which might be reason enough to pick one up.
Muyshondt Beagle Titanium Flashlight
There should be no doubt that Muyshondt is one of the best flashlight brands in the world. And its Beagle Titanium is a perfect example as to why. Named after a British Royal Navy ship that hauled Charles Darwin during an early expedition (the one that led to his theory of evolution), this stout torch is the brand's "most electronically sophisticated" offering ever. It can produce two distinct beam types, boasts compatibility with multiple rechargeable battery chemistries, and is constructed entirely from super-sturdy titanium — including the pocket clip.