Presented by
It's no secret that we've seen a drastic rise in working from home these past few years. And while our society –– and the people who live with those remote workers –– continues to adapt to this shift, it's important to recognize that WFH is here to stay. To help make the experience much smoother for the remote worker in your life, you should consider some of the amazing new products that have come onto the market in recent months, many of which we've compiled into this guide to the best WFH gifts.
CIVIVI StellarQuill Pen & WEKNIFE Button Lock Elementum II Knife Combo Gift Pack
If you're looking for the ultimate gift pack for the WFH person in your life, check out this bundle from WEKnife, which includes its Elementum II folding knife with button lock — already the best knife option at its price point — and the CIVIVI StellarQuill Pen, which is essential for any desk. Perfect for opening packages or small tasks around the office, the Elementum features a satin Nitro-V blade, an ivory G-10 handle, and a ceramic ball-bearing pivot for smooth opening. Meanwhile, the pen is incredibly lightweight thanks to its aircraft-grade aluminum housing and CNC-machined barrel. It includes 2 extra refills and 4 sealing rings. Right now, you can use the code "HICIVIVI15" to get 15% off or regular-priced items on the company's website.
IKEA VINDSTYRKA
If you're going to be home all day, you'd better make sure you're breathing in some good air. With IKEA's VINDSTYRKA, you can now keep track of particulate matter levels, volatile organic compounds, humidity, and temperature right from the desktop display.
Logitech Lift Ergonomic Mouse
Logitech recently debuted its Lift Ergonomic Mouse, which will save your wrist and forearm from all-day computer work thanks to its angular design, placed at your arm's natural resting position. Not to mention, the mouse's classic design will add some style to your desktop, and for the affordable price of just $70.
Orbitkey Desk Mat
When it comes to a productive work day, organization is key, even if it just means assorting your desktop in a way that removes distractions. Orbitkey's classy Desk Mat does just that. Made from vegan leather and recycled PET felt, it's a soft surface for your keyboard and mouse, with a tray for pens, a magnetic cable holder, and a document hideaway inside for important papers.
Wyze Wi-Fi 6 Mesh Router
Wyze recently unveiled its first mesh router, a budget-friendly unit that will extend your internet connection throughout your house or apartment, capable of connecting to 75 different devices and covering up to 2,000 square feet.
Flint and Tinder French Terry Sweatpant
Arguably the best part about working from home is the freedom you have in your attire. If you do choose to wear pants, we highly suggest this French Terry Sweatpant from Flint and Tinder, bringing some luxurious comfort to your lounge-ready trousers.
TMB The Modular Water Bottle
You should be drinking plenty of water every day, but TMB's The Modular Water Bottle will add some fun to your fluid consumption. With a borosilicate glass interior for safety and an insulated exterior for temp retention, the vessel is fully customizable with several lid options and even some add-ons for water infusion.
Anker 737 MagGo Charger
Breaking the stigma of wireless chargers, Anker's 737 MagGo powers up your phone surprisingly quickly, allowing you to hit 50% in just 30 minutes. It rests at an angle so you can still use it for video calls while it's charging. The compact unit is also compatible with AirPods and Apple Watch.
OnePlus Keyboard 81 Pro
Built within a sturdy CNC-aluminum frame, OnePlus' first mechanical keyboard, made with the help of Keychron, features a double-gasket design for quiet typing, a control knob for various functions, and hot-swappable keys for a custom layout.
Logitech Casa Pop-Up Desk
Many people who work from home prefer laptops because it gives them the freedom to move about their abode, from desk to dining room to couch. However, to preserve your neck and posture, it's important to give your laptop a bit of a lift. Logitech's Casa Pop-Up Desk does just that, including a raised stand and an extra keyboard and trackpad to keep down below.
Microsoft Surface Thunderbolt 4 Dock
Finding the correct adapter can be quite an annoyance, to say the least. But with the Microsoft Surface Thunderbolt 4 Dock, you'll get three USB-C ports, three USB-A ports, an audio jack, a security lock, and an ethernet port.
The Bruvi Coffee Brewer Bundle
If you're going to be home all day, you'll likely be drinking a lot of home-brewed coffee. In other words, don't skimp out on a good coffee maker. The Bruvi is not only a sleek brewing machine that automatically brews one of 10 different types of java drinks but it also seeks to revolutionize the pod-based units with sustainability in mind.
Bose QuietComfort Ultra Headphones
For distraction-free music listening while you work or even noise-free Zoom calls, the Bose QuietComfort Ultra Headphones are your best bet. The recent release has improved upon the standard QuietComfort model, adding Echo Reduction and Adjustable Noise Canceling, as well as improving its comfort on your ears.
Herman Miller Sayl Task Chair
Herman Miller brings its design expertise to the world of task chairs once again with the Sayl model, a stylish seating option with plenty of back support despite wide ventilation holes. Likewise, the slim design prevents the chair from taking up too much room in your home office.
MacBook Air (2023)
Apple unveiled its latest MacBook Air a few months back to high praise. Available in both 13- and 15-inch versions, the laptop is a fantastic, low-hum work computer with a larger trackpad, high-res Liquid Retina display, and seamless integration with Apple's latest iOS.
Acer eKinekt BD3 Bike Desk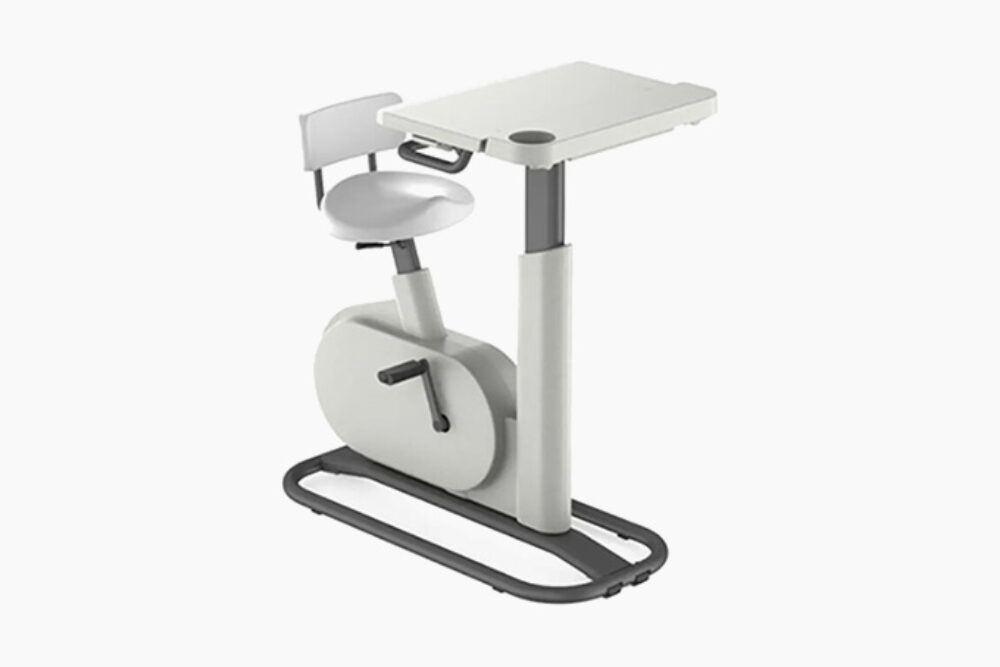 Working long hours can preclude your ability to stay in shape. Well, with Acer's latest eKinekt BD3 Bike Desk, you can pedal away while taking care of business. Not only that, but as you spin the gears of the Bike Desk, you will also be generating your own power.