It's easy to get carried away buying dozens of products during Amazon Prime Day, but why not save up for one or two pricier items instead? We've compiled a guide to the best grail deals for this fall's Amazon Prime Day.
SAMSUNG 18″ AirDresser 3 Hanger Clothing Care System
If you don't have time to iron out light wrinkles, put your clothes in this cabinet steamer from SAMSUNG which also removes odors, dust, and 99.9% of bacteria. You can also operate the system via your smartphone.
Microsoft Surface Laptop 4
For those looking for a cutting-edge laptop at a great discount, now's the best time. Microsoft's lightning-speed Surface 4 laptop with touchscreen capability and a 256GB solid-state drive is now on sale for 25% off.
NordicTrack Commercial Studio Cycle
NordicTrack helped revolutionize home gyms over 20 years ago with its workout equipment. This stationary bike has a 22" rotating touchscreen that connects via Bluetooth with your headphones. It also comes with a free month of the iFIT training program.
Breville Barista Touch Espresso Machine
A good espresso machine isn't cheap. Breville is the unofficial king of the espresso machine space, and this Barista Touch is a lower-tiered version of its Oracle. A hybrid between automatic and semi-automatic, the device has a touchscreen to let you select which style of coffee you want. It then grinds and doses with the built-in burr grinder.
SAMSUNG Wine Refrigerator 34″
This wine fridge from SAMSUNG fits up to 51 bottles across five telescopic shelves, split up into two temperature zones for different types of wine. The glass window on front is UV resistant and the stainless steel frame combats fingerprints.
iRobot Roomba s9+ and Braava Jet m6 Bundle
iRobot's top-of-the-line Roomba does the most thorough job with 40 times more suction power and three stages of cleaning to vacuum up crumbs, pet hair, and debris. The smaller squared-out size helps it get deeper into the corners of your home. The accompanying Braava Jet m6 sprays and mops up dirt and grease. Both devices are controlled via WiFi.
Life Fitness Row HX Trainer
A rower provides one of the best and only total-body workouts by utilizing both strength training and cardio. This wood and steel version from Life Fitness is arguably the gym brand's best product and the perfect low-profile rower for your home.
Sony BRAVIA XR OLED 55″ TV
This 55-inch OLED 4K, Alexa-controlled Google smart TV from Sony has BRAVIA Core and XR clarity to provide you with the most optimal way to watch and listen to movies and television.
Panasonic LUMIX S5 Mirrorless Camera and Lens Bundles
The compact LUMIX S5 is Panasonic's flagship mirrorless camera. For this sale, you can choose from a multitude of lenses to bundle with it.
SAMSUNG The Frame 75″ TV
For people with larger rooms, this 75" smart TV from SAMSUNG is your best bet. The QLED 4K display instantly elevates your viewing experience with Quantum Dot technology for a more vivid picture. The anti-reflective screen mounts on the wall to double as a believable art frame when not in use.
Heat Wave Radiant Saunas 2-Person Infrared Sauna
Heat Wave's two-person sauna uses infrared heat up to 141ºF, infrared lighting for chromotherapy, and an oxygen ionizer for purer air. There's also a built-in sound system that has an aux plug-in.
The 100+ Best Amazon Prime Day Deals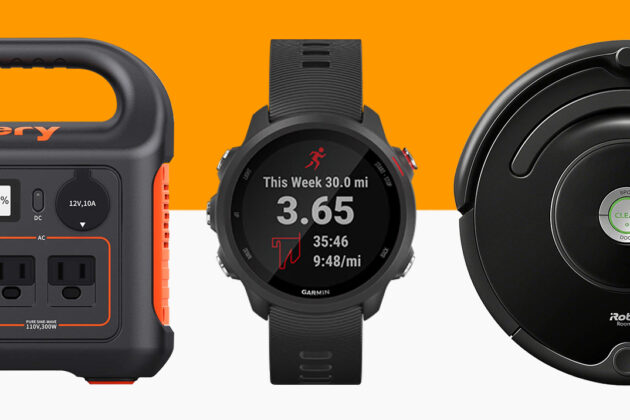 We've scoured the retail giant for the biggest sales and discounts. Check out all of the best Amazon Prime Day deals this season!