Standing up to the abuses and rigors that come from repeated daily use is no easy feat, requiring robust designs, hardwearing materials, and meticulous manufacturing — traits that very seldom come cheap. As such, when an opportunity arrises to snag some great everyday carry kit at a major discount, our ears tend to perk up. And there are few chances to pickup quality EDC items at a substantial discount quiet like Amazon's annual Prime Day sale. For the first time ever, the online retail giant is now holding a second Prime Day 2 — or October Prime Day — sale, giving EDC enthusiasts yet another chance to score some terrific everyday carry gear at up to 58% off. To help you hone in on the biggest savings, we've pieced together this curated guide to the best Amazon Prime Day EDC gear deals.
KeySmart Compact
Boasting space for up to eight keys, the KeySmart Compact is a thoroughly pocketable everyday carry key organizer that's crafted from aluminum — and currently being offered at a cool 20% off.
CHAFON Multi Charging Cable
With four different types of charging ports in a super compact package, the CHAFON Multi Charging Cable is just as conducive to travel applications as it is for EDC use.
Gerber Dime
Despite weighing in at just 2.2oz and spanning just 2.75" (closed), the Gerber Dime Multi-Tool manages to cram an impressive dozen functions into a super pocketable package that includes a set of pliers, multiple bit drivers, and several blades.
Magpul DAKA Everyday Wallet
Able to accommodate between 3 to 7 cards, the Magpul DAKA Everyday Wallet is a rugged yet minimalistic card holder that features a polymer construction pieced together using all-welded seams.
NEBO Torchy
Offering incredible bang for your buck, the NEBO Torchy is a small but mighty EDC light punching well above its weight, with a generous 1,000 lumens on tap.
Timex Expedition Scout 40
With a retro appearance and a super affordable price, the Timex Expedition Scout 40 has long been one of our favorite sub-$100 timepieces, though this American field watch just became that much more attractive as it's currently being offered at a nearly 20% discount.
Gerber Armbar Slim Drive
With a full-size bit driver, full-size blade, bottle opener, and keyring, the Gerber Armbar Slim Drive is another pocketable EDC powerhouse that offers ample utility in a very compact package.
RovyVon Aurora A8
IPX6-rated, the RovyVon Aurora A8 is another terrific EDC torch option, with a 2.36" body that packs a respectable 650 lumens — as well as a 1.5-meter drop rating, four brightness settings, and a strobe mode.
Kizer x Maverick Customs Harpoon Fixed-Blade
Born out of a collaboration between James Buckley's boutique knife shop and Kizer, the Kizer x Maverick Customs Harpoon Fixed-Blade features a full-tang D2 construction fitted with Micarta scales. At only $42, this EDC-friendly fixed blade undoubtedly represents one of the best EDC deals of the year.
Everyman Grafton Pen
The Everyman Grafton Pen has been heralded by EDC enthusiasts since its debut in 2017, though with this everyday carry writing tool now being sold at close to one-third-off, there's truly never been a better time to add one of these anodized aluminum click pens to your EDC loadout.
Foursevens Mini MKIII
As one of the more premium boutique brands in the EDC space, Foursevens isn't a name you'd expect to see offering deals on Prime Day, yet the outfit is nonetheless offering its 700-lumen Mini MKIII at a generous 30% off for the ongoing sale — bringing its price down to just $53.
Olight Baton3 Premium Edition
With 1,200 lumens and a tiny body, Olight's Baton3 is unequivocally one of the best EDC flashlights ever made, though the Premium Edition-spec takes things one step further with a true wireless headphones-style wireless charging case that can replenish the torch's battery several times over without ever needing to hit an outlet.
CJRB Crag Knife Carbon Damascus
Thanks to a 20% discount, this carbon fiber-handled, Damascus-steeled CJRB EDC knife represents another Prime Day bargain at only $72 — just a fraction of what you'd typically expect to pay for a knife crafted from these materials.
NITECORE EDC27
First released in January of 2023, the NITEORE EDC27 is a pocketable flashlight that's been engineered from the ground up specifically for EDC use — resulting in a super slim 0.56″ body design with a built-in display and up to 3,000 lumens on tap.
The Ridge Minimalist Slim Wallet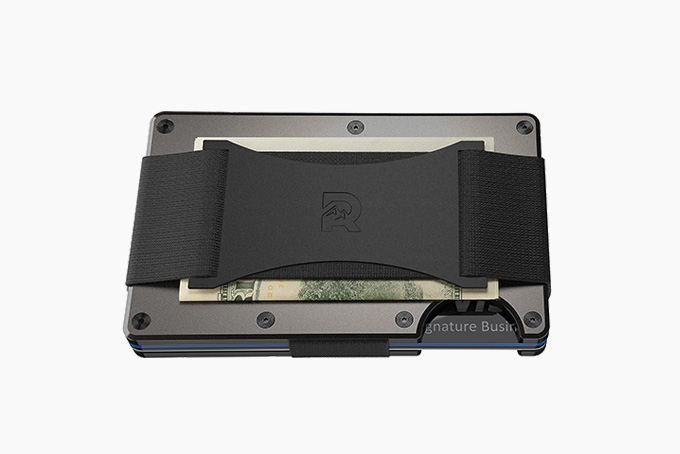 Since debuting in 2013, The Ridge has set the standard in the slim EDC wallet space. And if you haven't picked one up at any point over the last decade, these minimalist wallets are now being offered at a cool 20% off for Prime Day.
Ekster Aluminum AirTag Wallet
Constructed from 6063 T5 aluminum, the Ekster Aluminum AirTag Wallet is an RFID-blocking EDC wallet with an ultra-slim design that can be tracked anywhere on the planet.
Dango M2 Maverick Wallet
While The Ridge may have been responsible for introducing slim EDC wallets, Dango is credited for ushering in the era of the tactical wallet — one of the best of which is Dango's M2 Maverick, which is now being sold for 30% off for Prime Day.
Apple AirPods Pro (2nd Gen)
Apple is another brand that seldom offers deals or discounts on its highly-sought-after tech and devices — making the 25% discount currently being offered on the company's 2nd-gen AirPods Pro incredibly noteworthy — and arguably making this the best time ever to purchase a pair.
Citizen Promaster Dive Watch
Currently marked down to under $200, the Citizen Promaster Dive Watch is another bonafide bargain being offered this Prime Day, with less than 2 bills getting you 200 meters of water resistance, luminous hands and markers, an automatic movement, and an all stainless steel case and bracelet.
Vaer DS4 Solar Dive Watch
Made in America, the Vaer DS4 Solar Dive Watch is a vintage-inspired timepiece that sports a rotating bezel, a solar-powered movement, and a generous 200 meters of water resistance — traits often reserved for markedly more expensive divers.
Citizen Garrison Super Titanium
The Citizen Garrison Super Titanium offers some of the best bang for your buck of any GADA watch on the market, though this full-titanium timepiece now offers even better value thanks to the ongoing Prime Day 2 sale offering it at more than 30% off.
Bang & Olufsen Beoplay HX Headphones
It's extremely seldom that you see true luxury brands offering markdowns for Prime Day, yet high-end Danish outfit Bang & Olufsen is selling its award-winning Beoplay HX Headphones at a generous 30% off until the conclusion of the sale. This is seriously one deal you shouldn't sleep on.
Tissot PRS 516 Powermatic 80
Crafted around a premium 316L stainless steel case, the Tissot PRS 516 Powermatic 80 is a Swiss-made luxury watch that can legimtately go toe-to-toe with timepieces costing five-to-ten-times as much — plus the thing is marked down by nearly 25% for the Prime Day 2 sale, making it that much more tempting of a proposition.
Citizen Promaster Air Eco-Drive Pilot Chronograph
With 200 meters of water resistance, a radio-controlled Eco-Drive movement that's synchronized to Atomic Time, and a level of fit and finish typically only seen on multi-thousand dollar watches, the Citizen Promaster Air Eco-Drive Pilot Chronograph is another unexpected steal being offered for Prime Day 2 at a very generous 43% off.
The 100+ Best Amazon Prime Day Deals
Want to check out an even wider selection of great deals being offered over the next 48 hours? Then be sure to check out all of our favorite Amazon gear deals from each of our favorite genres.