Back in January, world-renowned knife maker Benchmade debuted its massive annual drop, in which it teased a slew of all-new designs and updated takes on existing favorites. Of the whopping 40 releases scheduled for 2023, the most noteworthy and significant was undoubtedly the all-new Benchmade 748 Narrows — an ultra-top-shelf and ultra-low-profile folder engineered specifically for everyday carry.
Spanning 8.02" overall, Benchmade's 748 Narrows knife features a handle that's been milled from 6Al-4V titanium. The handle comes mated to a 3.43" (0.8" thick) drop point blade composed of top-shelf Böhler M390 "super steel." Sporting a satin finish, the blade is deployed using a set of blue-anodized thumb studs that are also made from titanium. Additionally, the Narrows also boasts PVD-coated Sapphire Blue hardware, pivot collar, and a matching reversible deep-carry pocket clip. As one would expect from a high-end knife from Benchmade, the 748's craftsmanship and fit and finish are second to none.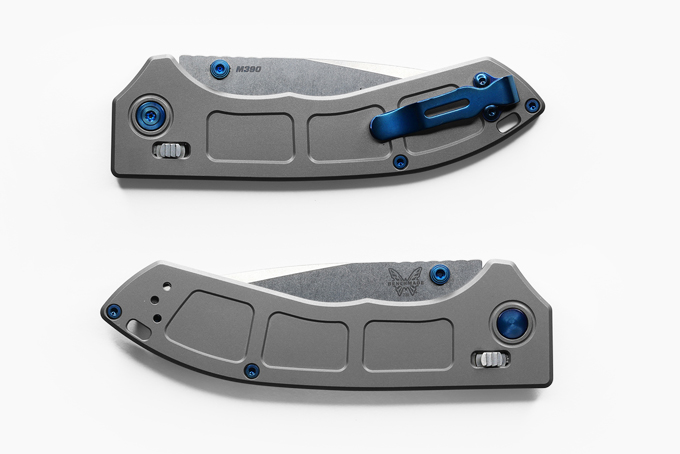 What really makes the 748 Narrows special, however, is its insanely pocketable dimensions. Despite its full-size length, the 748's handle clocks in at only 0.28" thick. Not only does this result in the 748 being 33% thinner than Benchmade's already-svelte Bugout — while boasting twice the breaking force— but it also makes the aptly-named Narrows the thinnest, most low-profile knife to date in the brand's extensive history. On top of a meticulously-designed and carefully machined titanium handle, the 748's mind-boggling dimensions are largely owed to its locking mechanism which consists of a new take on Benchmade's legendary AXIS lock. This revised mechanism jettisons the existing lock's steel liners and omega springs in favor of an ultra-compact new lock stud and torsion spring assembly. Made in America, the 748 Narrows also tips the scales at only 2.41 ounce — a wildly impressive figure for a more than 8" EDC knife.
The Benchmade 748 Narrows Knife is available for order now directly through the manufacturer, with pricing set at $580.