Presented by
With less energy than they had in their younger days and the responsibilities that come with a career and family, a great many dads out there have let their physical fitness take a back seat to other more pressing priorities in life. There is, however, a breed of fathers out there that still find time to regularly pound the pavement or hit the gym, not letting their age or obligations stand in the way of their staying in shape. If this sounds like the dad in your life and you still haven't gotten a gift lined up for the upcoming holiday, don't sweat it, as we've already done the heavy lifting for you, scouring the web to bring you this guide to the 10 best Father's Day gifts for the athlete.
There's an enormous amount of science and technology that goes into modern exercise equipment, and as a result, the market moves quickly, with "hot" new products becoming outdated after only a year or two's time. Consequently, this can make shopping for the athlete in your life a difficult task, especially for those who aren't health and fitness enthusiast themselves. So, whether you're looking for the latest in fitness tech, athletic apparel, workout gear, this list has you covered.
oHHo New York Full Spectrum CBD Oil
Getting a good night's rest is essential to a productive workout, and oHHo's New York Full Spectrum CBD Oil is specifically formulated to aid relaxation, sleep, and recovery. Infused with ketone-rich MCT oil, the artisan brand's NY blend is its highest-strength of CBD with 75mg per 1ml dose. And with a THC content of 0.3% or less, this product boasts zero intoxicating effects nor does it leave its user drowsy or fatigued after the fact.
Stance Performance Socks
In addition to its constantly-growing catalog of stylish casual and dress socks, Stance also makes an enormous line of Performance Socks. There are various types of purpose-made socks within this line, all made from varying blends of polyester, nylon, and elastane and bestowed with the company's un-rip-able InfiKnit fabric treatment.
Brazyn Morph Collapsible Foam Roller
A modern take on traditional foam rollers, Brazyn's packable Morph roller is made from bamboo and recycled aluminum, and collapses down flat to a 2" form, making it easy to pop into a gym bag or duffel. Despite only weighing 1.5lbs, the Morph Foam Roller can also support up to 350lbs.
Fitbit Charge 4
The Fitbit Charge 4 is a newly-unveiled piece of wearable tech that blurs the line between smartwatches and fitness trackers. The Charge 4 retains winning elements from prior models such as seven-day battery life, waterproofing, and fitness and sleep tracking while adding amenities like Spotify control, onboard GPS, and Fitbit Pay.
Sony WF-SP800N Wireless Sports Earbuds
Squarely taking aim at Apple's AirPods, the WF-SP800N is Sony's latest true wireless fitness earbuds model. Specifically designed to lend themselves to athletic applications, these snug-fitting gadgets are equipped with IP65 water-resistance, active noise canceling, and a charging case that affords up to 26 hours of music playback.
5.11 TacTec Plate Carrier
Though originally utilized by military personnel for their protective properties, their hefty weight and rugged construction have made plate carriers increasingly popular items in the fitness space. 5.11's TacTec plate carrier is made from water and abrasion-resistant 500D nylon and boasts padded shoulder straps and multiple rows of MOLLE webbing.
DSPTCH Ballistic Nylon Gym/Work Bag
The DSPTCH Gym/Work Bag is a top-of-the-line duffel made from extraordinarily hardwearing 1680D Ballistic Nylon that's backed by a DWR coating and lined with a DWR-coated 410D nylon packcloth. Also available in navy or OD green, this rugged bag offers a generous 23L of storage space and is entirely made in America.
Nike Air Zoom SuperRep Training Shoes
Designed specifically for high-intensity interval training and born out of thousands of hours of analysis and development, Nike's Air Zoom SuperRep is unquestionably one of, if not the most advanced training shoe on the planet, featuring dual Zoom Air units in the forefoot, cushion foam at the heels, a split sole and arc, and a breathable mesh-laden slip-on design.
Onnit Complete Kettlebell Package
When it comes to kettlebells, it truly is hard to beat the top-of-the-line items from Onnit. This complete 8-unit package is conveniently color-coded and includes 4kg, 8kg, 12kg, 16kg, 20kg, 24kg, 28kg, and 32kg kettlebells. And, in addition to being gravity-cast, these items are also adorned in a powder finish for increased durability and grip.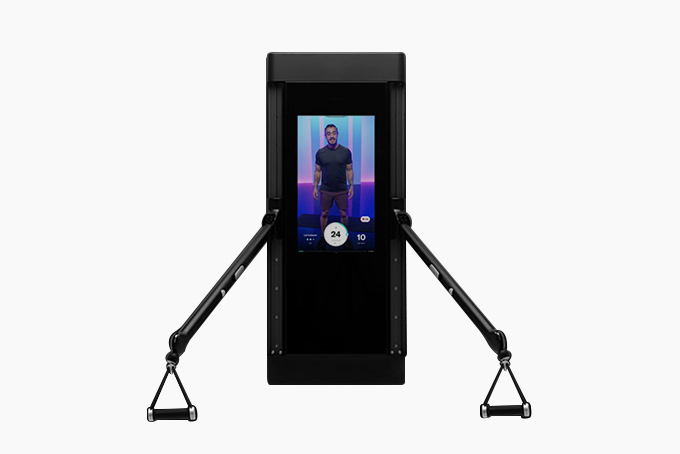 Tonal Smart Gym
Representing the future of home fitness, Tonal's intelligent home gym system is comprised of a horizontal display with a highly versatile pair of arms that, when combined with Tonal's array of attachments, includes everything needed for full upper and lower body workouts — all while physically spotting you and guiding you through workouts.
The 15 Best Pieces Of Travel Workout Equipment
Still haven't found the perfect gift for the active dad in your life? Our guide to the best pieces of travel workout equipment is chock full of today's latest and greatest gear for the physically-fit father on the go.