Mother Nature is beautiful, but she can be brutal all the same. When you're out on the trail and have to cross a watery path, you'll likely get water inside your hiking boots. Not only is it a complete nuisance to have wet socks, it almost guarantees that you'll get a blister, which will ruin your trip. It's difficult to take in the natural wonders surrounding you when you're trying to ignore the pain with each step you take.
Yes, there are waterproof hiking boots out there, but water can still find it's way into your boot. So, grabbing a pair of waterproof socks as a back-up to shield your feet is a veteran move. They may be the most overlooked piece of outdoor gear, but they're critical in ensuring you can stay focused on the trail ahead. Tracking down quality waterproof socks can be time-consuming, especially if you're searching for other outdoor gear for an upcoming trip. To help you save time, so you can focus on snatching other gear, we've compiled the best waterproof socks out there. Whether you need them for hiking, camping, or any other adventures where water could play a role, we're sure you'll find a pair that suits you.
Quality Construction
How They're Made
Standard waterproof socks usually have three layers: an outer layer that's visually similar to regular socks, an internal membrane that keeps water out while allowing foot moisture to escape, and an inner knit layer that provides cushioning and wicks water to the membrane. On the other hand, there are waterproof socks that are constructed from a material that's impermeable to water, such as neoprene. No matter what type of construction, waterproof socks keep your feet dry and warm, preventing blisters on your journey. However, be aware that waterproof socks reduce breathability, which is a small price to pay for extra protection.
Randy Sun Waterproof Hiking Socks
Both windproof and waterproof, Randy Sun's hiking socks keep your feet warm and dry throughout your trip into the wild. They have a seamless toe and cushion padding in the heel to reduce rubbing and chafing, keeping you comfy as you trek through the backcountry. With a three-layer knitting construction, they manage to be waterproof while still being breathable. Note that they are about three times thicker than normal socks for reliable performance.
Always Outside Waterproof Socks
These mid-calf waterproof socks by Always Outside will keep your soles warm and toasty while you navigate the playing field. They feature Coolmax material, seamless construction for smoothness, and an abrasion-resistant design for durability when you're on-the-go. Ready for outdoor sports, biking, running, hiking, and more, this perspirations-wicking socks can handle any activity outside of the office. Not to mention, they go well with sneakers or boots.
NRS HydroSkin 1.5 Wetsocks
Providing you comprehensive protection all around, the NRS HydroSkin 1.5 Wetsocks are made with a 1.5mm neoprene core for superior insulation. The waterproof socks have a 4-way stretch PowerSpan outer layer for incredible flexibility, allowing you to move naturally on your journey. And they have fully-sealed seams that work together with HydroCuff ankles to keep water out, as well as titanium-laminate adhesive to help body heat retention.
DexShell Ultralite Bamboo Socks
Constructed using ultra-light biodegradable bamboo rayon inner material, DexShell's waterproof socks are perfect for days outside the city bubble. Thanks to the high-quality material used, these socks are more supple than other hiking socks out there. In addition to bamboo rayon, the socks have polyamide inner fabric and a Porelle interlining membrane. Thanks to their super lightweight construction, they'll feel like they're barely there no matter what you're doing.
Daky Waterproof Socks
Featuring a three-layer Micax cooling fabric, your feet will feel dry and cool on the most treacherous and watery trail. Thanks to a 100% Wudu-compliant construction, these lightweight socks are both wind and waterproof. And despite having three layers of protection, they're also breathable. Enjoy the freedom of natural movement as you traverse the wild with nothing but your hiking backpack, apparel, and your will to discover the depths of the countryside.
SealSkinz Cold Weather Socks
These cold-weather socks provide three levels of protection, keeping your toes dry and cozy throughout your hiking exploits. They have a merino wool lining for softness and breathability, zonal elastication for superior support, flat rub-free toe seams, and a four-way stretch design for natural movement. To absorb shock and reduce pressure on your feet, they also have footbed padding.
SealSkinz Warm Weather Socks
With a three-layer construction, the SealSkinz Waterproof Warm Weather socks provide a perfect barrier between your feet and wet weather. Not only will they protect you from the water on the trail, but they're breathable, so your feet stay cool throughout your trip. You'll also find bamboo lining for moisture control, comfort, and insulation and flat toe seams to prevent rubbing. For peace of mind, the socks come with a lifetime guarantee.
ShowerPass Crosspoint Wool Socks
Soggy toes shouldn't be a part of hiking, so ShowerPass created the convenient Crosspoint Wool socks for adventurers who play outdoors in rain or shine. They have a breathable waterproof Artex membrane and a wear-resistant knit exterior, keeping your feet dry while you cycle, hike, run, or hunt. The three-layer construction allows you to run comfortably in the rain. Not to mention, it has a merino wool blend lining for anti-bacterial action.
DexShell Hytherm Pro Socks
If you're looking for waterproof hiking socks for cold weather, wrap your feet in DexShell's Hytherm Pro socks. They feature a merino wool terry loop liner that covers the interior of the socks completely for superior thermal protection and a snug fit. The socks are made from polyamide, elastane, and Porelle, in addition to merino wool, for maximum performance outdoors. These socks are made to help your boots protect your soles, so you can stay in the zone and connect with nature's surrounding artwork.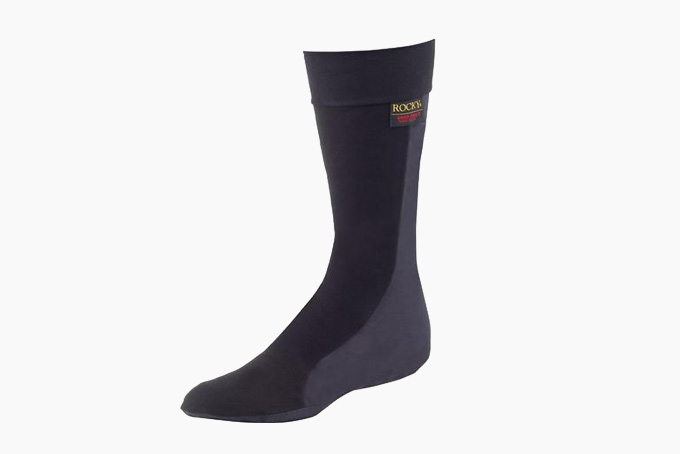 Rocky GORE-TEX Waterproof Socks
Battle wet environments with Rocky's GORE-TEX waterproof socks and never fear watery obstacles on the trail again. These abrasion-resistant socks may be pricey, but the highly breathable sole protectors are worth every penny and more if you're a serious hiker. Thanks to its durable construction, they'll be around for plenty of trails to come before you need to swap them out for another pair. Grab a pair and keep your feet dry and happy.
What's The Difference: Waterproof vs. Water-Resistant
Now that you've picked up a pair of waterproof socks, it's time to elevate your gear knowledge. Check out our break down of the difference between waterproof vs. water-resistant to refine your gear shopping expertise.