Today, there are more ways to listen to music than you can shake your fist at. And while many people are opting for things like audio streaming services, satellite radio, and the like, others prefer more… analog options. Despite how old the medium is, a huge (and growing) number of audiophiles turn to vinyl records whenever possible. Whether you're an old head looking to reconnect with your audiophile roots or you're a newbie looking to start your record collection, now is one of the best times to do so.
But a collection of records isn't going to do you much good if you don't have some way to play them. It's with this in mind that we've rounded up what we believe are the 10 best turntables you can buy right now (and a pair of honorable mentions). Regardless of your budget, know-how, stereo equipment, and status as an audiophile, you'll find a record player on this list that suits you perfectly.
Picking A Turntable
Things You Should Know
If you want to own a turntable that's really worth having — and not just a cheap one you found at, say, a big box department store with built-in speakers and the like — there are a few things you're going to want to take into consideration in your search. While the following section doesn't encompass everything you might want to know, these are the baseline metrics you should be aware of and will help aid you in picking the perfect turntable for your wants and needs.
Traditional vs. AIO: The chief difference between all-in-one turntables and their traditional counterparts is that AIO options have a built-in amplifier. That means and AIO only needs to be plugged into speakers in order to function. Traditional turntables, however, require an external amplifier — which might seem like an inconvenience to some, but actually has larger implications in regards to audio quality. Put simply, AIO turntables are more convenient at the expense of quality and control. Traditional non-amplified turntables are going to be a bit more of a hassle and cost more, but you'll be able to better control the quality of the audio produced by your sound system.
Output Types: There are actually a couple of different things to think about here. First, if a turntable offers digital output, that gives the listener the ability to transfer vinyl records to a digital format — meaning you can take your records and turn them into formats you can put on your phone or other high-tech audio devices. Second, some AIO turntables also offer wireless output, usually via Bluetooth but sometimes WiFi, so you can utilize the wireless speakers in your home even when playing vinyl. There's an argument to be made that digital and wireless outputs don't offer the same fidelity as traditional methods, but that's the trade-off for convenience.
Accompanying Audio Equipment: Buying a turntable is just one of many steps in putting together the perfect sound system. But what you will need to complete your stereo will depend on the kind of turntable you get. If you get a traditional one, you'll need an amplifier as well as a speaker set. If you have an AIO, you could just plug it in directly to some speakers. But if you have other gear — like a home theater setup — you might also want a central hub or controller to keep everything in order. And everything you get, regardless of the type of turntable, is also going to be personal to you, based on your desires, budget, needs, and more.
Sony PS-LX310BT Belt Drive Turntable
If you have a large collection of vinyl, either because you used to scour the record stores or you inherited it, but your medium of choice is digital files, you can still get use out of those records with Sony's PS-LX310BT Belt Drive Turntable. You see, this budget-friendly turntable actually offers vinyl-digital output, so you can use it to turn those albums into digital files — and the songs will all still have that original pressed PVC warmth that audiophiles can't get enough of. Of course, it also offers Bluetooth and RCA output for those times when you just want to listen to those records.
Audio-Technica AT-LP120XUSB-BK Direct-Drive Turntable
If the previous entry is just a bit too budget-friendly for your tastes and you want something that could feasibly double as a regular record player, you definitely can't go wrong with this offering from Audio-Technica. While this one doesn't come with Bluetooth wireless capabilities, it does make up for it with a few other additions. This includes adjustable dynamic anti-skate control, a quartz speed lock to ensure your records (be they 45s, 33s, or even 78s) always sound spot-on, and RCA output compatibility.
U-Turn Audio Orbit Plus Turntable
Proof positive that you can find a turntable offering hi-fi audio output alongside ultra-minimalist styling, the U-Turn Audio Orbit Plus Turntable is a stellar offering for lovers of vinyl. It comes equipped with an Ortofon OM5E cartridge with an elliptical diamond stylus, a vibration-absorbing acrylic platter, a low-noise AC synchronous motor, and a precision tonearm. If you want audiophile quality without the high associated costs, this is likely going to make your list of top options.
Pro-Ject Debut Carbon EVO Turntable
There's reason to think that the Pro-Ject Debut Carbon EVO Turntable you see before you is the absolute best all-around option on this list. It's approachable enough that it won't destroy your finances, but it also offers sound quality beloved by audiophiles the world over. It also happens to be quite understated in its minimalist styling and comes in numerous colorways, so you can customize it to your tastes. And it comes equipped with a Sumiko Rainier phono cartridge, a single-piece carbon fiber tonearm, electronic speed selection (covering 33s, 45s, and 78s), and a hefty stamped steel platter for stability and vibration absorption.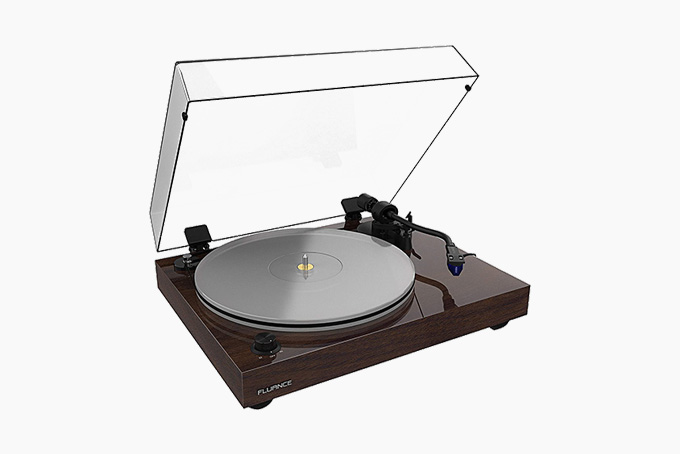 Fluance RT85 Reference Turntable
The goal of Fluance with its RT85 Reference Turntable was to craft a beautiful, high-fidelity, analog device that allows whatever vinyl you place on it to remain as true to the original recording as possible. And we're pleased with the end result, as are the brand's fans. These turntables all come with a solid wood plinth, acrylic platter, Ortofon 2M Blue elliptical cartridge, adjustable resonance-dampening feet, and so much more.
Rega Planar 2 Turntable
Now that we're getting into the more top-shelf, audiophile-approved range, the time has come to introduce you to Rega and the brand's Planar 2 turntable. If we had to put a label on it, we'd call this the gateway turntable to the really high-end options out there. It was developed over the course of two years with the goal of offering the exacting, faithful recreation of the music on your records. It boasts an in-house Rega Carbon cartridge, a low-vibration motor, a float glass platter, an advanced belt drive system, and — best of all — a lifetime warranty.
Technics SL-1200MK7 Direct Drive Professional Turntable
If we were to pick any of the options on this list as the "must include" offering, it might just be this Technics Direct Driver Professional Turntable. Yes, the price is daunting, but the features are — put simply — absolutely exceptional. These include things like an innovative coreless direct drive motor, a two-layer platter for enhanced dampening, a precision aluminum tonearm, and so much more. Of course, that's to be expected when this turntable was created for professional applications — like live DJing. But all that technology will also serve you beautifully in the comfort of your own home, perhaps to the point of overkill.
Cambridge Audio Alva TT Direct Drive Turntable
When it comes to styling, minimalism and cleanliness are the name of the game with the Cambridge Audio Alva TT Direct Drive Turntable. But the internals are all about high-fidelity audio recreation. In fact, the brand was hoping to deliver an "almost there" experience, offering sound as close to the original recordings as possible. That's managed with an MC cartridge, jointless one-piece tonearm, and more. But, interestingly, this turntable is also about convenience — boasting a built-in preamp, Bluetooth connectivity, and more. If you want ultra-high-end audio quality without all the fuss of putting your own custom stereo system together, you can't go wrong here.
EAT B-Sharp Turntable
What's really cool about the EAR B-Sharp Turntable is that it features much of the same componentry of its high-end sibling, the C-Major, but it has been stripped of all the extraneous styling. That means you still get super high-quality audio reproduction — courtesy of a carbon fiber alloy tonearm, anti-skate mechanism, proprietary low noise motor, floating chassis, aluminum platter, and more — without the price. Obviously, $1.5k is not to be scoffed at, but it's a good deal more approachable than its elder $2.8k sibling. And that makes for a pretty tremendous value when you really take into account the quality of this turntables componentry.
McIntosh MT2 Precision Turntable
It's no secret that McIntosh crafts some of the most high-end, high-fidelity audio gear around — and they're lauded for it the world-round. So it should come as no surprise that the brand's MT2 turntable has made our list. Obviously, the price point is enough to scare off all but the most wealthy and dedicated of audiophiles, but the specs also speak for themselves. They include (but are not limited to) a special dynamically balanced polyoxyethylene platter with a CNC-precision milled aluminum core, a belt-driven motor that was designed to isolate records from mechanical interference, a compressed wood plinth with top and middle acrylic plates for vibration reduction, a moving coil cartridge, and so much more.
Honorable Mentions
The Tables Have Turned
It's not that the following two options weren't quite able to make the cut (the opposite, really). Rather, these options are so expensive, rare, and hard to find, we couldn't rightfully include them as standard picks. However, if you can afford and track them down, these honorable mentions are — put bluntly — absolutely spectacular.
Bang & Olufsen Beogram 4000c Turntable
What's really cool about the B&O Beogram 4000c is that it's a modern limited-edition take on one of the most influential turntables of all time, the '70s-era Beogram 4000. In fact, all 95 of the available examples were built with original units from the 1970s as their base. And while the componentry is all exceptional, we're far more impressed by the extreme attention to detail — as each unit was painstakingly deconstructed, completely refurbished, upgraded, and reassembled. The big problem: they're wildly expensive and even harder to find.
Naim Solstice Turntable
The Solstice is Naim's first and only turntable, which is interesting when you consider that the brand has been making ultra-high-end audio gear for decades. It's also limited to just 500 examples. But the biggest barrier to entry is probably its $20k price point, which ensures that only the wealthiest audiophiles will ever get to experience one. As you can imagine, every single piece of these turntables is of exceptionally high quality — from the Equinox MC cartridge down to its self-calibrating motor drive system and everything in-between.
The 8 Best Record Player Stands With Vinyl Storage
Vinyl records and an accompanying turntable can take up quite a bit of room. But you can store them properly, safely, and beautifully, so long as you stash them in one of our picks for the best record player stands with vinyl storage.