Whether of the projectile or melee variety, all weapons are designed to inflict damage. Consequently, weapons can be extremely dangerous when in untrained hands, which is why it's so important to learn how to properly wield any type of weapon you carry. Using actual, real — or "live" — weapons while training greatly increases the likelihood of an injury, which is where training weapons enter the picture.
Existing in multiple forms and available across a diverse array of weapon types, training weapons exist for educational purposes and allow people to become better acquainted with deadly objects in a safer, more controlled capacity. By removing the so-called "business end" of a weapon, techniques and fundamentals can be learned, which then transfer over to the real thing. With countless training weapons currently available, ranging from medieval fantasy items to modern tactile projectile weapons, it can be difficult to hone in on the better, more worthwhile products in the space, so, with this in mind, we've assembled this guide to the best training weapons.
Practice Makes Perfect
The Many Merits Of Training Weapons
Merely owning a weapon provides very little protection or utility if you don't know how to use it. And while elements such as technique are obviously of extreme importance, nothing beats the practice and repetition that leads to muscle-memory. Abundantly aware of this, military and law enforcement outfits the world over all utilize training weapons for this purpose. By removing the possibly hazardous element from the equation, trainees can better focus on form and handling, instilling proper techniques and styles that will carry over to real combat situations.
Training Knives
Gaining An Undeniable Edge With Dull Instruments
Not to be confused with rubber replica blades, training folding knives are identical to normal knives, though sport edgeless, entirely unsharpened blades. The purpose of this type of training weapon is to learn how to properly deploy and carry a knife, without getting your hands cut up in the process. This can be especially beneficial when learning to use daggers, Karambits, and balisongs.
Kershaw Emerson's E-Train Pocket Knife
This trainer from Kershaw sports a dull-edged, 3.25" (0.11" thick), stonewashed 8Cr14MoV steel clip-point blade that's mated to a set of G-10-clad liner lock-equipped stainless steel handles with a tip-up clip. Weighing 5.10oz and measuring 7.75" when opened, this training knife was designed to help people develop fundamental edge weapon skills. A thumb-disc allows for practice opening the blade, though this item's primary selling point is undoubtedly its patented Emerson Wave Feature, which consists of a unique curved shape at the base of a blade's spine that enables the knife to be deployed with one hand as it's drawn from its user's pocket, all in one fluid motion.
Boker Plus Balisong Trainer
No other type of knife exemplifies the benefits of a training blade, quite like a butterfly knife. Unlike normal folders that almost anyone can safely open, balisongs require a unique flipping and catching motion — at least when being used in the traditional one-hand style. This particular butterfly trainer comes from Germany's Boker Plus, and measures over 9" when deployed. Tipping the scales at just under 5oz, this training knife has a stainless steel 4" round-tip dagger-style blade linked to a set of G-10 handles. And, though there are more high-end balling trainers available, with its full-size and weight, there really isn't much reason to invest in anything more exorbitant than this.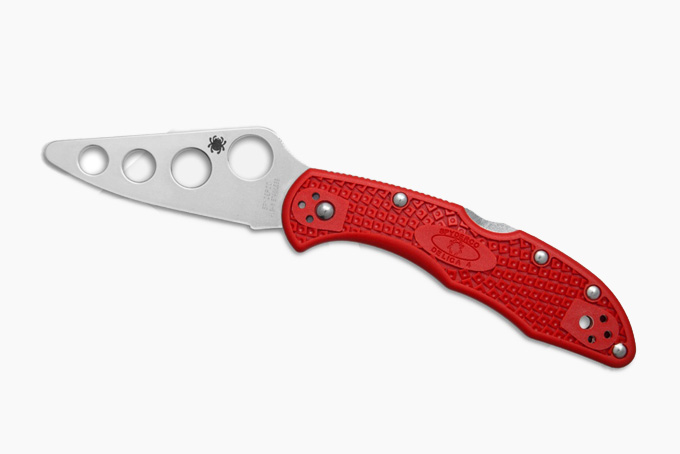 Spyderco Delica 4 Knife Trainer Knife
Spyderco's Paramilitary and Delica are immensely popular amongst military personnel and EDC enthusiasts alike touted for its robust blade and construction and easily distinguished via its unique blade profile and circular thumb opening. The Golden, Colorado company's Delica 4 Knife Trainer aims to provide a safe means of aquatinting one's self with the folder, with an unsharpened 2.75" AUS-6 steel drop point blade — complete with Spyderco's signature thumbhole — fixed to an FRN handle that sports Spyderco's textured volcano grip pattern. This Japanese-made trainer is every bit as high-quality as any other Spyderco knife, with the only real difference being the lack of an edge.
Benchmade SOCP 176 Skelentonized Dagger Combo
Benchmade's SOCP Dagger was designed by combat instructor and creator of the Special Operations Combatives Program Greg Thompson and is a two-sided close-quarter weapon primarily made for stabbing. Like a karambit, a finger hole and deep grooves in the handle provide ample leverage, which is great in combat but can be hazardous in training scenarios, which is why the Oregon City knife maker produces a training variant of the SOCP Dagger. And, though this training knife is sold a la carte, this particular version is sold in a bundle that includes an edge-free training version and sheath for practicing, plus a real sharp version of the dagger for once you're up to speed.
Benchmade SOCP Tactical Folder
A quality training weapon should be as realistic and lifelike as possible, as to minimize the difference when trading up to an actual sharpened edge. And that's essentially the idea behind Benchmade's SOCP Tactical Folder. Like the previous entry on this list, the SOCP Tactical Folder was designed in the USA by Greg Thompson and is practically identical to the real thing. Boasting the same level of quality and craftsmanship one would expect of any Benchmade product, this trainer features CF-Elite handles, the Northwest knife maker's patented AXIS lock, and a 4.47" spear point D2 blade, that, despite not being sharpened, nonetheless packs a hardness of 60-62 HRC
Bastinelli Creations Black Bird Training Knife
Originally modeled after tiger claws, Karambit knives primarily exist for combative and self-defense purposes, with the curving blade lending itself particularly well to slashing and cutting. And, though it's one of the most deadly types of knives — especially in the right hands — Karambits also make for fairly hazardous items when learning to use one. Bastinelli Creations offers an answer to this issue with its high-end 210 Black Bird trainer. Measuring 6.625" when opened, the knife features a 2.5" Bohler N690 blade and texted G-10 scales with a stainless steel liner lock and finger hole. This 3.5oz trainer is also made in Italy.
Laser Target Guns
The Latest In Dryfire Marksmanship Training
Laser target systems are a modern form of dry-fire training. They usually consist of a laser training bullet that fits into a normal gun's chamber, or an entire laser training gun. These systems allow for marksmanship practice without all the noise or having to pay for countless rounds on ammunition. Furthermore, they also let you get used to wielding the actual weight of a firearm, and some models even offer lifelike faux recoil.
LaserHIT Laser Training Bullet Kits
Described as "a portable lightweight shooting range in a premium case," the LaserHIT training system is a cutting-edge dry-fire device that lets you practice target training with your own gun. The system is comprised of a single laser bullet — offered in 9mm, 308, 223, 45ACP, 40S&W, and 38 Special calibers — that pairs with either digital targets or a smartphone app, to record your shots. Incredibly lightweight and compact, this system can be utilized practically anywhere. The LaserHIT is offered in several different versions, each containing different elements such as tripods and cases, plus there are wired and wireless variants available, as well.
SIM7 Laser Training Gun
Laser Shot Simulation's SIM7 Laser Training Gun was painstakingly engineered by firearms experts to afford the most realistic and lifelike dry-fire training experience. Powered by a pair of AAA batteries, the SIM7 packs an ultra true-to-life trigger weight, take-up, and rest, that allow muscle memory to form. Outfitted with mil-spec durability, this rugged training sidearm is based on a "prolific polymer-framed" model and offers both visible laser and regular dry firing, and an 850nm infrared laser that can be used with the any of the company's Laser Shot virtual firearm training simulators. Overall, when it comes to recreating the weight and feel of handling a firearm in an all-inclusive package, it really is hard to beat the SIM7.
Blowback Laser Training System
Without needing to own any other gear, firearms, or accessories, the Blowback Laser Trainer is an all-in-one practice sidearm and target kit. The kit's gun boasts a full weight of 28.5oz (or 1.78lbs) and features a removable, rubber-bottomed clip that contains a five-hour battery and a C02 cartridge that powers the slides blowback function (and can do so 50 times before needing a refill). Unlike blowback airsoft guns, this training weapon packs full simulated recoil, for the most lifelike possible experience. The gun and magazine are laser-equipped, and pair with a target that lights up upon "impact" and shows score or shooting time via an LED display.
Rubber Replica Weapons
Soft Practice Weapons For Hardcore Training
Though rubber replicas can be useful for learning how to properly hold a weapon, or correctly move with one, they're more commonly called on for hand-to-hand combat training, more specifically, learning disarming techniques. This makes for a tremendously safer overall training experience, that couldn't responsibly be replicated using actual weapons.
Cold Steel Leatherneck S/F Trainer
Originally adopted by United States Marines in late 1942, the 1219C2 combat knife — which was eventually redubbed the USMC Mark 2, or simply the "Ka-Bar" — is arguably the most iconic military knife in modern history. Despite almost 80-years having passed since its initial release, it remains the blade of choice amongst today's leathernecks, which makes it a very practical choice when shopping for a training weapon. This replica version from Cold Steel measures the standard 12" in length and sees the traditional 1095 carbon steel clip point blade replaced with a Santoprene item of equal length. It is worth mentioning that this rubber knife weighs in at 0.25lbs, which is quite a bit less than the actual Ka-Bar's 0.7lbs weight.
Ontario EOD Kerambit Trainer
While the curved hawkbill blade, reverse grip handle and finger loop afford those wielding a karambit a number of distinct tactical advantages, it also opens up karambit users to a number of disarming techniques that take advantage of the combat-style item's design. This rubberized version of the Ontario Knife Company's fixed-blade EOD Karambit is perfect for learning these aforementioned techniques, with this item's 3.75" blade sporting a rounded tip to ensure safety, even when practicing at full speed. This is also a fantastic training tool to use before stepping up to Ontario's actual fixed blade Ranger Karambit, as this is what the rubber version is modeled after.
Cold Steel Model 92 Rubber
The Beretta M92 is unequivocally one of the most iconic handgun designs of all time, utilized by countless law enforcement and military personnel. Because of its ubiquity in these circles, it makes for a pretty solid choice for training purposes. The Beretta's rather long barrel provides plenty of leverage for learning to disarm individuals, and the lack of metal parts means you'll never have to worry about getting cut on the iron sights or any levers while practicing techniques full-stop. The green construction also leaves zero doubt as to whether this is a real or training weapon, which is always a plus.
Nunchaku Rubber Safety Nunchucks
Without proper training, nunchucks can be just as dangerous (if not more) to the person wielding them as their intended target. As such, this type of weapon is the perfect candidate for a soft rubberized version for practice applications. This particular training item sports Kikon-Bu, Chukon-Bu, and Jokon-Bu (lower, middle, and upper sections) that are adorned in thick rubber covers, though what really sets it apart from other option on the market is its genuine metal Kusari (or chain). This style of weapon admittedly doesn't afford a ton of protection — especially relative to the amount of training it requires — though there's definitely something to be said for carrying on this martial art tradition.
Rubber Glock 21
The Glock is another firearm that's incredibly popular with LEOS, military personnel, and civilian shooters alike. This rubber training gun is an exact replica of the Austrian firearms firm's (Fourth Generation) Glock 2, though its a molded construction piece, so elements like the clip and slide aren't operational. Nonetheless, the short barrel provides a unique experience for training situations, as the lack of available leverage makes these kinds of techniques markedly more difficult. There are also replicas of the Glock 26, should you want to master compact firearm disarming. As exact replicas, these can also be used to train with holsters (that fit the Glock 21).
S&R Tactical Training Rifle
Most rubber training weapons tend to replicate the kinds of knives and guns that one is more likely to encounter in a back alley or a rough part of town, and though tactical assault weapons are significantly less common in these types of scenarios, there are still plenty of good reasons to purchase a rubberized replica AR. Whether it's practicing covering distances on foot while carrying a long gun, or just learning to properly move with a rifle, this replica gun very much fits the bill. Making it an even more versatile offering is the fact it comes with a multi-piece modular stock that can be adjusted in length and is sealed and weighted (at 4.5lbs) for a more realistic feel. And, despite boasting rubber construction, this replica's rifle strap rings are made of heavy-duty metal.
How To Properly Hold And Fire A Handgun
Interested in brushing up a bit more on weapons training topics? Then be sure to scope out our guide to how to properly hold and fire a handgun for a basic refresher on handling and shooting a sidearm.