Race outfits and custom car shops have long been garnering significant followings on social media with images of their highly modified vehicles. However, over the last few years, some of the most significant and widely-shared/viewed cars haven't been coming from major manufacturers or customs shops, but rather from a small group of talented concept artists that have applied their robust skill-sets to designing unique CG-rendered vehicles.
Despite their works only existing as 3D-generated computer models, many of these concept artists have amassed hundreds of thousands of followers on social media. The digital nature of these vehicular creations allows artists to experiment with outside-the-box and over-the-top concepts, without the typical restraints and limitations involved in IRL vehicle builds. With new artists and studios now popping up on a near-monthly basis — and existing seasoned designers delivering ever-more impressive 3D renders — now seemed the perfect time to explore this increasingly influential group of artists and designers. So, with this in mind, we've sat down with some of the best concept artists in the business to get their first-hand insights on their designs and inspirations.
Influencing An Industry
The Impact Of Today's Automotive Concept Artists
Major manufacturers routinely look to automotive trends and subcultures when designing new vehicles, and while the inspiration for novel models comes from a host of different spaces, no one area has had as profound of an impact on modern car design as the recent wave of concept artists that are leaving an indelible mark on the industry with their radical 3D-rendered vehicles — not unlike how the designs from today's motorcycle manufacturers have increasingly been inspired by the custom motorcycle scene.
Not hampered by traditional limitations, these artists have the freedom to explore and experiment with immensely idiosyncratic designs and concepts, which has lead to some remarkably unique ideas. And these concepts — and their tremendous popularity on Instagram and other social media — haven't gone unnoticed by today's OEMs and have, in fact, had a growing influence on the penning of new production models. These eminent artists' array of slammed and widebody takes on existing vehicles have increasingly inspired the designs of big-name carmakers on everything from track-only euro models to high-performance, American-made super trucks.
Additionally, these artists don't have to worry about the physical problems of ordinary builds, nor do they have to have any concern for a project's budget — above and beyond how much time they're willing to invest in front of their computer. What's more, the CG factor also lets these designers play around with custom vehicle designs that would be considered sacrilegious if done in real life, such as throwing wide body kits on antique Porsches or slamming historic Ferrari GTO racers.
Alongside crazy aero kits, another way that these artists have impacted the auto industry is through their love of retro-futurism. Spurred on by their love for sci-fi films like Blade Runner, TRON, Back to the Future, and the Alien franchise – as well as anime classics such as Akira and Ghost in the Shell — these designers neo-retro design themes have increasingly been adopted by automakers such as Nissan's new Z model, the Honda E, and Tesla's Cybertruck, though this is only the beginning.
Without any overhead financial costs to worry about other than the artist's time, these designers have consistently been able to show off new and exciting ideas of what's possible, taking much greater risks than OEMs would even with official factory concept cars. And while not all are winners, the bonkers design of many of these projects ultimately introduces the automotive world to novel ideas, which in turn drive innovation and help to usher in the next era of vehicular design language.
Automotive Concepts At The Top Level
Getting To Know The Artists & Their Works
Now that you gave at least a decent grasp on what these designers are doing and how and why their work is having such a profound impact on the auto industry, let's meet the best automotive concept artists and designers working in the business today.
Abimelic Design
Originally inspired by watching Chip Foose do his thing on the show Overhaulin', Abimelec Arellano is a talented, young, and completely self-taught artist from Mexico that completed his first automotive rendering using Photoshop at the age of 11. Having since stepped up to using 3D programs like Keyshot and Blender, Arellano's now been digitally designing vehicles for the better part of a decade and currently operates out of Sonora under the banner of Abimelec Design, churning out commissioned renders as well as delivering up dream cars from his own imagination. In addition to his skills behind a computer, Arellano's body of work is made all the more impressive by his immense range and the diversity of his various projects.
I'm based in Sonora, Mexico right now.
Do you have a particular style or specialty?
I would say my specialty is aftermarket concepts or conceptual art in general.
Who or what are some of your biggest inspirations?
Inspiration comes from many different places, mostly from daily life and pop culture. Could be music, a movie, a car I see on the street, etc. Plenty of people have inspired my work! Each of them has played a big part in what I do now. Mr. Chip Foose, Mr. Ian Callum, Khyzyl Saleem, Yasid Design, and Hugo Silva designs come to mind!
Can you list a few highlights from your resume, such as companies or brands that you've worked with?
I've worked with Hagerty, MotorTrend, VUHL, and shops across the world conceptualizing cars.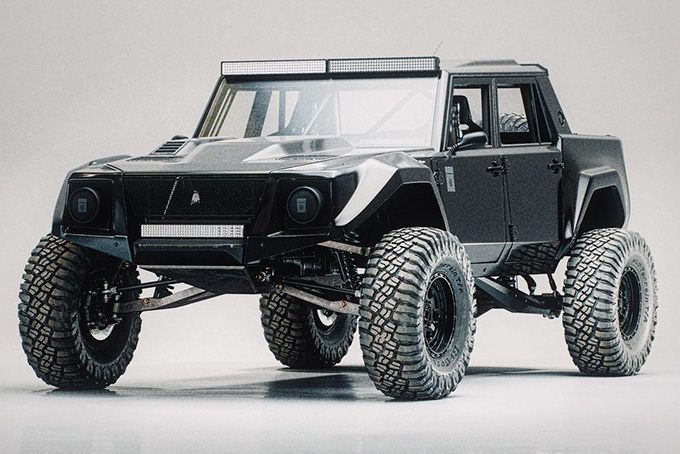 Ash Thorp
Ash Thorp is unequivocally one of the biggest and most reputable names in the concept artist space, with an enormous list of incredibly noteworthy projects in his portfolio such as penning the latest mid-engined Batmobile muscle car and Ken Block's HOONIFOX. Thorp has also contributed to a plethora of big-name sci-fi films, as well as quite a few triple-A video game titles. Based in Southern California, Thorp is also largely self-taught and has managed to hone his skills through dozens of vehicle renders born out of personal projects. Aside from his work's hyper-realism, another major factor that separates Thorp from other artists is that he doesn't only design futuristic and far-out vehicles, but he also crafts equally detailed environments and worlds for them to be digitally photographed or filmed in.
I'm currently based in Southern California.
Do you have a particular style or specialty?
There's no one specific style that I lean towards, as I love just making art in general.
Who or what are some of your biggest inspirations?
If I had to pick just one, I'd say my biggest artistic influence would have to be Da Vinci.
Can you list a few highlights from your resume, such as companies or brands that you've worked with?
There have been a lot, both credited and uncredited, but some of the films and projects I've worked on include Ender's Game, Assassin's Creed, Total Recall, Ghost in the Shell, Call of Duty, Ant-Man, and Captain Marvel.
BradBuilds
If you regularly follow automotive websites, blogs, or forums, you've most likely already seen some work by BradBuilds. This is an individual that lives and breathes cars and auto culture, and that's incredibly apparent from both his expertly designed 3D renders, and the fact that Brad has actually brought some of his computer-generated designs to life in tangible metal — much of which he documents for followers of his auto-focused Youtube channel. And while he does occasionally produce over-the-top designs, BradBuilds' renders are typically grounded in reality, enough to the point where — with a generous enough budget — almost all of them could actually be built.
I just moved to Austin, Texas this past spring; I was previously based in LA for three years. I absolutely love the change of scenery, and having regular rain again is wonderful! These last few months have taught me that Austin is basically the Australia of the US. We have tons of snakes, scorpions, and even tarantulas.
Do you have a particular style or specialty?
I definitely love things wider and lower than they should be. Also, bodykits with integrated venting in the back are to die for. Regarding specific cars, most things JDM, as well as anything from the '70s to late '90s.
Who or what are some of your biggest inspirations?
In regards to racing (more specifically rally), DTM and GT3 had an influence on my style. As a kid, I always loved seeing these cars on the road in their "production" versions and tried to pinpoint the differences. When I was super young, I actually thought they were the same and was amazed by the number of race cars on the road! Another big inspiration was Kei Miura and his company, Pandem. I loved that he was just a normal guy with a passion for computers and cars. After reading one of his interviews with Speedhunters, I remember thinking, "I can build bodykits in my garage!?" I took that in my own direction and have almost finished 3D printing my own body kit for my Datsun 240z.
Can you list a few highlights from your resume, such as companies or brands that you've worked with?
There is a lot on my resume that I can't talk about due to NDAs, but I have had the honor of working with some amazing companies including Nitto Tire, Falken Tire, Toyo Tires, and Wheel Pros (more specifically Rotiform, Black Rhino Wheels, and Fuel Off-Road).
colorsponge
There are some concept artists that are so good at what they do, that their work is often mistaken for photos of real steel and metal vehicles. Carlos Pecino, better known as "colorsponge," very much falls into this category. Couple his technical abilities with a vivid imagination and a fine appreciation for minute details and it's not hard to see why colorsponge belongs on this list — or why his services have been utilized by big-name studios and film companies. Pecino's latest endeavor sees the Spanish-born Londoner partner with good friend and professional collaborator Ash Thorp to deliver a 24 vehicle concept series badged under the fictitious marque of M.H.C. — or "Make Haste Corp."
I'm originally from Spain, but I'm currently based in London.
Do you have a particular style or specialty?
I would say my specialty is lighting and look development.
Who or what are some of your biggest inspirations?
I grew up being heavily influenced by anime and '90s movies, in a way I carry that on in my brain and then extract it as a sort of convoluted form of CGI. But in my daily basics, my main inspiration is actually music like Lorn, Hans Zimmer, Jon Hopkins, and Tool.
Can you list a few highlights from your resume, such as companies or brands that you've worked with?
I've worked in RealtimeUk, Recom Farmhouse, Ink, and the episode Pinkman in Netflix's Love Death + Robots.
Dmitry Mazurkevich
Different artists go to different lengths when putting together a computer-generated vehicle, with some designers simply penning the shell and visible exterior elements while others create the underlying engine and framework. Belarus' Dmitry Mazurkevich takes this latter approach to the next level, meticulously rendering bespoke vehicles from the ground up, generating everything from highly-detailed and lifelike cockpits to (would-be) functional suspension systems and frames with proper geometry to beautifully designed engines and their accompanying exhaust systems. This unparalleled level of detail does mean Mazurkevich can't churn out projects as quickly, though the end results of his work consistently prove that quality beats quantity every time.
Currently, I'm based in Belarus.
Do you have a particular style or specialty?
I believe that custom build cars can be designed and presented to the customer as complete design projects on the planning stage. Exterior, interior, showreel – any type of visualizations that leave no blind spots and form a clear vision of the final build. High detalization and photorealism are of the highest priority for me.
Who or what are some of your biggest inspirations?
My inspiration comes from a lot of places. All kinds of racing for starters. The dedication of the pilots and mechanics doing what they do under harsh conditions is really inspiring to me. Designers and engineers from various epochs — as well as their mindset and attitude towards the design process. Some great examples are Gordon Murray and Hirotoshi Honda.
Can you list a few highlights from your resume, such as companies or brands that you've worked with?
Currently, most of my projects are for private customers. The latest one is a Mazda MX-5 from Saint Petersberg.
Learn More: Dmitry Mazurkevich
Doruk Erdem
London's Doruk Erdem takes obvious and ample influence from the world of science fiction and contributes to that realm himself in the form of conceptual spaceships, animals, weapons, and some seriously impressive vehicle designs ranging from ultra-futuristic renderings to more projects more closely grounded in reality. In particular, Erdem has a blatant knack for penning ultra-sleek land-speeder-inspired motorcycle designs, delivering concept models using the engines from brands like Ducati and BMW. Some of Erdem's two-wheeled works have actually been brought to fruition as real custom motorcycle builds, too.
Do you have a particular style or specialty?
I do not have a specific style because I work on many different projects and objects and, in my opinion, each project has its own distinctive features. I don't like limiting them to working in a particular style. Despite the differences, I think my biggest specialty is to reflect my talents and my whole soul to the project and create a smile on people's faces at the end of the project.
Who or what are some of your biggest inspirations?
When I`m working on a project, I always listen to Hans Zimmer, mostly The Dark Knight Rises, and Burt Munro and Niki Lauda have always had a special place in my life. They have probably been my biggest inspiration. Besides these, I also like to be inspired by nature.
Can you list a few highlights from your resume, such as companies or brands that you've worked with?
During my 16-year career, I had the opportunity to work on many different projects. I have been working on concept vehicle designs and sci-fi designs for the last 8 years. Now, I mostly work with game companies, digital agencies, and VFX companies to create concept designs.
FLAT HAT 3D Studio
Real name Ted Li, FLAT HAT 3D Studio is a professional 3D concept artist that trades in selling highly accurate and wildly lifelike digital renderings of vehicles online. Li's passion for cars and understanding of design language is readily apparent, as his ability to make minor tweaks to existing designs, amplify or exaggerate existing defining features, and even merge multiple aesthetic themes into a single cohesive process are all truly next-level. FLAT HAT also goes to great lengths to craft detailed worlds to place his rendered vehicles into. Ted Li also separates himself from other concept artists by exercising some major restraint in his work and almost exclusively penning designs that you could actually see down at your local race track or cars and coffee meetups.
Well, I was born and raised in Taiwan and I'm a native of the city of Kaohsiung. I've been doing 3DCG for about a decade now.
Do you have a particular style or specialty?
I'm a big fan of the JGTC/Super GT series, I love to see a factory vehicle turned into a battle machine, so I took that idea and applied it to OEM cars, making them wider and more aggressive-looking. I also like to use the design concept of a vehicle to overlay on another vehicle, and I always enjoy seeing how far I can take these ideas, with my "Aston Supra" (seen above) being a good example.
Who or what are some of your biggest inspirations?
I grew up in the '90s, and the video game Ridge Racer Type 4 has inspired my passion for cars since I was 6 years old.
Can you list a few highlights from your resume, such as companies or brands that you've worked with?
For the 2019 SEMA show, I had a project where I teamed up with Chris Hill and had the chance to see one of my renderings brought to reality and then had it shown to the whole world. That was pretty huge for me.
Hakosan Design
Hakosan Design is an under-known design studio that's deserving of far more attention than it's received thus far. Actual name Luis González, the Spanish studio delivers radical widebody takes on modern supercars and hypercars and also sells 3D models, however, where Hakosan really manages to shine is in its modernized, race-spec takes on classic JDM sports cars in which vintage automotive icons are bestowed with aggressive aero kits, flared fenders, intake scoops, diffusers, and rear wings. With the level of work that Hakosan is producing, it's quite frankly shocking this outfit hasn't garnered an enormous social media following, though we urge anyone reading this to do themselves a favor and give these guys a follow.
I´m from Alicante, Spain.
Do you have a particular style or specialty?
Yeah, my style is based on the cyberpunk culture of Japanese anime, as in Akira or Ghost in the Shell, and (in general) what I try to show the most is a minimalist vision of my concepts.
Who or what are some of your biggest inspirations?
Since I was a child I was always thinking about cars; they fascinated me, especially with Japanese brands such as Nissan or Toyota. The Gran Turismo saga also helped, marking my style for the future. On the other hand, my love for design was born with programs like Overhaulin' and builders like Chip Foose that I always remember when I design a restomod. When I was 18, I dedicated myself to studying the history of automotive design on my own, especially in the '60s and '70s with Giugiaro and Gandini, until 5 years ago when I started practicing with 3D and discovered other great artists like Khyzyl Saleem, Ash Thorp, and recently colorsponge.
Can you list a few highlights from your resume, such as companies or brands that you've worked with?
Mainly, I've dedicated myself to doing the projects that can be seen on my Instagram, but I've also taken on others that are still being made that I can't talk about presently. I can tell you that they are cars and motorcycles that will materialize in Spain for the whole world.
Hugo Silva Designs
Major manufacturers frequently borrow features or design elements from race cars when designing production models, and when designing a purpose-built track machine — or individual components — a great many outfits rely on Hugo Silva of Hugo Silva Design fame. Currently working out of Portugal, Silva creates rendered vehicles through personal projects, — a great many of which have been given the slammed, widebody treatment — sharpening his design skills and then unleashing his talent when called upon by race teams to go to work. And while the majority of his renders are of the track-focused variety, Also responsible for several impressive motorcycle designs, Silva works with an enormous array of donor vehicles, ranging from SUVs to old Japanese classics to modern hypercars.
Do you have a particular style or specialty?
My specialty is making concepts and ideas for race car conversions,  body kits, etc.
Who or what are some of your biggest inspirations?
Some of my biggest inspirations are obviously race cars in general, especially time attack cars. I've also been influenced by artists like colorsponge and The Kyza (Khyzyl Saleem).
Can you list a few highlights from your resume, such as companies or brands that you've worked with?
I'm currently working on two big projects that I, unfortunately, can't actually speak on at the moment. I haven't worked much in the gaming or movie industries as most of my work is for clients who plan on actually making my renders a reality, so I've worked on various projects for racing clients, designed some body kits, as well as wheels for some production companies. Some are well known; others, not so much. But I'd rather keep some of them anonymous.
Learn More: Hugo Silva Designs
Jon Sibal
Jon Sibal is another legendary name in the concept artists arena, beginning his career in the comic book industry nearly three decades ago before later advancing on to design performance-focused cars. Sibal's vehicle designs have been featured in high-profile racing video game titles, and are also routinely turned into real-life builds ranging from Formula Drift racers to elaborate one-off SEMA project cars. And, interestingly, unlike most of the artists on this list, the lion's share of Sibal's work ends up being produced as actual builds, requiring him to work with a number of constraints. When we talk about concept artists influencing the actual automotive world and the major OEMs that operate within it, Sibal is a prime example of a digital designer making an objective impact on the space.
I'm based in Southern California.
Do you have a particular style or specialty?
I specialize in body kit designs, tuner concept builds, and livery designs. Because the bulk of the design work I do gets built, the style and approach are geared towards a more feasible and buildable design, where we have to consider numerous factors like tire clearance, mounting solutions, stability, etc.
Who or what are some of your biggest inspirations?
Mecha and motorsport have had a huge influence on my work. I rely on them to jump-start my brain whenever I'm stuck. In terms of artists, anyone that does creative and classic designs will always get my attention. It doesn't have to be my style nor them being in the same industry; great inspirations are out there, we just need to pay attention.
Can you list a few highlights from your resume, such as companies or brands that you've worked with?
Most of the big projects I've worked on are all under NDA, unfortunately, so I'm unable to name them. However, what I can say is I had the pleasure of working with everyone from OE automotive manufacturers, to race teams, to independent builders to tuners, and everything in between. There are a couple of drift cars I got to work on currently competing in Formula DRIFT, a few one-off builds I got to design that will be making their debut at SEMA show this year, and a collection of body kit designs I did that are currently out now or are soon to be released through StreetHunter Design — also featured in the Forza Horizon 5 video game.
Khyzyl Saleem
Arguably the most influential — and objectively the most "internet famous" — concept artist working today, Khyzyl Saleem is an insanely talented, 100% self-taught designer, first discovering Photoshop at age 17 and slowly teaching himself how to render vehicles using online tutorials, first in 2D and then eventually in 3D. By 21, the "Kyza" was working at Electronic Arts and producing wild concept vehicles for the Need for Speed franchise and has ultimately gone on to amass an enormous internet following, a legendary body of work, and an increasing number of designs that are being turned into real-life vehicles. Some of these are being produced through Salem's company LTO (or "Live To Offend") — a monicker that makes Khyzy's thoughts on the staunch opinions of purists abundantly clear.
Im currently based in Guildford, Surrey, UK. Originally from Manchester!
Do you have a particular style or specialty?
I think my particular style relates to cyberpunk/futuristic body modifications and interpretations on cars, but more recently, I've been focusing on real-world widebodies. I definitely love exploring the more realistic side of things but also altering cars beyond what we deem possible in hopes to inspire people with their builds.
Who or what are some of your biggest inspirations?
Motorsport and film are typically my biggest inspirations. The '70-'90s-era of Motorsport is the holy grail for me. From the Group C racers to the radical designs of Group B. Japanese car culture as a whole has a lot to do with my style also. When it comes to film, mostly anything cyberpunk- and/or sci-fi-related is the one for me. Films like Akira, Bladerunner, GITS, and Elysium to name a few; they all inspire ideas.
Can you list a few highlights from your resume, such as companies or brands that you've worked with?
I had the pleasure of working with EA Games for most of my career, working on multiple NFS titles, designing key environments and vehicles, including two main cover vehicles. I also worked on Star Wars and Battlefield 1, which was a nice change from the cars! I've also been lucky enough to work with the Top Gear crew and the Fast Furious franchise, not to mention Neil Blomkamp! Currently, I'm now doing work with real manufacturers including BMW, Lotus, Toyota, and Lexus. Right now I'm focusing on a freelance career, with my own body kit company known as LTO — Live To Offend — bringing as many of my renders to life as I can! I also just finished up working on the next Gymkhana car for Travis Pastrana to drive with Subaru, as well.
Mikhail Sachko
Mikhail Sachko is a unique addition to this list, as the skilled Russian designer doesn't serve as a concept artist for his day job and instead just happens to be a remarkably talented and completely self-taught enthusiast that spends his downtime creating remarkable vehicle renders. Sachko has heavily dabbled in delivering wide-bodied takes on existing performance cars, though a major aspect of what makes Mikhail's work so noteworthy is his wild imagination, which has allowed him to digitally conjure up everything from a slammed '67 Ford Mustang Shooting Brake to a '70s era Datsun 510 off-road Prerunner. One can only imagine the kind of projects Sachko would likely be delivering if given the opportunity to render cars full time.
I'm from Russia and live in the city of Taganrog.
Do you have a particular style or specialty?
Car design is actually just my hobby. My main job is testing aircraft software.
Who or what are some of your biggest inspirations?
For me it all started with Ken Block's cars; his Ford Hoonicorn was very cool, and I decided to make a VAZ 2106 in the same style, at first using Photoshop, though that turned out to be not enough for me. So, I started studying 3D. And a few years later, I really hit my stride and shifted things into high gear.
Can you list a few highlights from your resume, such as companies or brands that you've worked with?
I participated on a team designing a drift car project for Ahmad Daham. That was a big one for me.
Scott Robertson
Scott Robertson has literally written the book — in fact, several of them — on how to draw and how to render, and though his bread and butter is kinda sci-fi concept art, his immense technical abilities have also allowed him to deliver a slew of wildly impressive cars and other vehicles in his portfolio. Alongside some equally impressive computer-generated speed boats, aircraft, science-fiction-inspired armor suits, rendered alien species, and military vehicles, Robertson has created dozens of beautifully designed automotive concepts ranging from hot rods to dune buggies to supercars — all of which boast a distinctly futuristic aesthetic. Because of the immense variety in his work, Robertson's Instagram page is a particularly fun rabbit hole to crawl down.
I'm based in Los Angeles, California.
Do you have a particular style or specialty?
I'm probably most well known for bringing a strong element of realism to whatever I draw, design, or illustrate, no matter how far into the future the concepts might be for. Vehicles are my specialty, all types; land, sea, and air are all endless fun to explore.
Who or what are some of your biggest inspirations?
Early in my career the "who" were concept designers like Syd Mead and Ralph McQuarrie. Nature, advanced creative software tools, engineering, and purpose-built vehicles of all sorts have always been a constant source of inspiration.
Can you list a few highlights from your resume, such as companies or brands that you've worked with?
A few of the highlights of my career have been my time teaching others about the profession at Art Center in Pasadena and Vevey, Switzerland. The founding of the publishing company Design Studio Press where my two books How to Draw and How to Render have been very satisfying to share worldwide. The five bicycle frame designs I did for Kestrel, work done with Steven Olds on the video game Spy Hunter 2, and my recent three-and-a-half-years spent working at Apple.
Tlibekua Design
With approximately a decade-and-a-half of experience digitally rendering vehicles, Kasim Tlibekov is one of today's up-and-coming concept artists that's steadily been delivering an ever-more-impressive body of work. Working as Tlibekua Design, Kasim's rendering skills and stellar eye for design have also more recently been catching the attention of race teams, as well as companies looking to commission world-class custom builds for high-profile auto shows. Tlibekov's work isn't all CG either, as the Russian render whiz has had a handful of his designs turned into real-life body kits that can be purchased by the public in several countries. Kasim's portfolio is also noteworthy due to the fact that almost all of it is realistic enough to be brought to fruition in real life.
I'm from Russia, Nothern Caucasus, from the town of Nalchik. and for the time being, I'm working from home.
Do you have a particular style or specialty?
I'm mostly working with widebody kits, but sometimes doing and the designs of car parts, but it all started all 15 years ago with my car concepts.
Who or what are some of your biggest inspirations?
I'm not sure I can pin down exactly where my inspiration comes from, but racing and European supercars like Lamborghini, Ferrari, and McLaren come to mind. They just have great body lines and amazing technologies. Military aircraft and film also influence my work.
Can you list a few highlights from your resume, such as companies or brands that you've worked with?
I've worked on the design of a body kit for Russian drifter Arkadiy Tsaregradtsev's 370z and a BMW Z4 G29 widebody kit for Ukrainian Max Miller, though the latter was never actually built. I've also worked on a couple of projects for SEMA 2021 in collaboration with Competition Carbon, and I have manufacturing partners in Russia, Latvia, and America who are producing kits I've worked on.
YasidDESIGN
Al Yasid Oozeear is a skilled concept artist as well as an inspiring story of determination and success. Now based in London, Oozeear was born in Mauritius, and though he didn't have access to expensive design schools, he did have an internet connection and was eventually able to teach himself the necessary skills to now work as a professional concept artist and vehicle designer. Having now founded YasidDESIGN approximately six years ago, Yasid has become one of the internet's favorite concept artists, with his work routinely appearing on big-name automotive websites. Yasid is also another artist with a wildly diverse body of work that boasts everything from off-road Bugatti concepts to a lifted adventure van to an apocalypse-ready Nissan GT-R to a Le Mans-style aero-kitted VW Beetle to a NASCAR-themed, slammed Land Rover Defender racer to a Ferrari GTC4Lusso Shooting Brake project (seen above).
The 12 Best Automotive Designers Of All Time
Interested in learning more about some of the world's most respected automotive designers working for today's major marques? Then be sure to head over to our guide to the best automotive designers of all time for an in-depth look at a dozen of the most eminent names in the auto design realm.