Throughout history, there have been films that have served to define a generation. Each generation in question has fostered its own cinematic standing through the work that was released during that time, and it's safe to say that no specific decade has usurped the other in terms of quality, storytelling, and appeal. If there were a more-notable period in filmmaking, however, the 1970s would surely be mentioned, securing various fan favorites like Alien, Carrie, The Exorcist, The Godfather, and Josey Wales.
Sure, the same can be said of movies throughout the '80s, '90s, and '00s, but the '70s served as a trial period — a proving ground, if you will — for a number of contemporary ideas that had never been tried before. In this period, storytelling, writing, and character analysis were key, arguably more than they are today, were an emphasis on big-budget effects, CGI, and visual appeal are more prominent than ever. Below, we've outlined our favorite movies from the 1970s, and we were sure to include a handful of the period's top contenders, as well as some under-the-radar classics that have made their marks within the world of cult fandom.
Alien
Alien's indomitable influence within the world of sci-fi horror was hard-earned. The series' first 1979 entry set the stage for one of the most hair-raising cinematic experiences ever, following a crew of commercial privateers on their space-faring vessel, the Nostromo, as they decide to investigate a distress call from a distant celestial body. After descending upon the surface of the moon, the crew encounters an abnormal colony of xenomorphs before finding that they are no longer the only denizens of their ship.
Year: 1979
Director: Ridley Scott
Genre: Horror/Sci-Fi
American Graffiti
Branching away from the horror and sci-fi genres, we head into the story of American Graffiti. This classic coming-of-age tale follows a small group of friends in a small California town during the summer of 1962 as they traverse the odd time period between graduating high school, and heading off to college. From beautiful girls, fast cars, youthful shenanigans, and even a few run-ins with a local gang, the film's boisterous cast tread the waters of young adulthood, pondering questions about friendship, love, passion, and purpose — all while becoming ever-cognizant of inevitable change.
Year: 1973
Director: George Lucas
Genre: Comedy
Badlands
Badlands is yet another coming-of-age tale about two begotten lovers and their quest to be together; however, it's a bit more complicated than its other contemporaries. The film centers around Kit, a young heathen who's taken to a life of recklessness, and his love interest, Holly, who moves to Kit's town with her father. After a brief run-in with one another, the two begin to slowly fall in love, but due to the protagonist's outlook on life, it's clear that their relationship is fated to end. Instead, the two continue their escapade, resulting in a dramatic (and deadly) confrontation with Holly's father, leaving them in a complicated situation that must navigate with care.
Year: 1973
Director: Terrence Malick
Genre: Crime/Drama
The Bad News Bears
The Bad News Bears is a lighthearted film about passion and perseverance. Set against the backdrop of a small suburb in Los Angeles, a group of misfit little league baseball players is taken under the wing of Morris Buttermaker, a disheveled swimming pool cleaner who was once a minor league player. Recognizing that the team's players are the farthest thing from athletic, he enlists the help of his former girlfriend's daughter, star pitcher Amanda Whurlizer, and a motorcycle-riding deviant named Kelly Leak to bolster their chances at winning. Now, the team must confront their long-running rivals, the Yankees, in an attempt to break through to the championship game.
Year: 1976
Director: Michael Ritchie
Genre: Sport/Comedy
Assault On Precinct 13
Assault On Precinct 13 is a wild ride that's been lauded as an unrelenting Hollywood mainstay, especially when compared to the period's other thrillers. After killing several gang members in Los Angeles, the city's police are confronted by a bloodthirsty pack of lawbreakers who lay siege to Precinct 13, resulting in a life or death situation for the dilapidated station's denizens, prisoners, and workers — all of whom must work together to survive the night.
Year: 1976
Director: John Carpenter
Genre: Action/Thriller
Carrie
When it comes to iconic horror films, few can hold a candle to Carrie. This bone-chilling film centers on Carrie White, a sheltered high school senior who suffers from emotional and mental abuse at the hands of her less-aloof classmates. Her mother, a religious fanatic who's become well-known in the community due to her ramblings, has raised Carrie in an atmosphere nonconducive to her growth, leaving her as the perfect target. But, following an interesting event that causes Carrie to go off the deep end, her classmates find themselves stuck in a world of fear, terror, and abnormality, resulting in more than a few horrific situations.
Year: 1976
Director: Brian De Palma
Genre: Horror/Thriller
Chinatown
On the surface, Chinatown might seem like your run-of-the-mill crime drama, but if you dig a little deeper, you'll find a supremely-written story that's full of twists, turns, and interesting developments. Viewers are introduced to Jake Gittes, a private investigator in 1937 Los Angeles who specializes in cheating-spouse cases. After being approached by a new client interested in her husband's dealings, Gittes is sent after the current Los Angeles Department of Water and Power head, Hollis Mulwray, in an attempt to prove his unfaithfulness. Day to day, Gittes follows Mulwray throughout a variety of inconsequential dealings, but it isn't long before he finds the man with an unknown young woman — one who's obviously not his wife. Jake's job seems to be done, but after last-minute information emerges following the ousting of Mulwray's affair, he realizes that his target might be the victim of a more elaborate scheme and that he's only a pawn for a much larger game.
Year: 1974
Director: Roman Polanski
Genre: Mystery/Crime
A Clockwork Orange
As one of history's most adored cult-classic films, A Clockwork Orange is an intense rollercoaster of imagery, imagination, and abnormal technique. Alex DeLarge, a denizen of the film's futuristic Britain, finds himself imprisoned for various wrongdoings as a result of his ultraviolent nature. While incarcerated, he's given a choice: undergo an experimental trial that reprograms the brain to detest violence, or spend the rest of his days in a cell. Naturally, DeLarge takes the path of least resistance, but what he doesn't know is that his shortened prison sentence will leave him in even more trouble as he returns to the chaotic world that he once called home.
Year: 1971
Director: Stanley Kubrick
Genre: Sci-Fi/Drama
Dirty Harry
Dirty Harry is a mainstay of the 1970s, and as one of Hollywood's finest films, it's no wonder that even today, it remains culturally relevant. The movie centers around "Dirty" Harry Callahan, an inspector who's been tasked to take down one of San Francisco's most notorious criminals, the "Scorpio Killer." After finding various ransom notes at scenes throughout the city, Callahan must take partner Chico Gonzalez under his wing, resulting in a twisted pursuit throughout the streets of San Francisco, and causing the pair to remain one step ahead of the killer.
Year: 1971
Director: Don Siegel
Genre: Action/Thriller
Enter The Dragon
The '70s were full of great martial arts films, but few have stood the test of time like Enter The Dragon. The film follows the fabled martial artist, Bruce Lee, as he heads to a deadly island tournament hosted by one of the world's foremost Opium traders. While there, Lee is tasked with the safekeeping of Roper and Williams, a duo of Vietnam vets who have also decided to enter the tournament for a specific purpose. As you might have guessed, things don't go as smoothly as planned, leaving the trio in a struggle of life and death, and resulting in one of the martial arts world's best-choreographed films.
Year: 1973
Director: Robert Clouse
Genre: Action/Adventure
The Exorcist
The Exorcist is another staple of the horror world and has become a cultural icon loved by many of Hollywood's avid critics. Its story takes place in Washington, DC, where a visiting actress solicits the help of others as she begins to notice a dangerous change in her 12-year-old daughter's personality. After realizing that she may be under the influence of an abnormal entity, the film introduces a young, up-and-coming priest from Georgetown University and an elderly priest who has a history with an unspecified demonic presence, connecting each of their individual stories and bringing them together for a test of strength.
Year: 1973
Director: William Friedkin
Genre: Horror/Thriller
The French Connection
The French Connection is, first and foremost, one of the most gripping police dramas of all time. Viewers are introduced to the film's dynamic duo, two inner-city cops from New York, as they work to put an end to the heroin epidemic within the locale. Doyle, a drunkard, but devoted police officer, follows his nemesis Alain Charnier, a French drug supplier, in an adrenaline-inducing ride that serves as the foundation for one of the film industry's finest car chases, and a story that stands as one of the grittiest ever devised.
Year: 1971
Director: William Friedkin
Genre: Thriller/Drama
The Godfather
If you're looking for a mob drama to scratch your itch, there's never been a better time to dive into the world of The Godfather. "Don" Vito Corleone, the film's central character, is a prolific mob boss in New York City. Michael, his youngest son, deviates from the family business and decides that a life of crime is not for him, causing Vito to question his ability to remain a respected entity on the east coast. After a new rival appears in the city, Vito is tested further, bringing him to an impasse that could put the future of the Corleone family in jeopardy, and cause his reluctant son to carry the torch as he wages war against the area's mafia families.
Year: 1972
Director: Francis Ford Coppola
Genre: Crime/Drama
Grease
Few movies are as memorable as Grease, and with a soundtrack that spans the ages, choreography that remains culturally relevant, and a cast that features some of the best actors from the era, it's no wonder that the film graces virtually every list surrounding the 70s. In 1959 California, a group of musical teens comes together to enjoy the last fading days of their summer vacation. Danny Zuko, the leather-clad leader of the greaser T-Birds gang, and the angelic Sandy Olsson slowly fall for one another before heading back to school, where they find that they'll both be attending the same classes. Now, with Zuko's reputation as a rebel at stake, he and Olsson must find a way to navigate the harsh realities of difference, while also becoming more aware of their connection.
Year: 1978
Director: Randal Kleiser
Genre: Musical/Romance
Jaws
If you never want to look at a large body of water in the same light, hunker down and watch Jaws. The film's story centers on Amity Island, a small beach town where the vast majority of its income is derived from tourism. After the remains of a shark attack victim are found at the start of the town's busiest season, Sheriff Martin Brody advises that the island shut down its beaches until the culprit is found; but, as you might expect, that doesn't sit well with the town's various shop owners. Consequently, another victim is found the following weekend, causing Amity to place a bounty on the shark's head. Inevitably, an array of hunters and fishermen crowd the island, including Quint, a shark hunter who's spent the vast majority of his years learning about the deep-sea creatures. But after a harrowing run-in with the predator, both Quint and Brody realize that the shark isn't a typical specimen, resulting in the pair's thrilling, but horrific attempt to cleanse the ocean of the beast.
Year: 1975
Director: Steven Spielberg
Genre: Thriller/Horror
Mad Max
Mad Max made waves in the '70s as one of the most radical dystopian films to ever be released, and today, the movie's influence can be felt in a vast majority of its contemporaries. The film takes place in Australia and follows a highway patrolman as he seeks to keep the peace in a post-apocalyptic world where scoundrels and criminals forage for scraps on the country's less-wandered roadways. After a horrifying run-in with a feral motorcycle gang, Max is left with nothing else but a thirst for revenge, causing him to set out on a blood-filled journey across the country's wastes in search of his abusers.
Year: 1979
Director: George Miller
Genre: Action/Adventure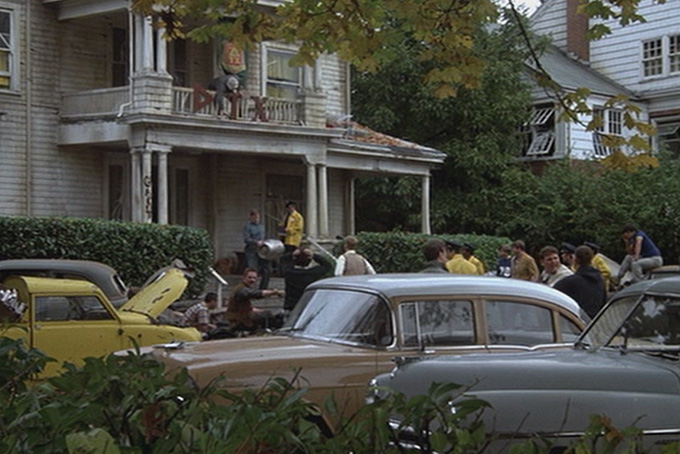 National Lampoon's Animal House
When everything seems a bit too serious, National Lampoon has always been a dependable source of laughter. Animal House, for example, follows a group of unbecoming frat boys from Delta House as they navigate their college years, while also garnering a reputation as the most disreputable crew of individuals on campus. On the other hand, the Dean's favorite frat, a rival to the first, has been enlisted in an attempt to remove Delta from campus, resulting in hilarity, obnoxiousness, and one of the greatest college party movies to ever be released.
Year: 1978
Director: John Landis
Genre: Comedy/Romance
The Outlaw Josey Wales
The Outlaw Josey Wales is an iconic western that follows its protagonist, a character by the same name, as he heads west following the Civil War. In an attempt to start anew, Wales takes to the trail with the illusion of a kind, helpful life ahead, but what he doesn't know is that old habits die hard, especially when others want you dead. As a result, Josey becomes a wanted man and must fight for survival as he tries to carve a new path for himself on the new frontier.
Year: 1976
Director: Clint Eastwood
Genre: Western/War
Paper Moon
Paper Moon takes place in the depression-era and follows Moses Pray, a con artist who seeks to make money in any dishonest way he can, and young Addie Loggins, the daughter of a deceased woman that Pray uses as an opportunity to sell high-priced bibles to denizens of the bible belt. After agreeing to ferry Addie to St. Joseph, Missouri, the pair decide to join forces to create one of the most heartwarming, but raucous duos in film history, working together to earn money in unscrupulous ways, and searching for their figurative "big break."
Year: 1973
Director: Peter Bogdanovich
Genre: Comedy/Drama
Saturday Night Fever
As another musically-focused film, Saturday Night Fever has become one of the genre's most celebrated cinematic endeavors. Its story follows Tony Manero, a 19-year-old who spends the majority of his time at the disco in Brooklyn, showing off his amazing dance moves. While he's a star on the dance floor, his life outside of that realm leaves more to be desired, including run-ins with his difficult family life, a dead-end job, and a brother to whom he's constantly compared. After meeting fellow disco-goer Stephanie Mangano, however, Tony realizes that the pair's love for dancing might serve as a catalyst for their dream of a life outside of Brooklyn, and enlists her help for the club's upcoming competition.
Year: 1977
Director: John Badham
Genre: Drama/Dance
Shaft
Shaft has made its mark on cinematic culture as one of the finest detective films of all time, and with a bold, fearsome heroine named John Shaft, it's unlikely that you'll find a more punchy protagonist. What follows is an epic tale of the African American detective as he pursues Bumpy, a crime mob leader, and a sect of the Black Nationals, who have been causing a ruckus within the city. Eventually, Shaft realizes that here are bigger fish to fry, including the mafia, who are blackmailing members of the community and setting them up to take the fall for crimes that they've been forced to commit.
Year: 1971
Director: Gordon Parks
Genre: Action/Thriller
Slap Shot
Slap Shot is a fantastic tale of human tenacity, thanks to its illustration of a down-on-its-luck Federal League hockey team and its group of equally-as-downtrodden players. After rumors spread throughout the Charlestown area regarding the closure of the local mill, the Chiefs' coach, Reggie Dunlop, became aware that the current season would be the team's last. In an effort to hold on to his fading hockey career, Dunlop devises a handful of interesting ways to renew interest in the team for local fans, including a false rumor that one of Florida's most prominent hockey cities is interested in acquiring the sports club.
Year: 1977
Director: George Roy Hill
Genre: Sport/Comedy
Smokey And The Bandit
Smokey And The Bandit follows two southern truck drivers, Cledus and Bandit, as they embark on a journey to pick up a load of beer from Texas. To acquire their payment, however, there are some stipulations in place, including an allotted amount of time that the beer must be delivered within. This seemed like an easy feat, but there's more to this story than meets the eye, especially when Bandit picks up a hitchhiking bride who's left her would-be groom, Junior, at the altar. Now, Junior and his father, Sheriff Buford T. Justice, are on a mission to find the woman, giving chase to anyone who stands in their way.
Year: 1977
Director: Hal Needham
Genre: Comedy/Action
Solaris
Solaris is an odd sci-fi film that sets itself apart from other, more notable films in the genre. Following the demise of one of three scientists sent to a different planet to study its alien intelligence, the film's protagonist is sent to investigate/replace the individual. What he finds, however, is an unsightly, barely-hospitable environment that houses the other two scientists — cold individuals who are both aloof, and secretive with him about what happened. As a result, he sets out on a mission to find out what really happened at the run-down base, uncovering a series of mysteries that lead him to a greater understanding of the alien world.
Year: 1972
Director: Andrei Tarkovsky
Genre: Sci-Fi/Art
Soylent Green
Soylent Green takes place in a not-so-distant future — one where Earth is vastly overpopulated and over-polluted by humanity's staggering numbers. To keep up with an ever-increasing demand for food, a company called Soylent Industries provides food that's believed to be fashioned from the plankton found in oceans. From here, the story centers around Detective Thorn, a hard-headed, but keen investigator who's been directed to solve the case of Soylent member William R. Simonson's murder. After uncovering various clues about the victim, Thorn begins to believe that the cause of death due to burglary is, in fact, one of distinct execution. This leads him to delve further into the depths of the case, where he finds that his investigation is being hindered by powerful figures who don't want the truth about Soylent Green's ingredients to spread.
Year: 1973
Director: Richard Fleischer
Genre: Sci-Fi
Star Wars: A New Hope
Star Wars is a long-time favorite among sci-fi fans. If you're not already familiar with its story, it centers around Jedi Luke Skywalker and ship captain Han Solo, as they join forces with the galaxy's most notable figures to fight back against the Empire — an evil entity who seeks to overthrow and control the furthest reaches of space. In the series' first film, Princess Leia, a vital figure in the rebellion against the Empire, is being held by Darth Vader, the outfit's formidable leader and one of the most iconic villains of all time. Working together with the droid duo R2-D2 and C-3PO, Luke and Han must evade the forces of Vader and find a way to free the princess from his grasp, eventually bringing peace to the galaxy.
Year: 1977
Director: George Lucas
Genre: Sci-Fi
Superman
Superman might as well be a fable at this point, but regardless of how many times the story has been revised and rehashed, there are few superheroes who can stand up to his gallantry. The film centers around Kal-El, an "alien" boy who was sent to Earth from Planet Krypton just before its destruction. Kal finds himself in the care of two earthling farmers, Jon and Matha Kent, who raise him until he's old enough to utilize his abilities. After moving away from the rural area to battle crime in the big city, Kent adopts the identity of Superman, a superhuman hero who spends his days working as a novice report, and his nights cleansing the streets of evil.
Year: 1978
Director: Richard Donner
Genre: Sci-Fi/Adventure
Taxi Driver
Taxi Driver is a cult classic that's earned the admiration of more than a few moviegoers over the years, telling the story of ex-Marine and Vietnam veteran Travis Bickle as he seeks to determine why the world has disintegrated into such a sad state. During the night, he works as an insomniac taxi driver in New York City, but during the day, he spends his time hanging out at seedy locations, doing seedy things. He has his own opinion of what's right and wrong in the world, but one of his favorite individuals is Betsy, a worker for Senator Charles Palantine's presidential nomination campaign. After becoming infatuated with her, he sets out to make the world a better place for both himself and those around him, resulting in his introduction to Iris, a twelve-year-old prostitute who he works to save from the clutches of her pimp, Matthew.
Year: 1976
Director: Martin Scorsese
Genre: Drama
The Warriors
The Warriors is a film about the sheer brutality of humanity, and few cinematic experiences can capture the raw nature of violence quite like this one. Viewers are introduced to Cyrus, the leader of New York City's Gramercy Riffs gang, as he seeks to bring nine representatives from the area's surrounding gangs under his dominion. After being assassinated during his speech, one of the local gangs, the Warriors, is blamed for his murder, causing them to flee across various territories, confront various gangs, and evade police throughout Bronx and Manhattan.
Year: 1979
Director: Walter Hill
Genre: Action/Crime
Watership Down
Watership Down might seem like an abnormal pick, but for anyone who's taken the time to watch the film, it's understandable why it stands the test of time as one of the most polarizing experiences from the '70s. The animated movie is an adaptation of Richard Adam's beloved novel, which follows a warren of rabbits as they seek to break free from the tyranny of their previous colony. After facing a handful of harsh trials and dangerous foes, the rabbits' numbers dwindle until the members of their clan are slowly driven into hysteria, thanks to the violent, anarchic nature of a life outside of the protective colony.
Year: 1978
Director: Martin Rosen, John Hubley
Genre: Animation/Adventure
The Wicker Man
The Wicker Man is a mysterious tale about Rowan Morrison, the missing daughter of May Morrison, and a believed denizen of Scotland's Summerisle. Sergeant Neil Howie, a constable sent from the mainland, arrives at the island to question the locals about Rowan's disappearance, where he's met with an uncanny, simple-minded population that recalls nothing about her existence, including her mother, who bears no recollection of having a twelve-year-old daughter. As Howie investigates further, he begins to feel like something might be off, leading to the discovery of a twisted truth that only the island's inhabitants know.
Year: 1973
Director: Robin Hardy
Genre: Horror/Mystery
Willy Wonka And The Chocolate Factory
Willy Wonka And The Chocolate Factory is a heartwarming film that revolves around the candy-mogul himself. As a recluse who has hidden behind the doors of his fabled factory for years, Wonka gives five lucky participants the ability to tour his facility, including Charlie, a poor but light-hearted boy who secures a golden ticket from a candy bar. He and four other children arrive at the factory to begin their tour, and along the way, each participant is befallen with a disaster due to their own ignorance. However, Charlie seems to be on the right path, causing Wonka to take quite an interest in his upbringing.
Year: 1971
Director: Mel Stuart
Genre: Family/Musical
The 30 Best Summer Blockbusters Of All Time
If you love movies, but don't care much for the 1970s, head over to our guide on the best summer blockbusters of all time to find some binge-worthy films for a cozy day indoors.