Presented by
Finding the perfect watch can be a time-consuming process. First, you have to pick and choose from a menagerie of iconic, contemporary, or modern silhouettes, figure out which one works best alongside your current wardrobe, and outfit it with a similarly-styled strap to keep everything in check. If you're focused on looking your best, this exacerbates the issue even further — thanks to the assumed robustness of your clothing collection.
It's true that the wristwear space is full of great-looking variants, but with each and every unique style, structure, and movement acting as an inhibitor to the decision-making process, finding the time, energy, and gravitas to gift your well-rounded wardrobe an equally-enticing accessory might be a bit more than most can muster. Luckily, one of the industry's most recognizable names, Nixon, has decided to streamline your search, courtesy of their new Custom Shop.
A Look Inside
Personalization & Product
As a household entity, Nixon has spent the majority of its life translating the upper-echelon of surf and California culture into its offerings. The brand's most notable endeavors come in the form of wristwear, offering a substantial selection of timekeepers that cater to a breadth of different styles, tastes, and statures. Now, for the first time ever, the company has launched the Nixon Custom Shop — an intuitive, easy-to-use interface that will afford interested parties the ability to create, customize, and curate their lineup with a variety of tasteful options.
As you traverse Nixon's custom configurator, you'll be met with a well-designed landing page that's functional, fashionable, and easy to understand. It strikes true to the company's emphasis on understated style, allowing you to choose between three different case styles — the Sentry, Time Teller, or Arrow — to create the quintessential peripheral for your collection. The 42mm Sentry, which boasts a large stainless steel case, a dependable Miyota Japanese quartz movement, and a hardened mineral crystal to accent its 18 different dial/band combinations, provides a professional-looking platform that's cognizant of style and class. The smaller, but still-impressive 38mm Arrow brings the company's heirloom timepiece into the limelight for those who find minimalistic Scandanavian style to be more appealing. And finally, the 37mm Time Teller brings a silhouette that's devoted to simplified sophistication to the table, providing a stylish, multi-generational watch that's as comfortable at an upscale dinner party as it is during a casual outing.
Accenting Your Style
Options & Opportunities
Heading into the Nixon Custom Shop, you'll be met with a choice of the three aforementioned silhouettes. After picking the one that you find to be the most appealing, you'll be transported to a robust visual configurator that will allow you to swap between a variety of brushed finishes, including Black, Gunmetal, Gold, Rose Gold, and Silver. Swap over to the dial tab, and you're met with a vast selection of tasteful accents to make the watch inherently yours. Classic dial layouts adorned in White and Black, Superluminova, Gold, and Camo are all available, helping to bring the perfect amount of personalized flair to your new wristwatch.
As you might expect, you'll be able to outfit your selected case/dial with an elaborate palette of colored second hands before diving into one of the most important aspects of any wrist-worn timekeeper, the band. With over 18 different strap/band types to choose from, the expression of aesthetic taste is placed at the forefront, allowing you to complement your creation with Brushed Metal, Leather, Rubber, Gator, or Camo variants. Each of these styles comes with its own selection of colors and hues to keep your unique taste in check. To round things out, you'll be able to engrave your own personalized message into the watch's case back, thanks to the company's in-suite tool.
Diving In
A Look At HiConsumption's Custom Build
To gain some firsthand experience with Nixon's new configurator, we decided to build a watch of our own. From the get-go, we wanted to create something that was eclectic, heritage-driven, and stylish, but with an aura of timeless poise.
Naturally, we chose the military-inspired Sentry for our base. The 42mm silhouette exudes an aura of dominance when placed atop the wrist, and demands respect with its sleek, rounded periphery. We opted for a more classic aesthetic, calling upon a Black Brushed case, All-Black Numeric dial, and Gunmetal second hands to promote our utilitarian ideology.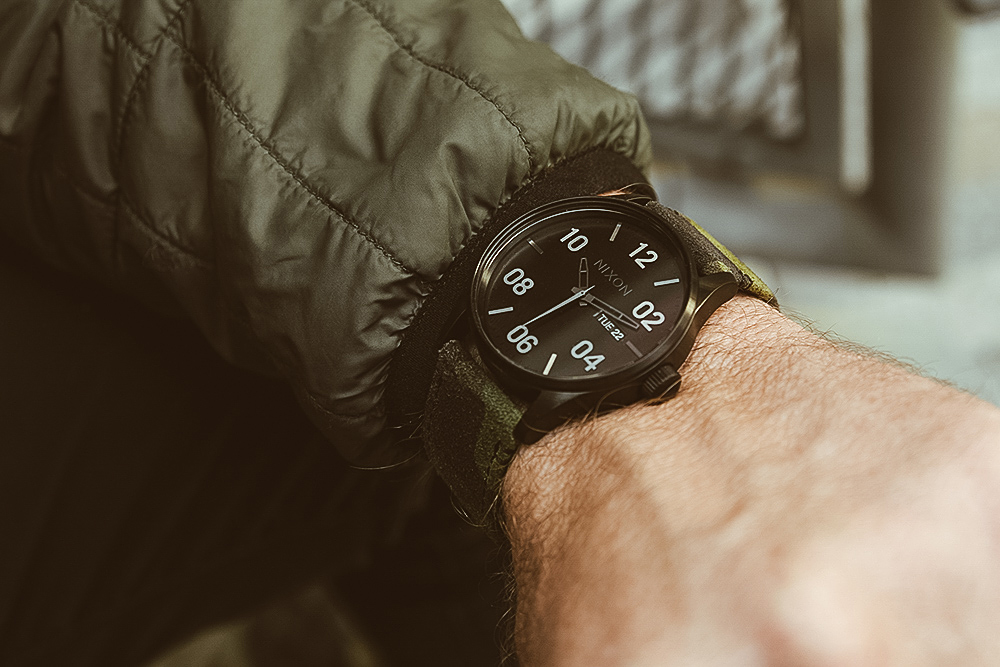 The choice between a metal, TPU, or leather band wasn't an easy one; but eventually, we decided to forgo all three for what seemed like the most obvious selection: a textured camo wrap that contrasted perfectly with the watch's shadowy characteristics. After adding our own custom engraving through the configurator's final tab, we were sent to a page with the completed build.
This simplistic, pain-free process was a pleasurable experience, through and through; and after waiting anxiously for our customized variant to arrive in the mail, we were surprised to see that the well-built silhouettes Encinitas' finest didn't err in quality, or form. If you're interested in the creation of your own personalized variant, head over to Nixon's Custom Shop, where you'll be able to build, outfit, and admire for $200.