Presented by

There are several times a year that we see a disproportionate number of new knives hit the market. One such period is the final week of August, which plays host to National Knife day — a holiday celebrated on the 24th day of the month each year. And with the holiday right around the corner, we're currently being treated to an impressive selection of freshly-released blades — five of the finest of which we've rounded up for this month's edition of the best new everyday carry knives on Blade HQ.
SRM Knives 418S
Offering truly incredible bang for your buck, SRM Knives' 418S boasts a myriad of features that are typically reserved for blades costing several times more. The knife is constructed around a titanium handle with a framelock mechanism and a lanyard hole. Mated to the handle is a 1.26" Sandvik 12C27 steel clip point blade that's rated at between 57 and 59 on the HRC scale. What's more, the blade can be deployed using its integrated flipper tab, or via its dual-level thumb hole opening. At only 3.31" overall, this highly-pocketable little cutter can also be utilized as a neck knife.
Blade: Sandvik 12C27
Handle: Titanium
Blade Length: 1.26″
Total Length: 3.31″
Lock Type: Framelock
Spyderco UpTern
An affordable introduction into the world of Spyderco ownership, the UpTern boasts not only the quality for which the Colorado company is known but also many of its hallmark traits, including its uniquely-shaped drop point blade and signature round thumb hole opening. The knife is crafted around a lockback-equipped solid stainless steel handle that features a four-position pocket clip. The UpTern also sports a leaf-shaped, plain-edged blade composed of 8Cr13MoV steel. With a 2.84" blade and an overall length of 6.58", this knife offers a shocking amount of utility and performance — especially for a sub-$50 blade.
Blade: 8Cr13MoV
Handle: Solid Stainless Steel
Blade Length: 2.84"
Total Length: 6.58″
Lock Type: Lockback
Kubey Drake
Moving on to another amazing value, we have the Kubey Drake. Despite an accessible $100 price at Blade HQ, the Drake features a rugged black G-10 handle with a sturdy liner lock mechanism and a stainless steel pocket clip. Paired with the G-10 scales is a 3.46" drop point blade that can be opened using a flipper tab or ergonomically shaped thumb hole. Best of all, the Kubey Drake's blade is crafted from Crucible's CPM S30V — easily one of the best blade steels for everyday carry knives. Put it all together and you've got an incredible workhorse of an EDC knife that won't break the bank.
Blade: CPM S30V
Handle: G-10
Blade Length: 3.46"
Total Length: 7.87"
Lock Type: Liner Lock
Benchmade Mini Bugout Flytanium Crossfade Black Micarta
Since first being introduced to the market in 2017, the Benchmade Bugout has uniquely stood as one of the most lauded everyday carry knives in existence. And while the standard Bugout and Mini Bugout models are already objectively stellar knives, the aftermarket specialists over at Flytanium have taken the fan-favorite folder to the next level with this modified variant. This complete knife sees the standard handle jettisoned in favor of contoured black Micarta Crossfade scales and an orange anodized titanium thumb stud set. This version of the Mini Bugout also retains the regular model's AXIS locking mechanism and 2.875" CPM S30V drop point blade.
Blade: CPM S30V
Handle: Micarta
Blade Length: 2.875″
Total Length: 6.50"
Lock Type: AXIS Lock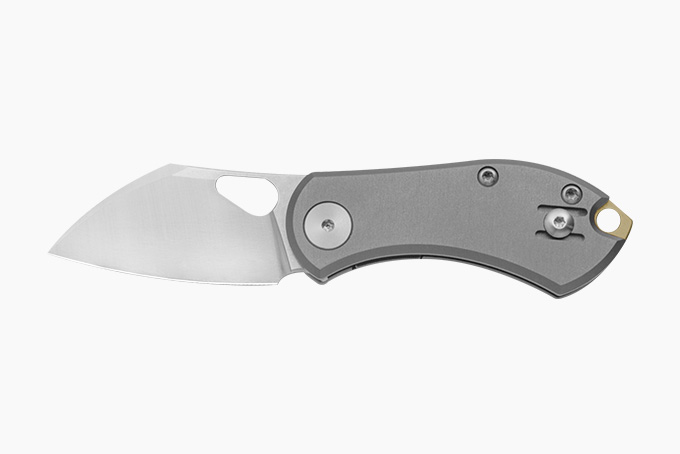 GiantMouse ACE Nibbler
As pocketable as it is premium, this top-of-the-line version of GiantMouse's all-new ACE Nibbler knife offers ample utility in a compact package. Co-designed by Jens Ansø and Jesper Voxnaes, the Nibbler features a 2.76" handle with a reversible bent wire pocket clip, a hardened 420 stainless steel liner lock, and a bearing-equipped pivot that effortlessly glides the knife's 1.875" modified Wharncliffe blade. This particular ACE NIbbler variant also packs a titanium handle outfitted with a brass backspacer and an ultra-top-shelf 20CV "super steel" blade construction. GiantMouse also sells more affordable versions of the ACE Nibbler with Micarta or aluminum scales and Böhler N690 blade steel.
Blade: CPM 20CV
Handle: Titanium
Blade Length: 1.875″
Total Length: 4.70"
Lock Type: Liner Lock
The 5 Best New EDC Knives of July 2022
If you're on the hunt for more fresh blades, then have a look at our favorite new knives from last month.