Presented by

Since being founded in 2012, The James Brand has managed to carve out a unique reputation in the everyday carry space, with an ever-growing catalog of knives, carabiners, pens, and other accessories that are primarily characterized by their design-conscious aesthetics and use of premium materials. As one of the most lauded brands in the EDC space, TJB's lineup of gear makes for an obvious go-to choice for anyone shopping for an everyday carry enthusiast. And while its entire catalog is comprised of impressive, well-designed items, there does exist a shortlist of everyday carry gear from the company that undoubtedly makes for the best presents. So, with this in mind, we've rounded up five of our favorites for this curated guide to the best EDC gifts from The James Brand.
The James Brand The Palmer
Boasting TJB's first-ever patented mechanism, The James Brand's The Palmer is an EDC-specific utility knife that's crafted around an anodized aluminum handle that's produced in half-a-dozen color options. Spanning only 3.5" with its blade retracted, The Palmer also features an integrated lanyard hole and a replaceable, slide-locking, TJB-branded utility blade.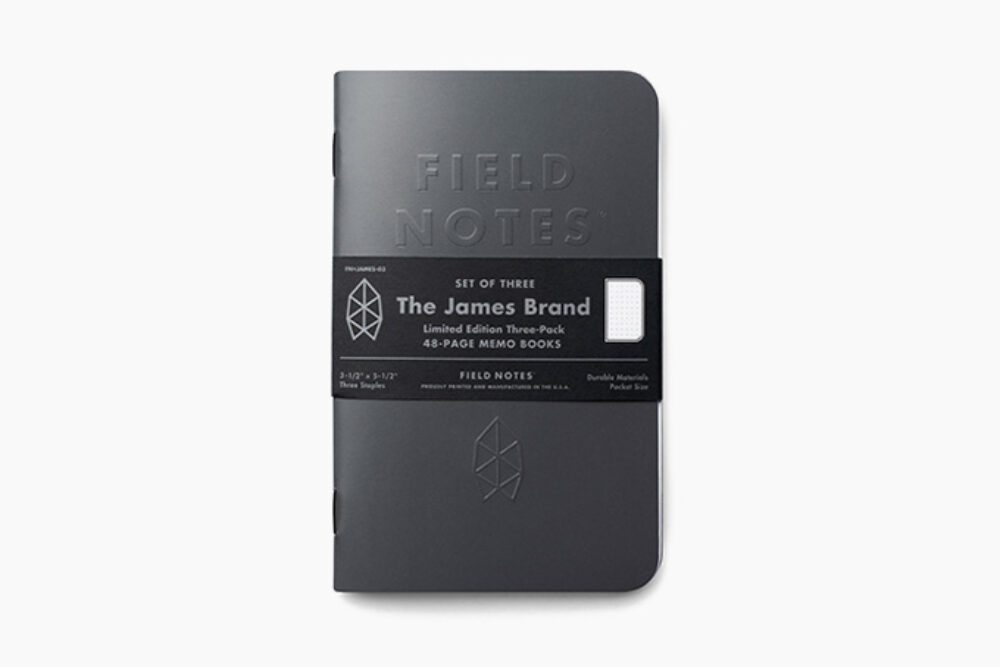 James° × DDC: Field Notes 3 Pack
Born out of a collaboration between The James Brand and famed designer Aaron Draplin, the James° × DDC: Field Notes 3 Pack is comprised of a trio of American-made, 3.5" x 5.5" notebooks that each contain 48-pages of electric moss green dot grid paper. These special edition notebooks also sport blacked-out covers decorated in embossed TJB and Field Notes branding.
The James Brand The Stilwell
The perfect item to pair with the James° × DDC: Field Notes 3 Pack, The James Brand's The Stilwell pen features an anodized aluminum body that houses/accepts standard XYZ ink refills. Spanning 3.5" when closed and 5.4" when open, this pocketable writing tool also boasts an O-ring seal and is sold with a rubber-coated paracord lanyard.
The James Brand The Cache River
Constructed around an anodized 6061 aluminum housing, The James Brand's The Cache River is a magnetic bit driver with a clever integrated bearing design. Weighing only 1.2oz in total, this item also comes with a #2 Phillips bit, a Torx T6 bit, and a Wiha slotted 4.5 bit — all of which can be stored in The Cache River's body when not in use.
The James Brand The Mehlville Carabiner
Precision-machined from a solid block of aluminum — though also sold in solid brass and titanium billet versions — The James Brand's The Mehlville is a brilliantly-designed EDC carabiner that sports a unique dual-gated design. In addition to its two-compartment setup being spring-loaded, The Mehlville also features an integrated bottle opener made from 304 stainless steel.
The James Brand The Barnes
Unquestionably TJB's most advanced product to date, The James Brand's The Barnes knife features a frame-lock-equipped integral handle that's been machined from a solid block of 6AL4V titanium billet before being paired with an equally-premium 3.50" Böhler M390 blade.
The Wishlist: Best Everyday Carry Gifts
For an even more expansive collection of presents for EDC enthusiasts, be sure to head over to our guide to the best everyday carry gifts for another curated selection of top-notch gear and accessories.