Presented by
We live in a digital age, so it only makes sense for the homes in which we actually live to be as sophisticated as the devices we use. Whether you live in a mansion or a studio apartment, smart appliances are a great way to control the comfort of your home, and in some cases, keep running tabs on different aspects of your home. With each passing day, companies are creating newer, more innovative smart offerings to optimize every facet of your living space, and we've curated a guide to some of our favorites for you. Below, you'll find a list of some of the best smart home gifts you can buy yourself, or the smartypants in your life, this year.
Roborock S4 Max
Roborock's S4 Max robot vacuum employs precision low light navigation-LiDAR to map and learn your home. From there, it uses its powerful 2,000Pa suction power, E11-rated air filter, and two-and-a-half-hour battery life to vacuum your floors and purify your air. Even better, you can control the Roborock S4 Max from the Roborock app on your phone to make sure every part of your living space gets cleaned the way you want it.
Wyze Bulb Color
Wyze's budget alternative to pricey Phillips Hue is truly great. You get 16 million colors that are adjustable via smartphone or virtual assistant, and they work with both wifi and Bluetooth with no hub required. Better yet, you can even schedule time-based color events on the Wyze app to have literal lightbulb moments throughout your home.
Amazon Smart Plug
The Amazon Smart Plug allows you to turn any electronic device into a smart device with a simple plug. You can schedule lights, fans, and appliances to turn on and off automatically or control them remotely when you're away with just the Alexa app.
Amazon Smart Soap Dispenser
This motion-sensing soap dispenser will time you to make sure you're washing for the full CDC-recommended 20 seconds, and you can even pair it with an Amazon Echo speaker to customize some timed audio while you wash. Even better, it features a sleek, minimalistic design to punctuate your sink area.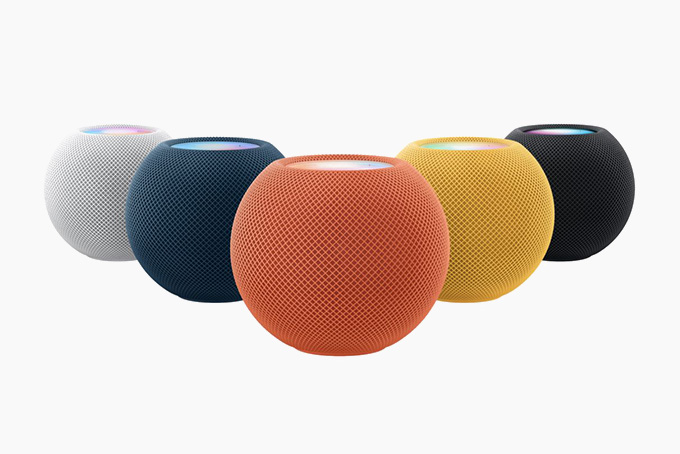 Apple HomePod Mini
Apple's HomePod Mini is a worthy, smarter successor to the original HomePod. Its spherical build allows it to produce 360-degree, room-filling sound, and it's fully integrated with Siri so you can control your smart home accessories using voice commands. Add to its tech offerings an array of groovy colors from which to choose, and you have a standout smart speaker.
Instant Pot Smart WiFi
The Instant Pot has been a kitchen staple for many years now, and its integration of WiFi connectivity makes this Swiss Army Knife of cooking tools all the more versatile. By pairing the Instant Pot Smart WiFi with your smart device, you can monitor your Instant Pot from anywhere as you braise, bake, steam, and sauté any of the 1,000 preprogrammed recipes in it.
Google Nest Learning Thermostat
The latest iteration of the most popular smart thermostat can program itself, completely removing you from having to worry about controlling your home's climate. It also allows you to check your energy history to see how much energy you use, and upgraded models even have an HVAC monitoring functionality that updates you on your heating and cooling when it notices a problem.
Ring Video Doorbell 4
Ring was a stalwart smart home security device before Amazon bought them, and now that the retail giant is pouring resources into them, the brand has gotten even better. The Video Doorbell 4 features a 1080p HD video doorbell, new Color Pre-Roll Video Previews that allow you to review all motion events captured, and customizable privacy zones and audio privacy to keep unwanted distractions out.
Echo Show 15
Amazon's brand-new flagship control center is part smart home hub, part smart TV, and all awesome. The Echo Show boasts a 15.6″ HD smart display and 5MP camera, so you can watch videos or video chat with loved ones in crisp resolution. Moreover, the big Echo Show features Alexa-powered widgets for at-a-glance organization, a Photo Frame feature, and comes fully loaded with all of your favorite streaming apps. It releases on December 9th, but you can preorder it now.
Mirror from Lululemon
lululemon's smart home workout system is a sleek piece of home decor that also happens to give you real-time feedback on your workout form. The Mirror sports a 5MP camera, a carbon steel frame, surround sound, and an LED display. Most importantly, the Mirror comes with a massive library of over 10,000 on-demand workouts and even tracks your fitness metrics so you can monitor your progress over the course of your fitness journey.
Amazon Astro
Well folks, the future is here, and it comes in the form of an adorably tiny robot named Astro. While the Amazon Astro can currently only be purchased by requesting an invitation to do so, the bot is the home monitoring device of tomorrow. It employs advanced navigation technology to find its way around your home and go where you need it, while also allowing you to monitor virtually every aspect of your home. Even cooler, if Amazon Astro detects an unrecognized person or sound in your home, it will monitor you so you can take proper recourse.
15 Best Smart Appliances For Your Home
If this list inspired your smart, creative juices, then try checking out our list of the 15 best smart appliances for your home for more intuitive home offerings.