He's the perennial paragon of espionage. The tuxedoed tough guy, the incorrigible womanizer. He has been oded in song by the likes of Paul McCartney,  Nancy Sinatra, Jack White, Chris Cornell, Madonna and more. You know his name. You probably even know his code number. You're probably familiar with his rascally proclivities, his preferences in regard to martinis, his affinity for scantily clad women and Aston Martins (not to mention his audacious and downright lewd one-liners).
Ian Fleming conceived of the super spy James Bond in 1952. Fleming went on to write 14 novels, before he passed away. In the Bond tradition, the baton was passed to others to propagate the Bond canon. All told, 007's adventures have spanned 39 books and 26 films, and the character has been portrayed by 7 different actors. Everyone has an opinion on who emulated the debonair MI6 agent best. A question that begets an equal if not greater amount of controversy is – which Bond caper was the best? From 1962's Dr. No to 2015's Spectre, we're ranking the best Bond movies in the collection. Like the unlimited supply of Aston Martins to which our hero seems privy, we'll try to steer clear of spoilers.
Don't be alarmed, Bond fans, I'm not ranking 2008's Casino Royale as the singular worst Bond film ever produced. Dr. Noah: And afterwords we can run amok! Or if you're too tired, we can walk amok. That distinction belongs to the film of the same name from 1967. Generally excluded from the true oeuvre, this satire achieved a modicum of financial success, though general critical reception was pretty icy. This Bond-bastardization is worth watching if just for the sheer inanity.
IMDB: 5.2/10
Rotten Tomatoes: 28%
James Bond: David Niven
Bond Girl: Honey Ryder (Ursula Andress)
Bond Villain: Dr. Noah (Woody Allen)
1985's A View To Kill was ahead of its time in envisioning the rise of tech moguls with sinister prerogatives. Jenny: I love an early morning ride.
Bond: I'm an early riser myself.Christopher Walken plays our pre-Zuckerbergian villain Max Zorin, who wants to create a microchip monopoly by destroying Silicon Valley with an earthquake, which totally makes sense and is possible. Walken delivers a brilliant and randomly punctuated performance, and the cat-like Grace Jones is a memorable supporting character. In his seventh Bond movie, Moore is his typical cheeky self. Still, all the retro-futuristic nonsense that the '80s loved so much comes across as more than a little dated, as does Sir Roger, who was graciously put out to pasture shortly after this installment. It does have a nice theme from Duran Duran, if you're into the '80s.
IMDB: 6.3/10
Rotten Tomatoes: 36%
James Bond: Roger Moore
Bond Girl: Stacey Sutton (Tanya Roberts)
Bond Villain: Max Zorin (Christopher Walken)
Yes, it is hard to imagine a movie called Octopussy making it to theaters these days, but I digress. Kamal Khan: You have a nasty habit of surviving.
James Bond: You know what they say about the fittest.A far cry from Daniel Craig's uncompromising, brutal masculinity, Sir Roger plays a secret agent of a more slapstick quality. Throughout the film, Bond dresses himself as an ape, a crocodile and a clown. With his typical wit and charm, Bond frees the smuggler Octopussy from her evil associate Kamal Khan, and saves Americans from a nuclear threat, and it only costs him his dignity. Still, it has the canny quips and action we love in a Bond movie.
IMDB: 6.6/10
Rotten Tomatoes: 42%
James Bond: Roger Moore
Bond Girl: Octopussy (Maud Adams)
Bond Villain: Kamal Kahn (Louis Jourdan)
23. The Man With The Golden Gun
1974
James Bond always seems to find himself in dusky cigar smoke-filled backrooms, James Bond: Miss Anders. I didn't recognize you with your clothes on.involved in bidding wars with absurdly rich evil-doers. Usually up for auction is something incredibly volatile, which, if it were to land in the wrong hands… You know the drill. This time around its solar-technology, which might seem innocuous today, but back in 1974, it was kind of scary, I guess. Christopher Lee's Francisco Scaramunga is an elite hit man with some serious skill, and delivers a believably sinister performance, but overall, another stab at a comedic take on Bond proves to be cheesy and lackluster. Golden Gun is bronze at best.
IMDB: 6.8/10
Rotten Tomatoes: 45%
James Bond: Roger Moore
Bond Girl: Mary Goodnight (Britt Ekland)
Bond Villain: Francisco Scaramanga (Christopher Lee)
22. The World Is Not Enough
1999
Pierce Brosnan's reign was marked by titles of massive grandiosity, each oneJames Bond: I was wrong about you.
Christmas Jones: Yeah? How so?
James Bond: I thought Christmas only comes once a year. more high-flown than the last. The world is not enough to make this episode more than middling. Pierce Brosnon, who to some was the perfect Bond embodiment, does a fair job this time around, as he tries plays high-stakes games of roulette and tries to halt the nuclear plot of the seductive Elektra King – and our hero just might fall in love along the way. Though the film is hampered by the rather incredibility of Denise Richards as a brilliant Nuclear Physicist named Dr. Christmas Jones (no offense, just…have you heard her talk?) the one-liners are zingy to the point of gratuity, and that's good enough.
IMDB: 6.4/10
Rotten Tomatoes: 51%
James Bond: Pierce Brosnan
Bond Girl: Dr. Christmas Jones (Denise Richards)
Bond Villain: Elektra King (Sophie Marceau)
21. Tomorrow Never Dies
1997
Another epically-titled film, the story follows Brosnan's Bond trying James Bond [after throwing a bad guy into a printing press]: They'll print anything these days.to stop a media mogul hellbent on igniting a Chinese-UK conflict, in order to secure a global media monopoly. It's a brilliant plan, that just didn't account for MI6's immortal agent gumming up the works. Bond takes his very particular set of skills to China in this International caper. Some pretty badass motorcycle chase scenes briefly redeem this one.
IMDB: 6.5/10
Rotten Tomatoes: 57%
James Bond: Pierce Brosnan
Bond Girl: Paris Carver (Teri Hatcher)
Bond Villain: Elliot Carver (Jonathan Pryce)
Some consider Die Another Day to be Pierce Brosnan's greatest contribution to the canon. Verity: I see you handle your weapon well.
James Bond: I have been known to keep my tip up.
Others think of it as "the one with Halle Berry." With the same skill for punnery of Moore, and the dangerousness of Connery, Brosnan's Bond is at its foremost in his last installment. Halle Berry as Jinx is also a memorable and badass character in her own right. Still, Die Another Day is too-laden in the kitsch of super high-tech gadgetry and opulence. Slightly too rich to digest.
IMDB: 6.1/10
Rotten Tomatoes: 58%
James Bond: Pierce Brosnan
Bond Girl: Jinx Johnson (Halle Berry)
Bond Villain: Gustav Graves (Toby Stephens)
Moonraker really asks you to suspend your disbelief, as Bond fights villains suspended in gravity-less space. Goodhead: Where's Drax?
James Bond[after shoving Drax into an air lock and ejecting him into outer space]: Oh, he had to fly.
And if you do that, it works. Investigating the theft of a space shuttle leads Sir Roger outside of Earth's atmosphere. As a sci-fi thriller it couldn't compete with '77s Star Wars: A New Hope, and as a result, critical reception was lukewarm. Still, it was the highest grossing Bond film until Goldeneye in 1995, and special effects designer Derek Meddings was nominated for the Academy Award for Best Visual Effects.
IMDB: 6.3/10
Rotten Tomatoes: 62%
James Bond: Roger Moore
Bond Girl: Holly Goodhead (Lois Chiles)
Bond Villain: Hugo Drax (Michael Lonsdale)
18. Quantum Of Solace
2008
The second of current Bond-incumbent Daniel Craig's term as 007, Quantum of Solace has the same
James Bond: They say you're judged by the strength of your enemies.
dark, slightly grim aesthetic as Casino Royale (2008), Spectre and Skyfall, without the same narrative potency. Dropping the pep and mischief of previous films, our protagonist is out for blood and revenge. It's a worthy attempt at a new, more serious Bond, but the plot becomes convoluted, and the viewer might be left wondering: wait, what's a "quantum of solace" again? The late Roger Ebert wrote that this was the second poorest title in the franchise. So which one is the worst? Just take a look at the next on the list.
IMDB: 6.6/10
Rotten Tomatoes: 65%
James Bond: Daniel Craig
Bond Girl: Camille (Olga Kurylenko)
Bond Villain: Dominic Greene (Mathieu Amalric)
17. Never Say Never Again
1983
Ebert might have called Never Say Never Again the worst title in Bond's compendium,
Fatima: You know that making love to Fatima was the greatest pleasure of your life.
James Bond: Well, to be perfectly honest, there was this girl in Philadelphia…
but it certainly provides a retort to my dubiety about a 53-year-old Sean Connery hooking up with a 29-year-old Kim Basinger. Not to be confused with the other JB's documentary Never Say Never, the title is actually a reference to Connery's declaration a decade earlier that he would "never again" reprise the role. It's a little awkward to watch someone meant to symbolize virility pretend to be young again. Despite casting some creepy uncle vibes, Connery does a respectable job, and his sweet suits lend him a distinguished look. Slightly older and looking rather, uh, swarthy, Connery's Bond fights to stop the evil conglomerate S.P.E.C.T.R.E. and its leader, Ernst Stavro Blofeld from using the two nuclear warheads they have stolen. Bond has to save the day, before the arthritis starts to kick in.
IMDB: 6.2/10
Rotten Tomatoes: 64%
James Bond: Sean Connery
Bond Girl: Domino (Kim Basinger)
Bond Villain: Maximilian Largo (Klaus Maria Brandauer)
16. Diamonds Are Forever
1971
James Bond in Las Vegas is a fish in water. High-stakes gambling, garish attire,
James Bond: I tend to notice little things like that – whether a girl is a blonde or a brunette.
Tiffany Case: Which do you prefer?
James Bond: Well, as long as the collar and cuffs match.
dancing women, it suits him like the white tuxedo Sean Connery dons in Diamonds Are Forever. Bond infiltrates a diamond ring by posing as a smuggler, but uncovers a plot by Blofeld to acquire diamonds and somehow use them to achieve nuclear supremacy for his legion of doom, S.P.E.C.T.R.E (seems like a recurring theme). Jill St. John appears as the appropriately named Tiffany Case – which is a far better name than most of these poor actresses were given – and together, she and Bond pursue a high-stakes game to try to track down that old blowhard Blowfeld, and give him what for.
IMDB: 6.7/10
Rotten Tomatoes: 67%
James Bond: Sean Connery
Bond Girl: Tiffany Case (Jill St. John)
Bond Villain: Blofeld (Charles Gray)
15. The Living Daylights
1987
Timothy Dalton is sometimes called the most underrated Bond of them all.
[After kicking a bad guy through a window]
Kara Milovy: What happened?
James Bond: He got the boot.He may not be the best looking, or the coolest, or wittiest, or the most hardcore, or a knighted gentleman like Moore and Connery, but, he, uh – well, he played James Bond for a while. Which is more than most of us get to say. And in some pretty darn good movies, to be fair, and The Living Daylights was one of them. The Living Daylights deals with the Cold-War politics of the late '90s, involving defecting Soviet Generals, the Mujahideen in Afghanistan, and international gun-running. This film begins breach the upper-middle echelon of Bond flicks.
IMDB: 6.7/10
Rotten Tomatoes: 71%
James Bond: Timothy Dalton
Bond Girl: Kara Milovy (Maryam d'Abo)
Bond Villain: General Georgi Koskov (Jeroen Krabbé)
14. You Only Live Twice
1967
Mortality simply doesn't apply to an expert death dodger like James Bond.
[About to make love to Helga] James Bond: Oh the things I do for England.
Though the screenplay was written by Charlie and the Chocolate Factory author Roald Dahl, the incorrigible womanizer Sean Connery and his mane-like chest aren't terribly kid friendly in this adventure, as you might have guessed from the poster art. Set in Japan, Bond doesn't subdue his brash Western behavior, making more than a few typically unfortunate remarks. Anachronisms (and Orientalism) aside, You Only Live Twice is a classic of the canon.
IMDB: 6.9/10
Rotten Tomatoes: 73%
James Bond: Sean Connery
Bond Girl: Aki (Akiko Wakabayashi)
Bond Villain: Blofeld (Donald Pleasance)
Spectre is the 24th and latest installment in the anthology, and it ferries our Mr. White: You're a kite dancing in a hurricane, Mr Bond.international man of mystery to Mexico City. There, he learns of a deep, previously unknown connection between himself and his arch-nemesis, played by the always uncannily villainous Christoff Waltz. He is also made to confront some previously unknown information regarding his somewhat-maternal mentor, M (played by Dame Judy Dench).
IMDB: 6.9/10
Rotten Tomatoes: 73%
James Bond: Daniel Craig
Bond Girl: Madeleine (Léa Seydoux)
Bond Villain: Blofeld (Christoff Waltz)
12. Live And Let Die
1973
Live and Let Die was Sir Roger Moore's first foray into the world of James Bond, Solitaire: [Kananga has just died from a gas pellet exploding in his mouth] Where's Kananga?
James Bond: He always did have an inflated opinion of himself.and even loyalists of the Connery era were forced to be impressed. A departure from the typical Bondian pursuits of elite megalomaniacs with world domination on the brain, this caper follows Bond as he tries to take down a Harlem drug dealer. But Mr. Big is far from small time. When the villain's alter-ego is revealed, the plot accelerates as dramatically as Paul McCartney's kickass theme song.
IMDB: 6.8/10
Rotten Tomatoes: 66%
James Bond: Roger Moore
Bond Girl: Solitaire (Jane Seymour)
Bond Villain: Mr. Big (Yaphet Kotto)
11. For Your Eyes Only
1981
When will international intelligence agencies learn to keep a better eye on their high-powered weapons? Vicar: Mr. Bond, your office called. They're sending a helicopter to pick you up. Some sort of emergency.
James Bond: It usually is.Seems like every couple years, some plutonium gun or death ray of one kind or another is going missing. Such is the case in For Your Eye's Only, the first Bond film of the '80s. Sir Roger Moore's Bond must track down an encryption device (seems rather innocuous, but I guess you gotta stay busy). It's a race against time, and Russians who are also gunning for the to recover the device from a shipwreck.
IMDB: 6.8/10
Rotten Tomatoes: 74%
James Bond: Roger Moore
Bond Girl: Carole Bouquet (Melina Havelock)
Bond Villain: Aristotle Kristatos (Julian Glover)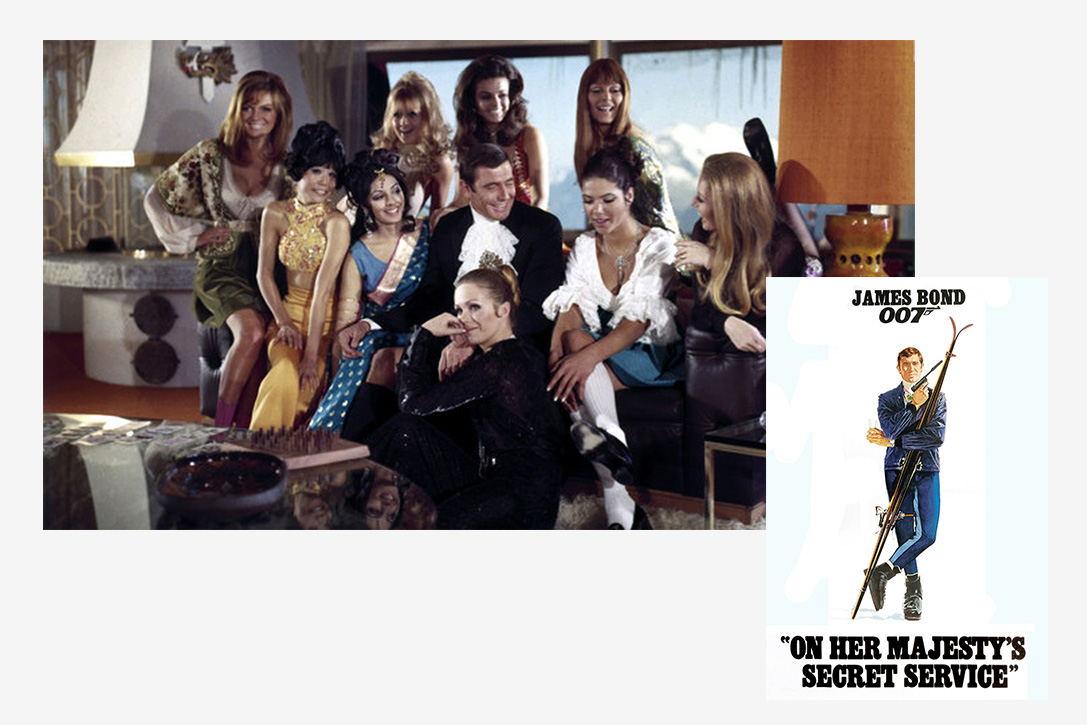 10. On Her Majesty's Secret Service
1969
Following Sean Connery's decision to retire after 1967's You Only Live Twice, a decision he [After Blofeld hits a tree]
James Bond: He's branched off. would later unmake (the great ones always do it), the studio selected unknown actor and model George Lazenby as their Bond. A serviceable Bond in his own right, this was still Lazenby's lone appearance as 007 Bond, and though critical reviews were middle of the road when it came out, the film has emerged as one of the better adaptations of Ian Fleming's original novels.
IMDB: 6.8/10
Rotten Tomatoes: 82%
James Bond: George Lazenby
Bond Girl: All of them
Bond Villain: Blofeld (Telly Savalas)
Licence To Kill (with the British spelling of license, just humour them), this James Bond: I help people with problems.
Franz Sanchez: Problem solver.
James Bond: More of a problem eliminator.was Timothy Dalton's adieu to the role. Obviously, he left with a bang. With the tag-line "Out for revenge," Licence To Kill features a Bond who is not messing around. Dalton stars alongside a fresh-faced Benicio Del Toro. Following the rape and murder of longtime Bond ally Felix, Bond must track down the man responsible – and bring him to justice. The movie was criticized for being darker than its predecessors, but in that respect, and considering the trajectory the franchise has recently taken, it was ahead of its time.
IMDB: 6.6/10
Rotten Tomatoes: 79%
James Bond: Roger Moore
Bond Girl: Maj. Anya Amasova (Barbara Bach)
Bond Villain: Karl Stromberg (Curd Jürgens)
8. The Spy Who Loved Me
1977
Not to be confused with the Austin Powers film of an, uh, similar name, The Spy Who Loved Me is a Dalton-driven underwater flick,[Motorcycle henchmen flies off a cliff in a cloud of feathers]
James Bond: All those feathers and he still can't fly! that follows Bond as he attempts to stop a submarine loaded with nuclear warheads. It begs the question – how many nuclear wars can one be tasked with stopping? Apparently the answer is: at least six. The journey brings him into conflict with some rough customers, included the gold grill-rocking gargantuan known as "Jaws," played by Richard Tiel, also well known for his role as "Shooter McGavin heckler" in Adam Sandler's Happy Gilmore.
IMDB: 6.6/10
Rotten Tomatoes: 79%
James Bond: Roger Moore
Bond Girl: Maj. Anya Amasova (Barbara Bach)
Bond Villain: Karl Stromberg (Curd Jürgens)
Goldeneye is one of the most iconic modern Bond films. Brosnan's Bond must stop a space weapon Xenia Onatopp: You don't need the gun, Commander.
James Bond: Well, that depends on your definition of safe sex.with our favorite kind of capabilities from destroying the Earth, a plot orchestrated by a villain with a loathing of Bond that runs deep – deeper than our hero knows. Bond teams up with a Russian agent in this tie-mending flick to track down a corrupted MI6 agent, Sean Bean – AKA young Ned Stark/Boromir – to try to stop him from destroying the world. Almost more importantly, it also spawned one of the best N64 games of all time.
IMDB: 7.2/10
Rotten Tomatoes: 78%
James Bond: Pierce Brosnan
Bond Girl: Xenia Onatopp (Famke Janssen)
Bond Villain: Alec Trevelyan (Sean Bean)
6. From Russia With Love
1963
The second Bond film ever produced, From Russia With Love once again faces S.P.E.C.T.R.E. Tatiana: My friends call me Tania.
James Bond: Mine call me James Bond.It also marked the debut of Desmond Llewelyn as Q, a role he would play until 1999's The World Is Not Enough . The success of the first one spurred more studio-backing, and the $78 million profit that the film turned launched Connery and Bond into superstardom. The rest, as we know, is film history.
IMDB: 7.5/10
Rotten Tomatoes: 96%
James Bond: Sean Connery
Bond Girl: Tatiana Romanova (Daniela Bianchi)
Bond Villain: Colonel Rosa Klebb (Lotte Lenya)
In attempting to track down two atomic weapons, Bond's search leads him to the Bahamas, [Sets Fiona's body in a chair after she is shot on the dance floor]
James Bond: Do you mind if my friend sits this one out? She's just dead.where he encounters S.P.E.C.T.R.E.'s number two agent, Emilio Largo, an eye-patched, debonair evildoer with a penchant for high stakes card games. You can guess what happens next. The first Bond film shot in widescreen Panavision, Thunderball remains the highest-grossing film in North America when adjusted for ticket-price inflation.
IMDB: 7/10
Rotten Tomatoes: 86%
James Bond: Sean Connery
Bond Girl: Domino (Claudine Auger)
Bond Villain: Largo (Adolfo Celi)
Though he had been around for five decades, many questions about Bond's personal background remained unanswered James Bond: You know the answer to that. You know the whole story.
M: Orphans always make the best recruits.until 2012, when Skyfall brought certain facts to light. As he chases the ruthless Silva, portrayed by Javier Bardem, Bond finds himself turning up different trails, that bear an underlying conection. All these trails lead home for Bond, a mansion fallen on ruin, and he is forced to confront some dark secrets from the past. Beware: Javier Bardem will likely haunt your dreams for months after watching this.
IMDB: 7.8/10 IMDb
Rotten Tomatoes: 92%
James Bond: Daniel Craig
Bond Girl: Sévérine (Bérénice Marlohe)
Bond Villain: Tiago 'Raoul Silva' Rodriguez (Javier Bardem)
The OG, JB movie, Dr. No got an enthusiastic "yes" from critics and viewers alike. James Bond: I admire your courage, Miss…?
Sylvia Trench: Trench. Sylvia Trench. I admire your luck, Mr…?
James Bond: Bond. James Bond.The 1962 film follows a suave Connery before he had gray chest hair, as he investigates the disappearances of two MI6 agents. He finds Dr. No, head of S.P.E.C.T.R.E. and an insidious criminal intent on disrupting an American space shuttle launch. In Dr. No, Connery makes that immortal introduction that would become his and his successors' catchphrase over the next 50-odd years – "Bond. James Bond."
IMDB: 7.3/10 IMDb
Rotten Tomatoes: 96%
James Bond: Sean Connery
Bond Girl: Honey Ryder (Ursula Andress)
Bond Villain: Dr. No (Joseph Wiseman)
The beginning of the Daniel Craig era as Bond marked a stylistic shift in the character and tone of the films.Bartender: Shaken or stirred? James Bond: Do I look like I give a damn? A blonde-haired blue-eyed Bond was viewed as an anathema by those dark-haired, dark-eyed Bond purists at first, but Craig quickly proved his mettle. Plus, he looked fine in a pair of his iconic sunglasses. The steely-eyed new Bond was deeper, more stoic and complex than those before him, and it just worked. The movie had the same sleek veneer, the same, though sparser one-liners, passionate romance, high-stakes games – but a brutal realism brought it new life. Battling with the creepy and exceptionally cruel La Chiffre, played to perfection by Mads Mikkelsen (Hannibal, who Mikkelsen portrayed in the NBC show, would have made an amazing Bond villain – just saying) Casino Royale was not only an auspicious start for Craig, it goes down as one of the best Bond movies ever.
IMDB: 8/10 IMDb
Rotten Tomatoes: 94%
James Bond: Daniel Craig
Bond Girl: Vesper Lynd (Eva Green)
Bond Villain: La Chiffre (Mads Mikkelsen)
Though the new approach to Bond is refreshing and wonderful, one still must respect the classics. James Bond: Who are you?
Pussy Galore: My name is Pussy Galore.
James Bond: I must be dreaming.Goldfinger stands tall as the zenith of the Bond franchise. The legendary characters – Auric Goldfinger, Pussy Galore (still hard to believe…), Oddjob, the Japanese henchman who throws his hat like a chakram to lethal effects – this film is stacked with iconic images and moments. The body of a woman drowned in gold. The red beam slowly drawing nearer to Connery's crotch, ready to halve him in a gruesome death by frickin' laser. How about the first time that James Bond ever got behind the wheel of an Aston Martin? And though the Scotsman would probably have preferred scotch off set, who can forget Connery's first onscreen sip of a martini, shaken not stirred?Goldfinger simply has too much cultural import to not top this list. It will remain immortal, just like deathless assassin himself.
IMDB: 7.7/10 IMDb
Rotten Tomatoes: 97%
James Bond: Sean Connery
Bond Girl: Pussy Galore (Honor Blackman)
Bond Villain: Goldfinger (Gert Fröbe)
FROM Q WITH LOVE: 12 BEST BOND WATCHES
Some say that the watch makes the man. What sort of timepieces did the men who played 007 wear? Dive head first into our list of the best Bond watches to find out.