Presented by
With the holidays in full swing, it's imperative that we spruce up our living areas for incoming guests. Whether you're trying to turn your home into a festive retreat for family and friends, or you're focused on the gift of giving, there are a number of ways to ensure that you warm the hearts (and minds) of those you care about this season, especially when it comes to resplendent, residence-inspired presents.
For guys, the presentation of their apartment, condo, or home is of the utmost importance, meaning that design-savvy gifts are always welcomed. Whether they're looking to take their interior space to the next level in terms of aesthetics, transition into a more tech-focused environment, or bring it back to basics with a new, minimalistic approach, there are a number of items that can aid in the process. The difficult part? Wading through the endless pages of products, brands, and genres can get a bit tiresome, making the gifting process seem all-the-more daunting. Luckily, we've got a grasp on some of the season's most notable gifts for the home.
Ranger Station Old Fashioned Whiskey Glass Candle
If you're looking to turn your pad into a classy, aromatic jazz parlor, Ranger Station's Old Fashioned Whiskey Glass Candle is here to lend you a helping hand. Subtle notes of barrel-aged bourbon, brown sugar, orange citrus zest, and bitters will have you and your guests basking in the smells of history's finest cocktail establishments.
Viski Granite Whiskey Stones
It's a cardinal sin to dilute one of your favorite (and most expensive) whiskies with ice. For those moments where chilliness is key, call upon Viski's temperature-regulating Granite Whiskey Stones for their uncompromising cooling properties.
ASAKUKI Essential Oil Diffuser
Aromatherapy just got a lot more intuitive, thanks to this 500-milliliter nebulizing Essential Oil Diffuser from ASAKUKI.
Amazon Echo Dot (3rd Generation)
Turn your living area into a next-generation smart space with Amazon's Alexa-enabled Echo Dot, allowing you to control lights, blinds, and compatible appliances with the sound of your voice.
Whiskey Peaks Denali Glassware Set
Need some handsome glassware to go with those Viski Granite Whiskey Stones we recommended a couple of choices ago? Look no further than Whiskey Peaks' topographic Denali set, made from 100% lead-free handblown glass.
Blackbird Incense Discovery Set
If an essential oil diffuser won't rid your room of unpleasant smells, turn to Blackbird's Incense Discovery Set — a nine-part incense pack that calls upon unique spices to keep things fresh.
Tooletries Shower Mirror & Organizer Set
Optimize your morning routine with this well-crafted (and waterproof) shower mirror and organizer set from Tooletries.
CB2 Madera Terracotta Place Setting
Bring some earthy tones to your dining table with the neutral glazes and natural edges of CB2's Madera Terracotta Place Settings.
Victorinox Fibrox Pro Chef's Knife
Capture the perfect cut with the tapered stainless steel edge and thermoplastic Elastomer grip of the professionally-approved Victorinox Fibrox Pro Chef's Knife.
HMM Cast Iron Coffee Scoop
Turn your kitchen into a rustic coffee shop with this high-quality teak/cast iron scoop from HMM.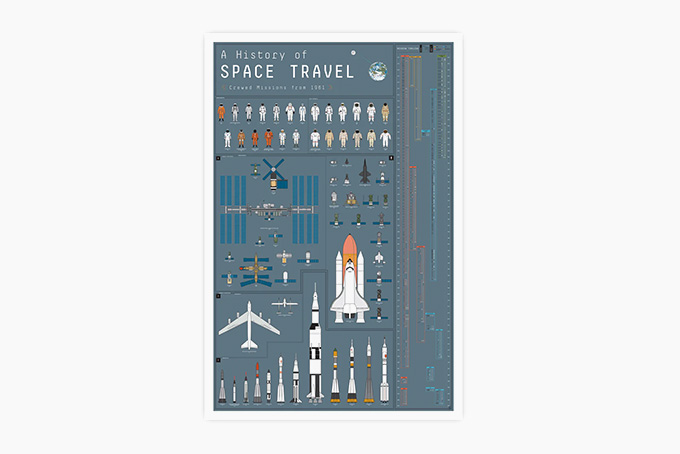 Pop Chart History Of Space Travel
Pop Chart has a knack for turning encyclopedic knowledge into art, and thanks to the brand's "History of Space Travel" poster, you'll finally be able to appease the intergalactic aficionado in your family with an illustration of over 400 expeditions, spanning from 1961 to present day.
Paul Smith Printed Bone China Mug
Coffee is a key component of every morning routine, so make sure that you keep this handsome designer mug on hand for whatever the brew may bring.
Ilex Studio Avocado Vase
Add a bit of personality to your indoor space with Ilex Studio's observational Avocado Vase, crafted from premium borosilicate glass, and designed to prosper with minimal maintenance.
IKEA SYMFONISK Gateway Kit
IKEA's SYMFONISK Gateway Kit translates the Swedish giant's recognizable design terminology into a simplified smart hub for your space's Sonos series speakers, allowing you to pause, skip, play, and pump up the volume from any room in the home.
Pendleton Cotton-Jacquard Towel
This soft cotton and terry Jacquard towel features one of Pendleton's most transcendental design patterns, bringing an aura of heritage appeal to your bathing area.
Williams Sonoma Beverage Dispenser
Whenever refreshing drinks are on the docket, you can be sure that Williams Sonoma's clear glass beverage dispenser, internal infuser, and stainless steel spigot will dole out the goods.