Presented by
These days, being a technophile can be a difficult gig. Not only do you have to remain up-to-date on all the innovations, elaborations, and releases that happen on a (seemingly) daily basis, but you have to decide which ones are actually worth the investment. Let's face it; the tech industry is huge, and it isn't showing any signs of dwindling. This year alone, a number of interesting genres have seen dramatic growth, including, but not limited to, smart devices, in-home security systems, gaming consoles, phones, and wearable accessories.
Wading through an endless torrent of press releases and odd interfaces to find the most up-to-date tech offerings might not be your idea of a good time. That's why we've decided to hone in on some of our favorite items from the past year, as well as some newer, more up-to-date releases that are taking the 2020 holiday season by storm. Below, we'll outline the best portable batteries, docks, smartwatches, streaming hubs, and cameras, with a handful of unique items thrown in for good measure.
Boundary Rennen Recycled Series Bags
Need a great way to tote all of your important tech items? Boundary's Rennen Recycled Series features a durable Pouch, Sling, and Daypack crafted from thoughtfully-sourced (and Bluesign-approved) materials, as well as a signature interior magnetic docking system that allows for increased modularity/customization. There's even a NYWOOL padded sleeve to protect your 15-inch laptop or tablet.
Nomad Lightning Battery Cable
Nomad's 500D Nylon ballistic Lightning Battery Cable boasts an all-encompassing mobile battery that'll keep your iPhone charged and at-the-ready.
8Bitdo Nintendo Switch Arcade Stick
Any technophile can attest to the importance (and awesomeness) of retro gaming consoles. Bring those nostalgic vibes to your contemporary gaming station with 8Bitdo's Nintendo Switch and PC-compatible Arcade Stick.
Keysmart CleanTray UV Sterilization Pod
As it turns out, phones are one of the dirtiest peripherals in our possession. Sanitize your mobile companion with Keysmart's UV light sterilization case, which promises to eliminate 99.9% of the bacteria on commonly-used surfaces.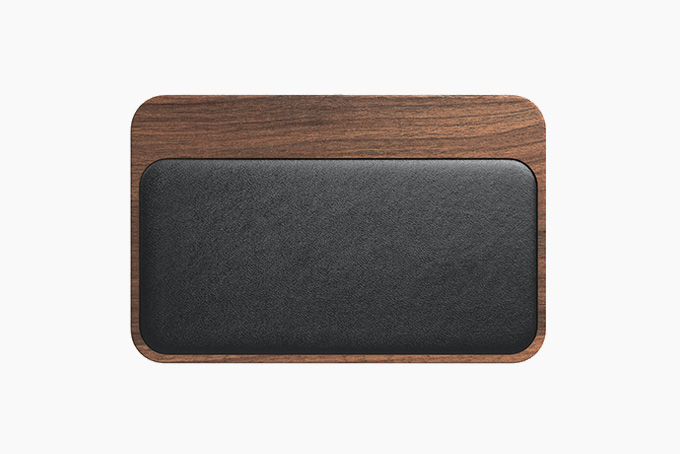 Nomad Base Station Wireless Charging Hub
If Nomad's charging cable wasn't enough, the outfit also makes one of the most aesthetically-pleasing charging pads on the market — the Base Station Wireless Charging Hub.
NVIDIA SHIELD TV Streaming Device
NVIDIA's Shield TV streaming device is yet another high-performance hub that'll bring you your favorite tv shows, music, movies, and podcasts at the touch of a button — albeit, with built-in Dolby Vision, Google Assistant, and Alexa compatibility.
Analogue Duo Console
Analogue's all-in-one NEC video game system can play almost any game/disc format, including Hucards, TurboChips, and CD-ROMs, and even comes with a Bluetooth-enabled controller for intuitive plug-and-play applications.
Ring Alarm 5-Piece Home Security Kit
Each five-piece Ring pack features an intuitive keypad, base station, contact sensor, motion detector, and range extender, allowing you to stay on top of your home's security.
GoPro HERO8 Black
This small, compact cam features impact-resistant construction, 12-megapixel photo capture, and ultra-smooth stabilization.
Sennheiser Momentum True Wireless 2 Earbuds
Sennheiser's Momentum True Wireless 2 earbud boasts improved ergonomics and passive/active noise isolation to provide users with a quintessential listening experience.
Marshall Monitor II ANC Headphones
Known as the Monitor II, this unique model features up to 30 hours of playtime, active noise cancellation, and a collapsible design that allows for easy storage as you travel.
Anker Nebula Apollo Mini Projector
Anker's Nebula Apollo Mini Projector is the perfect gift for a guy who wants to enjoy cinema wherever he can, thanks to its 100-inch picture and four-hour playtime.
Bivy 'Stick' Satellite Communicator
Bivy's 'Stick' Satellite Communicator allows for two-way text communication on virtually any smart device that has a phone number.
iRobot Roomba i3 Smart Cleaner
For those moments where upkeep is the last thing on your mind, rely on iRobot's Roomba i3 smart cleaner — a small, vacuuming robot that'll navigate throughout your home on a strict schedule.
Oculus Quest 2 VR Headset
Oculus' Quest 2 VR headset brings you immersive 3D content in an intuitive, easy to use architecture.
Apple Watch Series 6
Monitor your daily fitness levels, keep track of your important meetings, and order food directly from your watch with Apple's current-gen Series 6 wristwear essential.
Insta360 OneX2 Action Camera
GoPro's HERO8 Black is cool, but can it capture 360-degree video? Insta360's OneX2 Action Cam allows you to record (quite literally) everything that's going on around you.
DJI Mini 2 Drone
Handheld camera systems are all fine and good, but for those cinematic aerial shots of the countryside, you're going to need DJI's Mini 2 drone — a compact version of its larger airborne platforms.
Bang & Olufsen Beolit 20 Wireless Speaker
Take your tunes wherever you go with Bang & Olufsen's Qi-enabled Beolit 20 Wireless Speaker.
Dyson Pure Hot + Cool Air Purifier
Dyson's multifunctional purifier acts as a space heater and fan, making it one of the most well-rounded conditioning items on the market.
Sony Alpha 7C Mirrorless Camera
Sony's Alpha 7C Mirrorless Camera is the world's smallest and lightest full-frame model, making it an attractive pickup for street photographers.