Presented by

If you are fortunate enough to have a gym membership or you have a home gym (preferably with central air), the changing seasons might not influence your exercise attire and gear all that much. But if you like to get a bit of fresh air while exercising outdoors, there are some barriers to entry worth considering. This includes chilly winds, potential rainfall, and the necessity for equipment that's portable to some degree.
Well, in this guide you'll find all of that and more. If you have aspirations of marathon running, you want to try out circuit training in your local park, or you're just tired of being cooped up inside and want to take in some outdoor sights and sounds, this collection of gear and apparel is for you. These are the 20 best fall training essentials for men.
lululemon City Sweat Pullover Hoodie
Lightweight while still offering full coverage and a cinch-able hood, lululemon's City Sweat Pullover Hoodie is the perfect middle ground for those days where it isn't quite warm but isn't cold enough for a winter coat. It was designed for active lifestyles — including a stretchy French terry fabric construction — but its cut and five available colorways are still smart enough for casual wear.
lululemon MacroPillow Tab Run Sock
While a good pair of training shoes is obviously essential, socks are abundantly important, too, as a well-designed pair can help reduce the force of impact on your feet, will serve to prevent painful blisters, and will even stop your shoes from stinking. And all of those wonderful features can be found in lululemon's MacroPillow Tab Run Socks, which were made with rigorous exercise in mind.
Under Armour UA SPORTSMASK Featherweight
Whether you live in a densely populated area or you've just got an abundance of caution, it's not a bad idea to bring along a protective face mask (especially while the pandemic is resurging). Well, Under Armour's UA SPORTSMASK Featherweight was designed with athleticism in mind, offering an extremely low weight (you won't even feel it), excellent breathability, and an appropriate amount of protection in crowded areas.
lululemon Fast and Free Run Hat
The fall skies might be a touch cloudy, but the sun's UV rays could still cause you harm. For this reason, we suggest adding a good workout-ready hat to the rotation, like lululemon's purpose-driven Fast and Free Run Hat, which offers good coverage, a lightweight construction, comfortable stretch, and both sweat-wicking and quick-drying properties, along with saving your face from burns.
Mack Weldon Silver Boxer Brief
Not only are Mack Weldon's Silver Boxer Briefs comfortable for all-day wear — thanks to their high-end construction, "no-roll" waistband, and "stay-put" legs — but they also have actual silver fibers woven into them. That means they're also antimicrobial, anti-odor, and more. And when you're working out hard, those can be very important factors to you and those around you.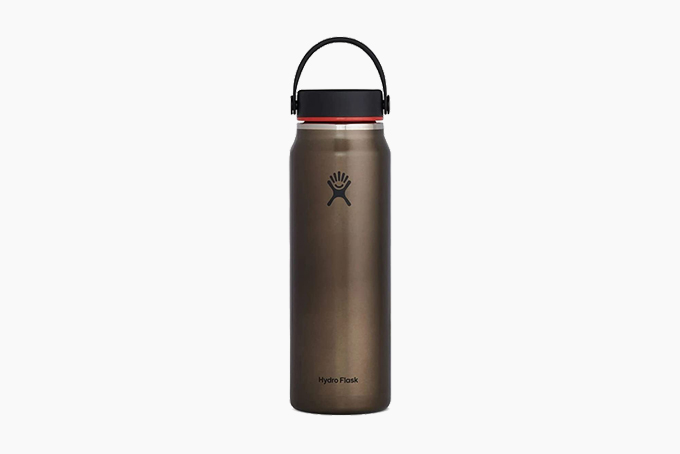 Hydro Flask Trail Series Water Bottle
Weighing in at 25% lighter than Hydro Flask's standard bottles, the Trail Series Water Bottle you see here is far more conducive to carrying around with you out in the world, especially when you have to haul it in-hand or in a backpack. And it still keeps liquids cold for up to 24 hours or hot for 12, making this a very tough vacuum-insulated water bottle to beat.
Naked Nutrition Pea Protein Powder
Protein powder is great, but sometimes the dairy-based versions can bog down your digestive system, especially if you're lactose intolerant. Well, Naked Nutrition has an excellent answer in its completely vegan Pea Protein Powder, which still offers a whopping 27g of protein per serving without any unnecessary additives like artificial sweeteners. If you want to get your pump on without giving your digestive tract a gut punch, you can't go wrong here.
Exerbell Fillable Kettlebell
Kettlebells are some of the most versatile weightlifting tools around, but they're not exactly portable. However, the Exerbell is extremely travel-friendly, as it can be completely emptied and collapsed down. Then, when you want to use it, you simply fill it up with sand, dirt, water, or whatever else you have handy and get to working out. When you're done, simply empty it and pack it down again. For those that travel or like to work out in the outdoors, this is an excellent tool to have at your disposal.
Brazyn Morph Bravo Collapsible Foam Roller
Recovery is an essential part of any workout regimen, and ignoring that fact can actually have a negative impact on your overall gains. Avoid that, even when working out in the outdoors, by bringing along Brazyn's Morph Bravo Collapsible Foam Roller, which lays down flat for easier transport but pops into the ideal shape when you need to roll out your muscles.
lululemon Surge Short Linerless
Caught between summer and winter, fall can be a little unpredictable in the weather department. As such, we'd suggest perhaps pairing a solid pair of tights with a good pair of shorts for your outdoor workouts — which is a combo that works well in weather that's not quite warm but also not super chilly. And the lululemon Surge Shorts offer top-notch styling, a lightweight fabric, and both quick-drying and four-way stretch properties. Perfect for workouts all year round.
lululemon Surge Tight Nulux
Like we mentioned above, shorts and tights are the perfect combo for autumn exercise. But these ones from lululemon are special, as they're crafted from a proprietary fabric called Nulux that offers weightless coverage, comprehensive ventilation, great breathability, four-way stretch, quick-drying, and so much more.
lululemon Surge Jogger
On occasion, the mercury dips pretty low in the fall. For those days, you might want bottoms with a bit more coverage. And you definitely can't go wrong with lululemon's Surge Joggers, which have a quick-drying, sweat-wicking, four-way stretch, Lycra and 100% recycled nylon construction. And there are eight different colors — one for each day of the week plus an extra.
Nike Free Metcon 4 Training Shoe
Combining the fitness prowess and stability of Nike's legendary Metcon training shoes with the flexibility of the brand's Free tech, the aptly named Nike Free Metcon 4 Training Shoe is the ideal do-it-all workout shoe for people that like to mix up their workouts on a regular basis. If you need a new pair of cross-training shoes, you can do no wrong with these ones.
lululemon Take Form Yoga Mat
There are numerous reasons every fitness enthusiast should own a yoga mat. For starters, it offers a cleaner alternative for all your stretching and recovery work than, say, the bare ground. But they can also offer a sturdier, more grippy base — which can help with balance and posture — and, in the case of lululemon's Take Form mat, its physical texture helps you practice yoga without the need to constantly adjust and/or look down at your positioning.
Aer Fit Pack 3
Especially if you're on the go for your workouts, you should have a vessel in which to store all your fitness gear (and whatever EDC equipment you might have). And Aer's Fit Pack 3 is unrivaled in that regard. Built from 1680D Cordura ballistic nylon, it's remarkably tough, but its 18.7L capacity and clever internal scheme make it ideal for staying tidy and organized. It even has a separate, ventilated pouch for your shoes and/or dirty workout clothes.
Theragun Mini Massage Gun
One of the best recovery-focused pieces of tech to come out in years, the Theragun is a lifesaver for sore muscles. But the standard edition doesn't really travel well. That's why, for fall workouts, we prefer the positively pocketable Mini version you see here. It's still ergonomic, powerful, and boasts a 150-minute battery, but it can also easily fit into your bag for transit.
TRX Tactical + 12-week Conditioning Program
Using an ingenious combination of durable bands and users' own bodyweight, TRX has made a significant impact in the fitness world and is trusted by amateurs and professionals around the globe. Well, now you can get a TRX workout in your home or out in the outdoors courtesy of the brand's Tactical set, which — in this case — comes with a 12-week conditioning program to help get you in the best shape of your life… and keep it that way.
Master & Dynamic MW08 Sport Earbuds
Music can be a great way to get you motivated while you work out, but it can also help set the pace to keep things consistent. But we all know how rude it is to blast speakers out in public, which is why we prefer Master & Dynamic's MW08 Sport Earbuds, which are sweatproof, deliver hi-fi sound, boast two types of ambient listening and active noise-canceling modes, and come in a Kevlar charging case that offers a total of 42 hours of playtime plus wireless charging.
Wahoo Elemnt Rival Multisport GPS Smartwatch
Known for making top-notch bike computers and a wealth of other handy bits of gear and tech, Wahoo has taken an interesting and impressive step into the world of fitness smartwatches with the Elemnt Rival Multisport you see here. Made to compete with the likes of Garmin and Apple, it boasts tons of onboard features and sport modes, comes with integrated GPS, stat tracking, and even has a ceramic bezel. This isn't just a watch; it's a wearable workout coach.
Arc'teryx Norvan LT Hoodie
Made specifically for outdoor running, Arc'teryx's Norvan LT Hoodie is windproof, waterproof, offers a ton of mobility, and is highly breathable — all while being extremely lightweight and handsome-looking. You know you can't go wrong with just about anything from this legendary Canadian technical brand, least of all with the Norvan LT Hoodie.