Long before television and movies were even a fragment of an idea, people had to rely upon the written word to disseminate information, lessons, and entertainment. And that means that some of the greatest stories of all time were first scribbled down on paper. A good many of those tales are still, to this day, considered the best of all time. And if you really want a narrative of actual substance, we still suggest turning to books over a good deal of the television and movies around today.
In fact, there are a good number of novels that we consider essential reading. Granted, you're likely a busy person with little free time, but if you can find a minute in-between your personal real-life adventures, we can't express more deeply how rewarding it can be to spend it reading a well-written novel, memoir, autobiography, etc. With that in mind, we've painstakingly put together the following collection of what we believe are the 50 best – both fictional and non-fiction – adventure books of all time. So, the next time you're looking for a larger-than-life escape from the mundane, you can turn here.
A Naturalist's Voyage Round the World
Most people are familiar with Charles Darwin's work on evolution – or his book Evolution of the Species – but there's certainly something to be said for the trip that brought him to write said theory. His journey aboard the Beagle in the early 1800s is quite a tale in and of itself and, thanks in no small part to the man's impact upon science at large, certainly deserves to be read by anyone with an appreciation for nature, mankind's ingenuity, and everything in-between.
The Adventures of Huckleberry Finn
Even if you ignore the fact that the word 'adventure' is in the title of this tome, it still deserves a spot on this list. While it is certainly most highly regarded as a commentary of the state of the U.S.A. during Mark Twain's lifetime, we mustn't forget that it also follows the titular character as he travels down the Mississippi River, meets a whole cast of characters, and gets himself into heaps of trouble. If you find yourself looking for an adventure novel with some depth, this is absolutely one of the best options out there.
The Alchemist
There are very few, if any adventure books that are as feel-good as The Alchemist. And while you might think that means it is devoid of conflict, you'd be wrong. This book is just as much about an adventurous journey as it is about self-discovery. For anyone feeling lost, both in the world and in life more generally, this Paulo Coelho-penned short-but-sweet novella might just give you some hope and keep you entertained along the way.
Alive
On October 12, 1972 a plane went down in the snowy Andes Mountains carrying a rugby team and a number of other folks – including the crew. 45 people were on the plane when it crashed, but only 16 survived the horrendous ordeal. This book tells all about what happened in the time between the crash and their rescue. This true story is not for the faint of heart, but it's also one of the greatest tales of survival ever to have occurred. If you're interested in the lengths humans will go in order to survive, this book is for you.
Alone on the Ice
While Alive chronicles a group of people surviving harrowing winter conditions together, Alone on the Ice tells a much more solitary story about a single man lost in the middle of Antarctica after his sled dogs abandoned him. It is also a true story and, though sometimes difficult to read due to the sheer amount of natural torture Douglas Mawson had to endure in order to make it back to base, is an amazing book about survival and the triumph of the human spirit.
Barbarian Days
Surfing is a beautiful, unforgiving, and complex sport. Or lifestyle, depending on your level of dedication to it. So when we say that Barbarian Days is the epitome of surfing literature, we hope you fully understand what we mean. This is the definitive memoir on everything it is to be a surfer, not just on weekends or for an extended trip, but for life. Equal parts coming-of-age story and adventure tome, this one is not to be missed.
The Call of the Wild
There's a reason that, no matter where you look, you'll always find The Call of the Wild on lists of definitive adventure literature. For starters, it's a uniquely American tale of what it takes to make it in the unexplored wilderness of the west, but it's also an embodiment of American values from determination to our collective longing for adventure. This one will get a bump up on your list if you like dogs, as well.
The Divine Comedy
There's a lot to be said for the symbolic value of Dante's Divine Comedy, but people tend to forget that, at its core, this epic poem is – in fact – an adventure story. It follows an unnamed narrator as he travels through biblical Hell, Purgatory, and Paradise in search of his lost love and details all of the incredible (and sometimes horrible) things he sees along the way. Though certainly leaning hard on the fantasy end of the spectrum, there's no denying this book's well-deserved spot on this list.
Endurance
To paraphrase, space is the final frontier. As such, anyone who has every journeyed into it can absolutely be labeled an adventurer. But perhaps none are more deserving of the title than American astronaut Scott Kelly. And that's because he once held the record for the longest consecutive number of days in orbit around our small blue planet. This autobiography details the entire experience and leaves nothing out – even unsettling stuff, like how such a long stint in space negatively impacts the human body. If you've ever been interested in space travel, this one's for you.
Endurance: Shackleton's Incredible Voyage
Yes, another true story titled Endurance. Though, this one is vastly different from the previous one, as it takes place here on Earth in the early 1900s, during which Ernest Shackleton and his crew aboard the titular ship became stuck in Antarctic ice, forcing them to journey across the icy continent on foot. This is a beautifully-penned account of everything, from horror to humanity, of Shackleton and crew and is a story with which we believe more people should be familiar.
Gentlemen of the Road
Michael Chabon, author of Gentlemen of the Road, is a Pulitzer Prize-winning writer. And that should be enough to instill confidence in you, as a reader. If it's not, perhaps the fact that this book reads a little bit like a Roman Empire-era Odd Couple, but with a lot more violence and misadventure will. The exploits of these reluctant heroes are entertaining, to say the least, but once you get past the surface, you'll find a rich and telling story about what it means to believe in something.
Green Hills of Africa
It shouldn't be a surprise to see a Hemingway novel on this list, as he was one of the greatest American writers of all time and absolutely mastered the art of storytelling. But this book is a little more special than his fictional exploits, as it details his real-life adventures across the Serengeti plains of Africa. And while it is certainly not his most popular book, there's something to be said for the fact that this one is true. And it might go some way toward inspiring you to take your own adventure.
Hatchet
Rare are the examples of coming-of-age stories that also pair well with the adventure genre. This one is perhaps the epitome of the mashup, however. It's a quick and easy read, but it's still quite enjoyable – even if you already read it when you were a kid. The world of Hatchet is certainly worth revisiting – or delving into for the first time.
Heart of Darkness
When a book inspires one of the greatest war films of all time, you can bet that the source material is just as formidable. That's exactly the case with this book, which heavily inspired Apocalypse Now. Though much of the story and themes are similar, the original story actually takes place in Africa during the British colonization of Africa, rather than Vietnam. The language is a little hard to trudge through, but anyone that puts in the time to read this book can count themselves better for it.
High Adventure
In 1953 Sir Edmund Hillary became the first European to successfully ascend to the top of Mount Everest – thanks in no small part to his sherpa companion, Tenzing Norgay. High Adventure is the explorer's first-hand account of the exploit. And though he was certainly more of an explorer and adventurer than a writer, Hillary's work is surprisingly easy to read and quite enjoyable. If you like non-fiction adventure tales, don't skip this one.
The Hike
Sometimes the greatest literary adventures begin in the most mundane ways. At least, that's the case with Drew Magary's The Hike. What begins as a simple walk through rural Pennsylvania turns into an epic of monumental proportions, including encounters with giants, demons, giant insects, and a profane crustacean. And it helps that this book doesn't take itself too seriously, as well.
The Hobbit
J.R.R. Tolkien has written some extraordinary fantasy and adventure literature that has now become a very large part of popular culture and our collective consciousness. We posit, however, that the best of his work is also the simplest: The Hobbit. It's short enough to not bog down the reader with too much world-building, but fleshed out enough to stay more than interesting, even after all this time. It definitely didn't need to be turned into 3 full-length movies, however.
In the Heart of the Sea
Herman Melville didn't simply pull the plot to Moby Dick out of thin air. Rather, it was based on a true story of the whaleship Essex following a violent collision with a sperm whale. For ninety days, the crew of the ill-fated vessel floated around the ocean in three tiny boats. If you want to know more about what happened and the crew's fate, however, you'll have to read the book.
The Innocents Abroad
Interestingly enough, though Mark Twain was absolutely a master of penning fictional tales, his best adventure story might actually be one that really happened to him. This is that book. It chronicles the author's adventures from the U.S, to and through Europe, and eventually to Bethlehem. It's funny, exciting, and works as an excellent glimpse into the life of one of the best writers of all time.
Into the Wild
There's a pretty good chance you've already seen the dramatic film interpretation of this very book, as it was extremely popular when it came out in the early 2000s. But that doesn't mean you should skip over this true story in text form. In fact, if you have seen the movie and enjoyed it, then there's all the more reason to pick this one up. There's a lot more to this tale of a man leaving everything behind to go and live in nature than you might think.
Into Thin Air
In case it's not abundantly clear from the structure of the title, Into Thin Air was written by the same author that penned Into the Wild. But that's not a bad thing, as Jon Krakauer certainly found his calling in writing true stories of human survival and hardship isolated in nature. This story is about an ill-fated trip up the side of Mount Everest. It's exciting, edge-of-your-seat drama at its best – and the whole story is true.
The Journals of Lewis And Clark
Lewis and Clark – and, perhaps even more importantly, Sacajawea – were single-handedly responsible for charting a good deal of the Louisiana Purchase and are therefore exceedingly important parts of American history at large. The story of that very expedition can be found in the pages of this book. And it is as much an exciting adventure story as it is an illuminating look into what the American landscape was like before it was settled.
Journey to the Center of the Earth
Albeit not as popular or famous as 20,000 Leagues, Journey to the Center of the Earth is perhaps just as adventuresome and imaginative. And that's because Jules Verne was easily one of the most prolific writers of his time. This is an excellent tome to open up if you're familiar with Verne's other works, but want something a little more off-the-beaten-path. Granted, this isn't his most obscure work, but it's a good place to start.
The Jungle Book
While most people are familiar with the story of Mowgli, there's actually a lot more to Rudyard Kipling's Jungle Book than just that one classic Disney-twisted story. In fact, this book is actually a collection of short stories, each of which deserves a place in the spotlight – and some of which (like Rikki-tikki-tavi) that have actually gotten it in some form or another. This is an excellent book for children and adults alike. So if you've got kids and want to get them into adventure literature, start here.
Jurassic Park
The book that catapulted Michael Chricton into the forefront of popular culture, Jurassic Park is an exceedingly entertaining read even if you've already seen the action-adventure film. And that's because of two major things. First, the book is surprisingly different from the movie. And second, dinosaurs are now and always will be awesome. Equal parts adventure, horror, comedy, and more, this isn't just one of the greatest adventure books of all time, it's one of the most creative stories ever to be written.
King Solomon's Mines
George Lucas, Steven Spielberg, and the entirety of the Indiana Jones franchise owes a lot of credit to King Solomon's Mines. In fact, there are some uncanny similarities to the story found within the pages of this book and the Harrison Ford movies. If you like adventures into the unknown with plucky heroes against all odds, this one is a must-read.
Kon-Tiki
Sometimes people are forced into real-life adventures. Other times, they are self-imposed – often seemingly inexplicably, like in Kon-Tiki. This true story follows Thor Heyerdahl as he attempted to recreate a legendary Polynesian myth, traveling 4,300 nautical miles across the Pacific Ocean on a tiny wooden raft with five other people.
The Long Walk
World War II produced some of the most triumphant and the most heartbreaking stories of all time. On very rare occasions, however, stories came out of that time period that were both. The Long Walk is one such story. This is the true tale of the author and six other prisoners who escaped a Soviet labor camp only to journey across literal thousands of miles on foot through Mongolia, China, and Tibet on their way to British India.
Lord of the Flies
There's a pretty good chance that, if you grew up in the United States, you already read Lord of the Flies. You should still read it again as an adult, as we promise you much of the symbolism and subtlety was lost – or maybe never even garnered. This is an impressive story of survival, youth, and illustrates that, even in the worst circumstances, our greatest enemy and asset is our own minds.
The Lost City of Z
We can say it time and time again: sometimes the best stories of adventure are the ones that really happened (at least in some capacity). The Lost City of Z functions as another supreme example of that claim. And once you're done reading this true-life tale of exploration and misfortune, you can watch the movie version produced by Amazon and see how it holds up against the book.
The Lost World
No, this is not Michael Chrichton's sequel to Jurassic Park, but rather the book that he borrowed many of his themes and ideas from. This Sir Arthur Conan Doyle-penned version takes a group of adventurers deep into the unexplored South American jungle to find a world out of time where dinosaurs still exist today – or, rather, in the early 1900s. As rich an enjoyable as it is absurd and unlikely, this is one of Conan Doyle's best works (second perhaps only to the Sherlock Holmes stories).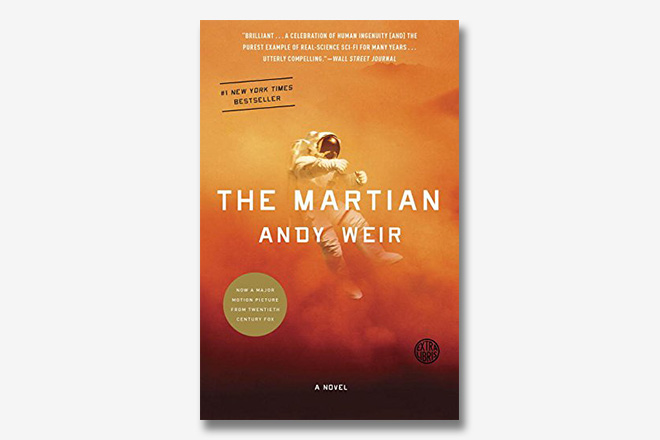 The Martian
What's funny about Andy Weir's novel is that the story of what happened to bring it from a self-published novel into a Golden Globe-winning film of the same name is as much an adventure as the book itself. Okay, maybe that's a stretch, but it is still an impressive feat. And there's a good reason it was turned into a movie – the story has the kind of guts that some of the best works of fiction ever written have. It's certainly worth reading, especially considering Elon Musk's growing obsession with going to Mars, even just as a cautionary tale.
Moby Dick
We'd be remiss in our duties if we didn't include Herman Melville's most famous novel, Moby Dick, on this list. This is one of those books that, even if you've never even turned a single page, you likely know the premise and point of the story. But, you might be surprised if you actually read through the whole thing, because the pop-culture distillation of this story of man, nature, obsession, and revenge does not nearly do the novel justice.
The Mysterious Island
Big shock: another Jules Verne novel ranks amongst the best adventure novels of all time. If you can look past the anachronistic premise of this novel – which follows a group of men as they escape imprisonment during the American Civil War aboard a balloon only to crash on an uncharted island – it's a quite fun read and definitely deserves its place here. And, it actually has a bit of a tie-in to Twenty Thousand Leagues Under the Sea, which you'll want to read first if you're interested in this one.
The Odyssey
The very fact that the word "odyssey" as we presently understand it comes from this tome should be enough to instill in you, the reader, that this is a superb adventure book. If not, the fact that it chronicles the Trojan War and the subsequent 10-year journey home the hero Odysseus was forced into by the gods should. This book is the basis for much of modern literature and should be read by anyone who counts them fans of the medium.
The Old Man and the Sea
Though it is told in language as simple as it is curt, this short adventure novella from legendary American writer Ernest Hemingway still manages to be one of the best adventures ever to have been penned. After all, this tale of courage, loss, and the very human drive to continue despite all odds is still widely taught in literature classes around the globe. And it played a large part in winning the author the Pulitzer Prize a couple years later.
Pirate Latitudes
Most people know Michael Chrichton for his science-fiction books, but we submit that his historical fiction is of equal quality. Take, for instance, Pirate Latitudes. This 17th century-based tale has everything you might expect from a book about pirates: sex, violence, drinking, sailing, treasure, sword fights… you get the picture. If you've ever liked anything Chrichton has had to offer, this book will be no different.
The Princess Bride
Yes, The Princess Bride makes the cut for superb adventure literature – just as the film deserves a spot on the list of the greatest '80s movies ever made. Get past the fact that the story heavily focuses on a princess named Buttercup and you'll find a rich story about swashbuckling, good vs. evil, and the lengths to which men will go for those they care about.
The Revenant
There's a lot to be said for the film adaptation of The Revenant. But it also got a lot of the story wrong. Find out the real guts behind this unbelievable-but-true story of survival and revenge in Michal Punke's novel. And, just a heads-up, though the Leo DiCaprio movie was 3+ hours long, this book is actually a surprisingly short read. Put it on the short list if you find yourself interested in the time before America stretched from sea to shining sea.
The Right Stuff
Astronauts are about the closest thing we have to modern frontiersman, in that traveling to and through space is the last place for humanity to go, yet we are still so unfamiliar with it. But the process one must go through in order to become an American astronaut is an adventure in and of itself. And that's what Tom Wolfe has chronicled in this book. If you've ever had even a fleeting interest in traveling to the stars, this true story is worth thumbing through.
The Road
If you're unfamiliar with this book, it's a dark and depressing look at America following the collapse of society as we know it. This apocalyptic novel is as beautifully written as it is sad and, believe it or not, was actually written by Cormac McCarthy as a love letter to his son. This book is proof that not all great adventure novels have to take place in some remote corner of the Earth. And they don't have to be happy, either.
Robinson Crusoe
Four years – that's the length of time the main character of Castaway spent alone on a desert island. Robinson Crusoe, however, follows the titular character as he is trapped somewhere near what is now Trinidad for a total of 28 years. As you might imagine, a lot of incredible stuff can happen in that amount of time – and that's a part of what makes this such a great tale of adventure. But it's also just a great novel about what it means to be human.
Skeletons on the Zahara
Unless you're a camel or a lizard, the desert can be an exceedingly unforgivable place. And perhaps none are quite as unforgivable as the Sahara – as it's the largest desert in the world, clocking in around the same size as the entire continental U.S. So you can imagine the kinds of hardship one might face if one were, say, crash on the coast of Africa, be captured by nomads and sold into slavery, and then forced to cross the entirety of the Sahara. Well, that's what this book is about. And it's true.
Tarzan of the Apes
Right up there with Jules Verne and Sir Arthur Conan Doyle, Edgar Rice Burroughs knew how to pen an exiting adventure. And that is exemplified both in his written works and in the staying power of his characters, such as Tarzan. No, this is not the Disney version, but it is certainly worth a read for anyone that enjoys a good fast-paced action-adventure.
The Terror
Sometimes, real tales of adventure inspire fictional ones – or at least that's the case with The Terror. This book was inspired by the true story of the HMS Terror, a former Royal Navy bomb vessel that wrecked trying to force the Northwest Passage. Though it is unclear what, exactly, happened aboard the ill-fated vessel, this tale suggest things a bit more supernatural were at work.
The Things They Carried
For fans of war fiction, this book is a must read. Told in a series of vignettes, this tome tells the story of a group of soldiers before, during, and after the Vietnam War. It's an often difficult and emotional read, but it is unmistakably one of the best American novels to emerge from the 20th century – and certainly ranks amongst the best of all time. Just keep in mind that the subject matter is not for the faint of heart.
Through the Dark Continent
While there are certainly racist undertones to any tale involving the "great white hunter," it doesn't mean there's not value to be found elsewhere in the texts. Such is the case with Through the Dark Continent. This is the story of Henry Morton Stanley, the man who famously found "missing" explorer David Livingstone deep in the African jungle. Though this is not the aforementioned story, but rather his account of charting the Congo River – and being the first European to do so.
Treasure Island
Arguably one of the most famous adventure stories of all time, Treasure Island chronicles the story of a boy named Jim Hawkins as he attempts to follow a treasure map, only to fall in with pirates – most notably, the ruthless Long John Silver. As far as high-seas swashbuckling stories go, this one is an undeniable classic in every sense.
True Grit
If you recognize the name of this tome, it's likely because of either the John Wayne movie or the Jeff Bridges remake. This text, however, is the source material. And, in our humble opinion, the book outshines both movies – which is saying a lot considering that they are both superb western films. If you like tales of revenge and/or the old west, this one's hard to beat.
Twenty Thousand Leagues Under the Sea
Let's get this out of the way: Jules Verne may very well have been the greatest adventure novelist ever. His books were way ahead of their time and still hold great weight today. 20,000 Leagues Under the Sea is a prime example of that. This story follows the exploits of Captain Nemo – in self-imposed exile from the world – and his crew as they traverse the globe seeking out adventure and the unknown. If Jules Verne is the greatest adventure novelist ever, this may very well be his best work.
Best Graphic Novels
If you prefer your literature with a few more pictures, you'll want to check out our list of the best graphic novels.